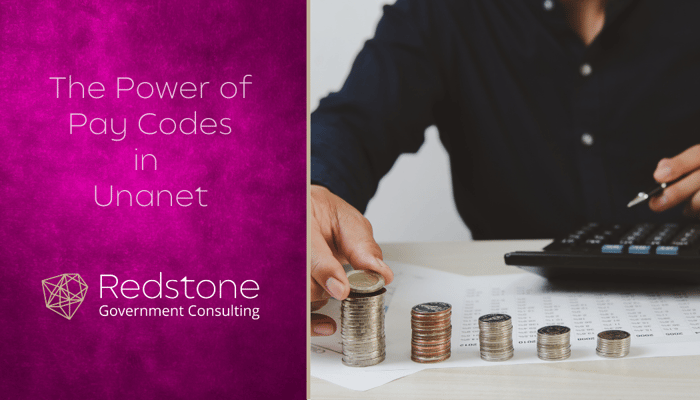 Have you ever considered the power of the Pay Code function in Unanet? Pay Codes are the earnings and leave categories your organization uses to track and classify reported hours on employees'/subcontractors' timesheets.
Using Pay Codes
Pay codes are used for:
internal/external reporting
tracking staff utilization
managing time off accrual balances
integration with downstream payroll and/or financial systems
calculation of overtime and shift differentials
Your pay codes are probably set up to mimic those of your downstream payroll system, for ease of conversion. However, if you have reporting needs beyond the constraints of payroll, the mapping of the payroll export can be customized to group pay codes as needed.
Pay Code Scenarios
Pay Codes can be used for a host of different scenarios outside of calculating overtime and time off accruals.
Dilution:
One scenario that we see regularly with clients is in handling new or terminated salaried employees when dilution is turned on and the effective date creates a partial pay period. There are two good methods of how to appropriately handle this issue within Unanet; the most popular method is calculating the percentage of the employees' pay for the period via special Pay Code charges. The other method is calculating the percentage of the employee's pay for the period via adjusting the period dilution hours (which requires manual calculations outside of the system). Deciding which of the solutions your organization should use depends on company policy and your interpretation of FLSA law.
Tracking TITO:
Another situation where the Pay Code function comes in handy is where an organization may require employees to track Time In/Time Out (TITO) on their timesheets and managing employee breaks in this situation. Again, there are multiple ways to handle this type of timekeeping requirement, one of which is creating a dedicated "Break" project and pay code to record TITO to for breaks. This method would show total hours (paid or unpaid) on employee's timesheets.
Other situations where Pay Codes come into play are for setting up:
Hazard Pay or Shift Differentials (situations where employees may receive a stated uplift per hour on their regular pay)
Allowing for situations where employees receive a completely different hourly rate of pay based on the pay code (pay rate is set at Pay Code level)
Straight Time Over Time, when dilution is on, allows for salaried employees to charge time that is not included in the dilution calculation (typically considered additional pay hours over 40-hour week/bonus)
Other Helpful Aspects of Pay Codes
In Unanet, Pay Codes refer to your organizations classification of pay types that are associated with the hours reported on a timesheet (i.e. regular versus overtime, direct versus indirect, etc.)
Earnings and leave categories used to track and classify reported hours.
Best Practices

Restrict pay codes by project
Restrict pay codes to the appropriate groups of Employees
Project Level Pay Codes
Default on time tab as well as on left menu to determine which pay codes are allowed on the project
Pay Codes based on Employee Type
Pay codes can also be defined by Employee Type, so that non-employees will not have access to the same codes (i.e. fringe) as employees
Additional Pay per Hour
Helpful for Hazard Pay or Shift Differentials (receive a standard uplift per hour on their pay)
Receive a completely different hourly rate of pay for a specific pay code (rate set at pay code)
Straight Time Over Time
Exempt Usage
Exempt Usage indicator set to Additional Pay
Additional Pay (Undiluted) – Used when dilution is on; time charged is not included in dilution calculations. Considered additional (bonus) pay hours (Straight Time Overtime)
Utilization
Track performance by employee: How much direct versus indirect labor an employee must make sure they're utilized to the extent management would expect
Final Words on Pay Codes
If your organization is using Unanet, understanding the full functions of Pay Codes allows you to maximize the benefits obtained by using this platform. For additional information about using Unanet or for guidance in using it most effectively, contact our Unanet Practice Group. Redstone Government Consulting group includes a team available to help you with this software.