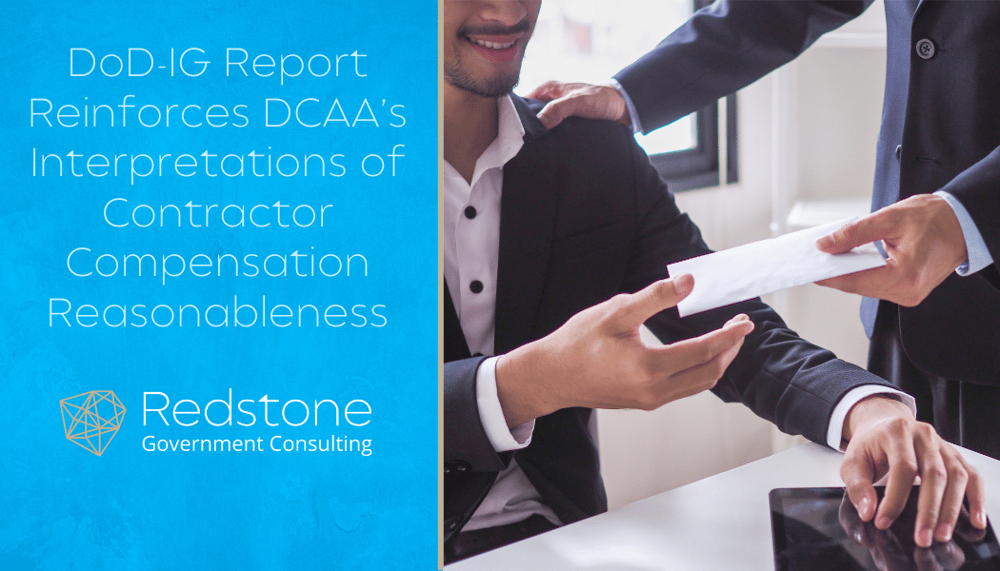 A recent DoD-IG (Department of Defense-Inspector General Report (DODIG-2019-070) has unfortunately reinforced DCAA's audit interpretations of the reasonableness of contractor compensation (reference to FAR 31.205-6(b)). The IG (apparently with help from DCAA) reviewed ACO (Contracting Officer) actions to resolve/disposition DCAA (Defense Contract Audit Agency) advisory audit reports which included assertions that contractors had claimed unreasonable compensation (primarily for contractor executives).
A summary of the IG review and findings is as follows:
Reviewed 35 audit reports, with a combined questioned cost of $58.1 million related to compensation reasonableness.
Determined that 18 of 35 ACO actions failed to adequately document dispositions which did not uphold a DCAA questioned cost of $22.5 million.
Identified the three following factors that contributed to the failure of DCMA (ACOs) to document adequate rationale when the ACO's disagreed with DCAA:

ACO's did not obtain a required legal review,
DCMA failed to develop any executive compensation guidelines or training, and
ACOs failed to obtain DCAA's opinion on additional information received from contractors (i.e. contractor rebuttals to DCAA audit reports).
Some of the more common reasons why the ACOs did not sustain DCAA:
DCAA's findings were not credible because two ASBCA (Armed Services Board of Contract Appeals) decisions had rejected DCAA's use of a 10% range of reasonableness,
ACO's accepted contractor benchmarking including locality pay (DCAA asserts that executives are drawn from a "national recruiting pool"; hence, locality pay should not apply),
ACO's allowed offsets by effectively grouping executives into one job class (DCAA asserts that each executive must be benchmarked individually with no offsets).
Although it is hidden in the details, it is important to note that in 17 of 35 cases, ACOs did adequately justify and document why they did not sustain $24.6 million of $36.2 million questioned by DCAA. They did not state that much of the $11.6 million sustained by ACOs was most likely contractor concessions merely to resolve an issue which had little relative impact (most likely on the G&A rate) or no impact and/or to offset other concessions by the ACO (to finalize indirect rates without going into contract disputes). The point is that the cost questioned sustained should not be assumed to mean that DCAA had valid assertions that would stand the test of an ASBCA hearing and decision.
Unstated, but clearly evidenced by certain quotations, the DoD-IG relied heavily on DCAA in terms of interpreting the FAR and misinterpreting the ASBCA decisions. In one example, the IG provided some information on Compensation Surveys (used to establish compensation reasonableness by contractors or unreasonableness when used by DCAA) and the IG refers to "human resource organizations, such as WorldatWork which recommend the use of more than one survey to obtain robust market consensus and to address any minor data anomalies that might exist in one survey source." That quote comes directly from DCAA and is unsupported by any regulatory requirement or contractual clause. The IG also applied DCAA's interpretation that contractor executives must be benchmarked individually (not as a class of employees with common functions), thus no offsets where a contractor executive above a survey are netted against those below a survey. The FAR does not clearly answer this question, hence, it is a matter of interpretation which should be left with the ACO (DCAA is only advisory and has been shown to be a less than credible advisor on matters involving FAR 31.205-6(b) and compensation reasonableness.
The entire IG report shows numerous DCAA "influences" and the IG never addresses the validity or invalidity of the DCAA assertions which are, in reality, the same as those which were very clearly refuted by contractors and dismissed as "statistically flawed" by two different ASBCA decisions. In another example, why does the IG summarily ignore that ACOs appropriately dispositioned and documented the non-sustention of $24.6 million of $36.2 million in 18 of 35 cases (audit reports)? The answer, the IG was only targeting DCMA's ACOs and simply ignoring the obvious fact that DCAA is providing unreliable and unsustainable assertions.
The message for contractors, DCAA will continue unabated with its statistically flawed compensation benchmarking which also includes a number of other self-serving misinterpretations of the FAR (self-serving in terms of being premised on one thing only, generating cost questioned). DCAA continues to seek another contractor to "volunteer" to be in the next contract dispute leading to an ASBCA decision. DCAA continues to believe that it (the Government) should have prevailed in the ASBCA decisions, but for some unfortunate events such as the ASBCA discrediting a Government expert witness who did not actually possess a PhD (but represented that he had a PhD in his CV).
Contractors should be proactive to either avoid this issue or be in a solid position to help an ACO in terms of documenting why a DCAA assertion (challenging contractor executive compensation as unreasonable) is inconsistent with the FAR. That involves benchmarking (only one source is required, multiple sources to minimize the risk of data anomalies which "might" exist is hogwash and not required by any contract clause). Compensation surveys are not inexpensive; moreover, they are not all constructed the same, which means that using any survey requires some training to gain an understanding of that survey.
Redstone GCI can provide an economical solution using one nationally accepted subscription-based survey applied by a highly competent and experienced HR specialist teamed with an ex-DCAA executive who is well-versed in DCAA's technique/strategies and more importantly, well-versed in accurately applying the FAR (assisted by the two ASBCA decisions). We have been highly successful in helping contractors with benchmarking executive and other employee compensation before the "wolf (DCAA) is at the door." Equally important, we are eager to assist contractors in rebutting DCAA assertions even if we might not have been involved in preemptive compensation benchmarking.
A parting comment, no contractor can assume that it's executive compensation is reasonable (as defined by FAR 31.205-6(b)) unless it is accurately benchmarked against a valid, reliable compensation survey for the similar industry, same relative size (e.g. revenues) and in the same geographic area.