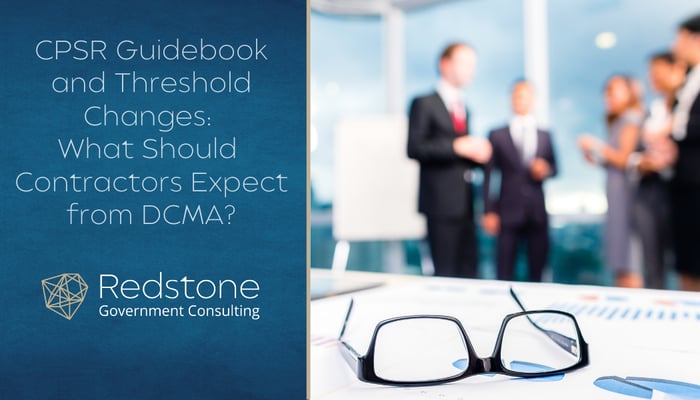 As we noted in our last blog, DCMA has issued another updated CPSR Guidebook, dated May 29, 2018. DCMA issued two updates in 2017 and have already issued 2 updates in 2018. This leads us to question: Will there be more? And our intuition leads us to answer: More than likely!
Revised SAT and TINA Thresholds
On April 13th, 2018, the director of Defense Procurement and Acquisition Policy (DPAP) issued two class deviation memos to raise the micro-purchase, simplified acquisition threshold (SAT) and Truthful Cost and Pricing Data (formerly TINA) thresholds. These include:
Class Deviation 2018-O0013 raises the Micro-purchase threshold from $3,500 to $5,000, and raises the SAT from $150,000 to $250,000, both effective immediately.
Class Deviation 2018-O0012 raises the Truthful Cost or Pricing Data (formerly TINA) $750,000 to $2,000,000, effective July 1, 2018.
* Remember, the Defense Priorities and Allocation System (DPAS) is tied to the SAT and should be half of the SAT. Therefore, the new DPAS threshold is $125,000.
DCMA has incorporated these threshold changes into the CPSR Guidebook dated May 29th, 2018. Civilian agencies are implementing their own Class Deviations, so we anticipate that FAR will implement the changes.
No Revisions to Guidebook Categories
However, the Guidebook's categories for statistical sampling of POs/Subcontracts remain as follows:
Awards $750,000 and over;
Awards from $150,000 – $749,999;
Awards under $150,000.
The bottom line is that the basics of CPSR remain the same and there are still 24 criteria with 30 elements which DCMA will review to ensure contractors are compliant.
The "Guide" in Guidebook
The Guidebook is a great tool to help contractors "get organized" and develop an understanding of what DCMA looks for during their review, but don't believe that DCMA won't deviate from the Guidebook with their own agenda. Every auditor is different, and the Guidebook is just that: a guide, so contractors should develop and implement their policies and procedures to ensure compliance with federal laws, rules and regulations and utilize the Guidebook to help prepare for CPSR audits.
CPSR Success=Documentation
As we have written in prior blogs, DOCUMENTATION! DOCUMENTATION! DOCUMENTATION! is the key to a successful CPSR. When performing internal audits and reviews of purchase/subcontract files, reviewers should be able to pick up the file and understand everything that went on with the procurement. In addition, all flow-down requirements, certifications, justifications, etc. should be easily identified in the files. This is easier said than done, with the "fires" of the day for most workers, but the focus should be on having consistent file format and documentation requirements for buyers to follow.
Of Utmost Importance (per DCMA)
DCMA will continue to focus on all 30 elements to meet the requirements of the 24 criteria. Each auditor may have their own focus, but the DCMA leadership has highlighted the following areas of importance for 2018 CPSR:
Counterfeit Parts

Only applies to CAS covered contracts;

Clause must be included in subcontracts, including commercial items, contracts for electronics or anything containing electronic parts;
DFARS 252.246-7008 Sources of Electronic Parts notification requirements;
An inadequate evaluation of a contractor's counterfeit parts system can trigger disapproval of the Purchasing System and invoke withholds.
Commercial Items

Have a properly written commercial item determination;

Document market research;
Conduct a detailed price analysis;
Review commerciality assertions and supply support including technical evaluations;
Require management review and approval.
Buy American

Applies to all purchases above the micro-purchase threshold, except COTS items;

Berry Amendment is included;
Not a flow-down to subcontractors, but need to ensure requirements are met and certifying to the appropriate requirements.
Preparation For a CPSR Begins at "Home"
It's time to "dust off" your policies and procedures and make sure they include all the elements required and updated thresholds. Perform an internal audit or seek outside assistance from professionals to assist in ensuring your company is ready for a CPSR. At Redstone Government Consulting, we are always here for you to help with your questions and government contracting needs. We assist contractors all over the world with preparation, mock audit and general strategy when working with DCMA CPSR teams
.