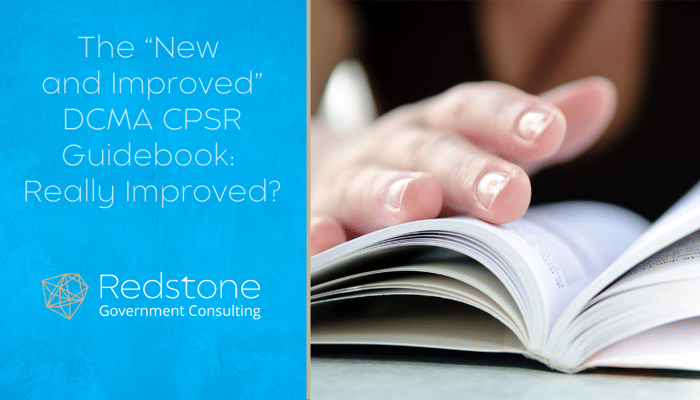 A new DCMA CPSR Guidebook has been released effective May 29, 2018 and can be found here: http://www.dcma.mil/Portals/31/Documents/CPSR/CPSR_Guidebook_052918.pdf The Redstone team will be conducting a more comprehensive review of the guidebook, but we want to share our initial thoughts with readers.
What DID Change
From first inspection, it appears that there were a few little updates to Parts 1-4 as well as some minor changes to the appendices portion of the Guidebook. Changes within Parts 1-4 consisted primarily of updated references to the new appendix added for Subcontractor and Vendor Closeout (Appendix 27).
Truth in Negotiations Act (TINA)
Surprisingly, no updates were made to Appendix 2 Truth in Negotiations Act (TINA) or to any of the other TINA references throughout the Guidebook. We would expect a subsequent update for the new threshold changes (TINA, et al.), which should be made to the FAR within the next few weeks if the FAR Council follows the guidance from the 2018 NDAA.
We Finally See Documentation Revisions
Appendix 16 Documentation included some minimal changes from the last overhaul in March of 2018, which were primarily focused on updating/adding references. Consistency in documentation requests has continually been a challenge when dealing with CPSR audit teams, so this appears to be a welcome push for consistency on what is "required" for a CPSR audit.
Reach Out to Us with CPSR Guidebook Questions
If you have any questions or notice any other changes we'd love to hear from you. Likewise, if you're struggling to prepare for a CPSR or just wondering when it applies and where to start we're here for you. We assist contractors all over the world with preparation, mock audit and general strategy when working with DCMA CPSR teams.