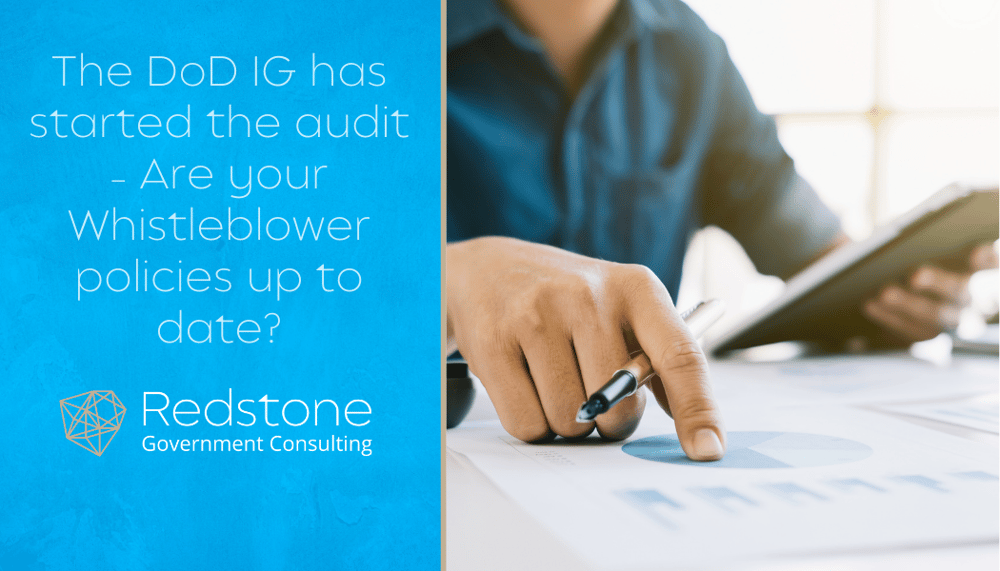 DoD Inspector General Audit on Whistleblower
We issued a blog in May 2021 addressing the Department of Justice, Inspector General. The IG found that DOJ contracts did not comply with the whistleblower requirements to include whistleblower clauses in the contract, disseminate the rights and protections in writing to employees, and include required information in confidentiality agreements/statements to employees. We indicated we would not be surprised to see the DoD IG pick up on this area and review DoD Contractors.
Well, it has happened. The Department of Defense, Inspector General (DoD IG) issued a Memorandum on DoD Compliance with Whistleblower Protection Requirements in FY 2020 Contracts, dated August 2, 2021.
The audit is scheduled to begin in August 2021 and the scope of the audit is to determine whether DoD Contracting officials included the whistleblower clauses in FY 2020 contracts and ensure that contractors and subcontractors comply with the requirement to inform employees, in writing, of their whistleblower rights and remedies. The whistleblower protection requirements are required by Public Law 112-239, National Defense Authorization Act for Fiscal Year 2013.
Although the audit lists specific offices that will be involved (e.g., Under Secretary of Defense for Acquisition and Sustainment, U.S. Special Operations Command, Defense Information Systems Agency, Defense Logistics Agency, Military departments, etc.), the memo does not provide insight into the contracts or contractors likely to be impacted.
What is the Purpose of the Whistleblower Statutes?
Whistleblower statutes contain strong protections against retaliation and punishing of whistleblowers by firing or taking adverse actions against them. Contractors should also prevent harassment or discrimination against whistleblowers. Contractors found to have failed to support the requirements may be required to reinstate the employee, provide back pay, and pay uncapped compensatory damages (i.e., emotional distress damages), and the employee's attorney fees and costs.
What are the Applicable Clauses/Provisions?
FAR clause 52.203-17, Contractor Employee Whistleblower Rights and Requirement to Inform Employees of Whistleblower Rights, is included in all solicitations and contracts that exceed the Simplified Acquisition Threshold (SAT) $250,000.
DFARS 252.203-7002 Requirement to Inform Employees of Whistleblower Rights required in all subcontracts.
FAR 52.203-15 Whistleblower Protections Under the American Recovery and Reinvestment Act of 2009 (flowdown if subcontract is funded in whole or in part with Recovery Act funds).
Two other FAR provisions address wording in confidentially agreements for employees or subcontractors:
FAR 52.203-18 Prohibition on Contracting with Entities that Require Certain Internal Confidentiality Agreements or Statements-Representation.
FAR 52.203-19 Prohibition on Requiring Certain Internal Confidentiality Agreements or Statements.
Contractors cannot prohibit or restrict employees or subcontractors who sign non-disclosure or confidentiality agreements from reporting waste, fraud, or abuse related to the performance of a government contract.
Do I Need to do Anything if I Have the Clauses in my Prime or Subcontract?
Yes, review your policy and practice for the following:
Ensure the policy lists the clauses/provisions and when they should be flowed down to subcontracts, that employees will be informed in writing of employee whistleblower rights and protections under the law, and how it will be documented/maintained. The policy should also address appropriate language in internal confidentiality agreements or statements with employees or subcontracts.
Did you notify your employees in writing of their rights and remedies under the whistleblower protection law?
Is the proper documentation maintained to support the notification was in writing to all employees?
Review internal confidentiality agreements or statements to ensure there is no restriction for an employee or subcontract from lawfully reporting waste, fraud, or abuse to a designated investigative or law enforcement representative (e.g., agency Office of the Inspector General).
Better Late than Never
Even though the IG is performing the audit on FY 2020 contracts, we recommend contractors take action to review their policy and practices as soon as possible. If contracts/subcontracts contain the appropriate clauses, policies should be updated/created to address the flowdown of clauses, written notification to employees on their whistleblower rights and protections, and how the documentation will be maintained. If you find an internal confidentiality agreement or statement includes a restriction, we recommend modifying the agreement to remove the restriction. It is important to implement any corrective action as soon as possible to bring the company in compliance with the regulations/law.
About Redstone GCI
Redstone GCI is available to assist contractors in assessing their current policies and practices to ensure they meet the FAR whistleblower requirements. Redstone GCI assists contractors throughout the U.S. and internationally with understanding the Government's expectations in applying FAR requirements.