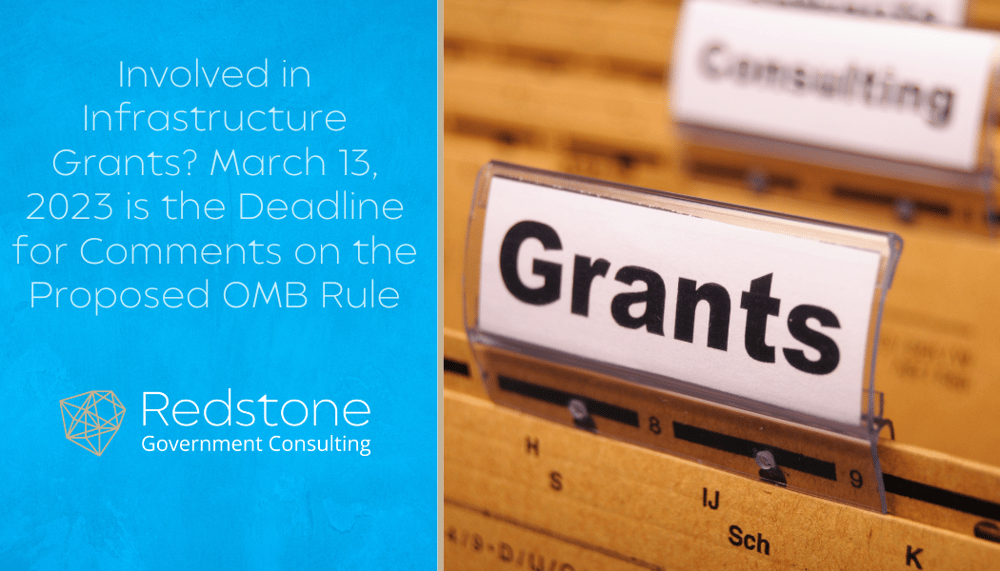 The Office of Management and Budget (OMB) issued a proposed rule to add a new Part 184 in 2 CFR Chapter I and revisions to 2 CFR 200.322 Domestic preferences for procurements on Build America/Buy America Act for Grants and Agreements. The revision will address the Buy American Preference for awards with infrastructure expenditures. Comments to the proposed rule are due March 13, 2023.
OMB appears to be confused on how to define construction materials and manufacturing products under the Buy America Act and is asking for substantial input from the public. It is important if your company is working on or planning on bidding on an infrastructure grant(s) with the government that you provide your comments by March 13, 2023, otherwise you will be stuck with a regulation that is not clear or realistic.
While this list is not inclusive, some of the areas that OBM is requesting input include:
Cost of component and End Product – Should OMB adopt the definitions in FAR 25.003?
Other Construction material – What, if any, additional construction materials should be included in the guidance? OMB is requesting feedback on additional construction materials that should be included in the guidance as well as feedback on the following construction materials and standards for manufacturing processes if they are proposed in the U.S.:

Coatings (e.g., paint, stain and other coatings applied at the work site,
Brick,
Engineered wood products (are these covered under lumber or is it a different category), and
Should other categories of construction materials be included?

Definition for "predominantly" iron or steel items – Should OMB adopt a definition similar to "predominantly of iron or steel or a combination of both" in FAR 25.003 which means the cost of the iron and steel content that exceeds 50 percent of the total cost of all components.
How to distinguish between categories of products that are combined during the manufacturing process?
Definition of composite building materials (e.g., plastic and polymer-based products).
Fiber optic cables and optical fibers.
Excluding aggregates (e.g., cement, stone, sand, gravel or binding agents or additives) – how should OMB treat excluded materials?
Redstone GCI strongly recommends if your company's business is government construction grants or cooperative agreements or you plan to submit proposals on construction/infrastructure grants, to review the proposed OMB rule and submit comments by March 13, 2023. Your comments will assist OMB in clearly defining the definitions of materials and manufacturing processes for companies involved in construction projects.
Redstone GCI is available to assist contractor's in developing accounting policies and procedures, checklists, accounting support, and reviews of invoices, government reports for compliance with 2 CFR 200. Redstone GCI assists contractors throughout the U.S. and internationally with understanding the Government's expectations in applying the 2 CFR 200 Uniform Administrative Requirements, Cost Principles and Audit Requirements for Federal Grants.