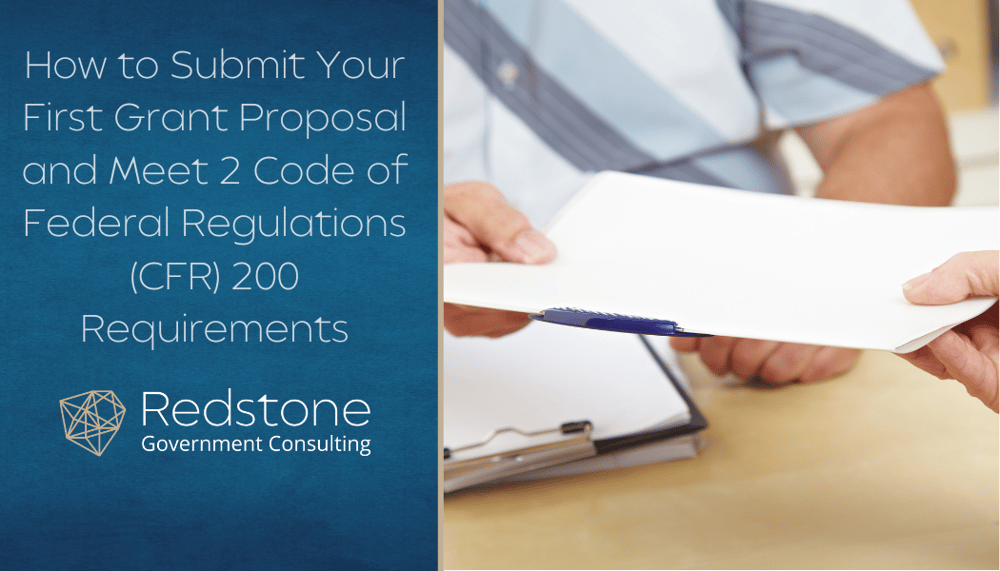 So, you have Federal Acquisition Regulation (FAR) based government contracts. Submitting a proposal for a grant should be similar, after all government regulations are government regulations – Right? Not really.
Are Contracts Awarded Under the FAR and Grants Awarded Under 2 CFR 200 Similar?
Yes and No. While both the FAR and 2 CFR 200 address the allowability and reasonableness of costs in a similar fashion (i.e., FAR part 31 and 2 CFR 200 subpart E Cost Principles), the 2 CFR 200 regulations for grants and cooperative agreements are significantly different in the way they are written/structured from the FAR regulations for contracts. FAR has part 52 that provides the "contract clauses" the contracting officer uses (even if only by reference) to specifically state the contractor's post award requirements.
Contractors who have FAR based contracts receive a solicitation/contract which includes the applicable contract clauses. Each clause provides the requirements that the contractor must meet in submitting a proposal or executing a contract.
But what about a grant. In 2014, the Office of Management and Budget (OMB) updated 2 CFR Part 200, Uniform Administrative Requirements, Cost Principles and Audit Requirements for Federal Grants by superseding and streamlining the requirements from the following eight OMB Circulars:
Administrative Requirements: OMB Circulars A-89, A-102 (29 CFR part 97), and A-110 (29 CFR Part 95)

Cost Principles: OMB Circulars A-21 (2 CFR Parts 215 and 220), A-87 (2 CFR Part 225), and A-122 (2 CFR Part 230)

Audit Requirements: OMB Circulars A-50 and A-133 (29 CFR Parts 96 and 99)
2 CFR 200 is referred to as the new super circular. Even though the grant regulations are consolidated into 2 CFR 200, there is no specific listing of "clauses" and applicability of clauses to an agreement type or dollar amount like the FAR contains. Most grant documents merely state the recipient must comply with the regulations in 2 CFR 200 along with a reference to supplemental agency regulations.
In addition, the regulations in 2 CFR 200 can be very confusing. For example, they address indirect rate requirements for non-profit, state and local government, Indian tribe and institutes of higher education, but what about a for profit company that receives a grant. There are some references that a for profit company can be a grant recipient but it pretty much ends there.
Grant Recipient Responsibility
So, what does this mean to you as a grant recipient? In addition, to performing the statement of work under the grant, you as the recipient, are responsible for understanding all the regulations in 2 CFR 200, supplemental regulations (yes there are supplements similar to the Defense Federal Acquisition Regulation Supplement (DFARS)) and other reporting requirements in your award document. In addition, to understanding what applies to your grant, you need to decipher 2 CFR 200 to understand what regulations need to be flowed down if you award a subaward or a contract as well as monitoring you must perform. Yes – subawards and contracts (subcontracts under FAR contracts) are different, we will be addressing that in a future BLOG in this series.
Wait a Minute I Thought a Grant was Free Money?
We hear all the time – let's submit a proposal for a grant – it is "free money." Not really. For one thing grant recipients and subrecipients do not receive a profit or fee. FAR based contracts include profit or fee. While both a FAR based contractor and a recipient under a grant are required to have written policies and procedures for accounting, procurement, proposal development, Government property management and implementation and monitoring of internal controls, there is a lot more post award effort and responsibility on a recipient of a grant than a contractor under a FAR based contract.
Post Award Requirements Under a Grant
There are different post award requirements under a grant than a FAR based contract. For example, under FAR based contracts, FAR 42.202 states that prime contractors are responsible for monitoring their subcontracts. However, there is no FAR 52 clause or other language that details the level or type of monitoring. Even though there are extensive expectations by both contract auditors and contracting officers – yes, a rather large hole in the FAR but our focus is grants.
Under a grant, 2 CFR 200 contains detailed regulations on the requirements of the recipient to monitor its subawards and establish other monitoring on contracts. Recipients must document its determination as to whether an award is a contract or subaward, may have to negotiate indirect rates with a subrecipient, document subrecipient risk of noncompliance, and document the type and amount of monitoring. Recipients are responsible for following up on subrecipient's audit findings of amounts or internal controls. Time and Material contracts need to include ceilings which the supplier exceeds at its risk and there are procurement policies that have to be implemented and followed. By-the-way subawards are cost reimbursable with budget limitations or low dollar (currently $250,000) fixed price with written approval.
There are other post award requirements. When the recipient receives more than $750,000 in federal awards, a single audit (other than for profit entity) or a compliance audit (if for profit entity) is required in addition to audited financial statements. This requirement is also flowed down to subrecipients.
Unlike a FAR based contract where the funding amount is for the entire contract or a CLIN, recipients receive budgets by cost element or line item that they cannot exceed without approval from the government. The government requires quarterly cost and progress reporting as well as annual reports of property, if applicable. Grant requirements are so much more involved, and 2 CFR 200 does not clearly explain the requirements. This is not an area of Government business opportunities you want to be wading into without years of experience or a reliable guide.
Don't Get Caught in a Noncompliance Situation
Grant recipients can be asked to pay back the grant funds or a portion of the grant funds based on a material noncompliance with the grant requirements or misuse of funds. They are also responsible for paying back costs as a result of a subrecipient's noncompliance with its subaward, so it is important to monitor your subrecipients. Different Federal Agency's Office of Inspector General (OIG) are performing audits of recipients to ensure they are properly meeting the grant requirements for classifying awards, monitoring, and following up on audit findings of subrecipients.
So How Can Redstone Help?
Redstone can assistance organizations to ensure compliance prior to award of a grant or post award by:
Assisting in drafting or reviewing accounting policies

Assisting with establishing indirect rates

Assisting with drafting or reviewing procurement policies and procedures

Assisting in preparing or reviewing quarterly financial reports to the government

Providing templates for documenting contractor/subrecipient determination

Providing a checklist to help assess risk of subrecipients and document monitoring

Providing monthly accounting support or assisting in setting up an accounting structure

Assisting with developing equipment/property policies
Redstone GCI is available to assist contractor's in developing accounting policies and procedures, checklists, accounting support, and reviews of invoices, government reports for compliance with 2 CFR 200. Redstone GCI assists contractors throughout the U.S. and internationally with understanding the Government's expectations in applying the 2 CFR 200 Uniform Administrative Requirements, Cost Principles and Audit Requirements for Federal Grants.