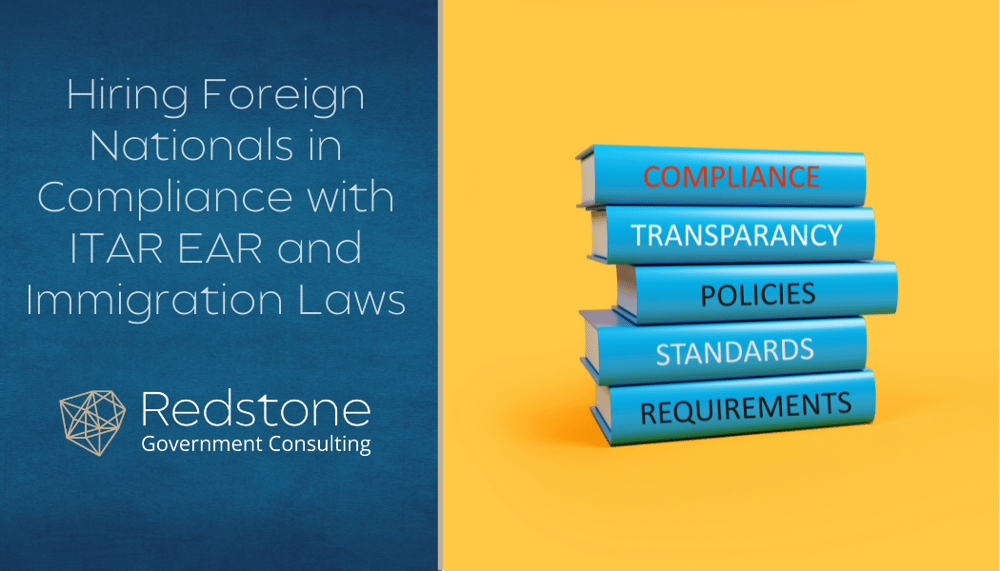 Both the ITAR and the EAR regulate Deemed Exports: releasing or otherwise transferring controlled technical data to a foreign person in the United States. So how does this impact hiring foreign nationals to work on ITAR/EAR projects? Hiring foreign nationals presents an opportunity for a deemed export and therefore possible export compliance implications.
Foreign Employees, National Laws: The INA
This leads to a delicate balance between following US laws pertaining to anti-discrimination and complying with export regulations. When hiring foreign national employees, companies must adhere to U.S. anti-discrimination laws such as the Immigration and Nationality Act ("INA") and Title VII of the Civil Rights Act of 1964, while also following export control regulations to prevent electronic, tangible and intangible access to technical data and source code.
The INA prohibits (1) unfair documentary practices, and (2) retaliation against any individual for participation in a DOJ investigation. An employer engages in unfair documentary practices if it requests more or different documents than necessary to verify employment eligibility, or specifically requests certain documents with the intent to discriminate on the basis of national origin or citizenship. Indeed, in 2018 alone, the DOJ settled at least four cases against employers accused of engaging in discriminatory document verification practices.
What Is a Foreign Employee?
ITAR/EAR do not impose requirements on U.S. companies concerning the recruitment, selection, employment, promotion, or retention of a foreign person. Instead, employers are required to obtain export licenses for non-U.S. person employees if their positions require access to information governed by the ITAR/EAR. Under both regulations, the deemed export rule applies only to foreign persons and, by definition, does not apply to "U.S. persons," which includes U.S. citizens, persons lawfully admitted for permanent residence in the United States (e.g., green card holders) as well as persons who are protected individuals under the INA (e.g., certain refugees and asylees).
As a reminder, the term "US person" in the ITAR or EAR means: (1) US citizen; (2) A US lawful permanent resident as defined by 8 U.S.C. § 1101(a)(20); or (3) A certain class of "protected individuals" as defined by 8 U.S.C. § 1324b(a)(3) (e.g., US nationals, refugees and asylees).
Enforcing Anti-Discrimination
So how can a U.S. company ascertain foreign person status when needed to avoid a "Deemed Export," without violating anti-discrimination laws?
The Office of Special Counsel (OSC) for Immigration-Related Unfair Employment Practices at the Department of Justice (DOJ) is responsible for enforcing the anti-discrimination provisions of the INA, which protects work-authorized individuals from employment discrimination on the basis of citizenship status or national origin discrimination, including discrimination in hiring and the employment eligibility verification (Form I-9) process. The OSC issues determinations and rulings that have provided guidance on the request and collection of such information.
According to the OSC, an employer that implements a document verification process to determine only a new employee's immigration or citizenship status to comply with export control laws is unlikely to violate the anti-discrimination provision if the document verification process is separate and distinct from the employment eligibility verification process.
However, the OSC has issued very limited guidance for employers struggling to navigate these issues. In fact, it has been over 3 years since the OSC released its most recent guidance regarding Export Control Laws, on March 31, 2016.
At that time, the OSC responded to an inquiry as to whether it was permissible for employers (or staffing agencies) to ask job applicants or newly hired employees these questions:
The following questions are for the sole purpose of ensuring compliance with U.S. rules concerning the export of controlled or protected technologies or information, including but not limited to U.S. State Department regulations at 22 C.F.R. Subchapter M, U.S. Department of Energy regulations found in 10 C.F.R. Part 810, the U.S. Nuclear Regulatory Commission regulations in 10 C.F.R. Part 110, and the U.S. Department of Commerce's Export Administration Regulations found in 15 C.F.R. Part 730 et seq., as may be amended (collectively, Export Control Laws).
If you do not wish to be considered for positions whose activities are subject to the Export Control Laws, then you may skip the following questions. If you do wish to be considered for positions whose activities are subject to the Export Control Laws, then you must answer these questions:
I am one of the following: (a) a citizen of the United States; (b) a lawful permanent resident of the United States; or (c) a person admitted into the United States as an asylee or refugee:
YES or NO
*If you answered "NO" to Question 1, then please indicate your:
(a) Citizenship (b) U.S. Immigration Status
The OSC declined to outright endorse the above questions as acceptable, and instead discouraged asking these questions of applicants/newly hired employees for positions that are not subject to export control laws to avoid generating confusion among applicants or human resources personnel about the need for this information. In our opinion, the OSC's guidance raises more questions than answers. Clearly, walking the tightrope between compliance with export control and immigration laws is shaky and uncertain even for the most adept HR professionals.
Expert Advice from the Redstone Team
The Human Resource and compliance specialists at Redstone GCI have worked diligently with our clients regarding this issue, as well as other complicated HR/Employment Law and ITAR/EAR related issues. We welcome the opportunity to assist your company in navigating the requirements and laws applicable to you, to ensure you have a compliant internal practice. From training to consulting packages, let us share our expertise with your team, offering guidance and advice as well as leading your organization through audits and necessary modifications to your established policies and procedures.