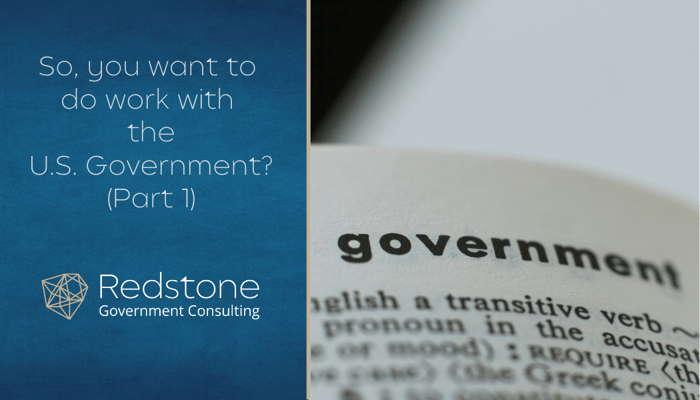 For over a decade I've had the opportunity to work with many contractors pursuing their first government contract. In my role as the VP of Special Projects at Redstone GCI many companies that I routinely assist are in the process of acquiring their first contract or in the very early stages of contract performance. While I do work with small businesses going through the process of initial contract pursuit and mature government contractors, most companies that I work with are larger commercial or international companies. I like to think of the role that our team provides as a voice of reason providing a measured approach to compliance to ensure the costs for barriers to entry (e.g. DFARS Business Systems) into the U.S. federal market are recoverable by the company.
The Reality of Government Contracting
Most companies I've worked with realize that working for the U.S. Government is different, complex and vastly more scrutinized than operating within the commercial marketplace, but quite often bring with them a lot of misinformation as to what is truly necessary to operate a U.S. Government contract in a compliant way. Companies often don't realize that "compliance" is not one-sized, and requirements vary widely based on the type of work being performed, the contract volume, contract type and many other considerations. Over the next few weeks I'm going to touch on several lessons learned from our team's experience working with companies throughout the U.S. and across Europe, the Middle East, Africa, Australia and South America.
The First Step in Understanding Government Contracting
This first article is more about setting expectations for those that will follow, so expect more technical discussions in subsequent posts, but before we get to that I felt it important to understand that no single consultant, CPA, attorney or advisor is an expert in all things related to government contracting. Much of the knowledge required in this industry is tribal knowledge that is not taught in a degree program but gained through experience and networking.
Our Contract Life-Cycle Support
The assistance our team provides to clients is more "back-office" in nature and spans across various business systems. I like to tell clients that we work with the boring stuff, so they can focus on what they do best. Areas that we touch in the contract life-cycle include:
Development of compliant pricing and cost-volume narrative.
Assistance with pre- and post-award business system evaluation, implementation and training including Accounting, Estimating, Purchasing, Government Property, Materials Management and EVMS.
Contract Administration spanning the development of subcontract terms/conditions, modifications and contract reporting to more complex topics like OCI mitigation, litigation support, contractor teaming arrangements.
Pre/Post Award audit support including all areas evaluated by the DCAA, DCMA and specialized areas pertaining to costing or contract administration often performed by 3rd party auditors or agency Inspector General. This includes audit or evaluations like Pre and Post Award accounting system audits, contractor purchasing system reviews (CPSRs), estimating system audits, incurred cost submission audits, voucher examinations and many other areas evaluated by the Government customer.
Accounting/ERP system source selection, evaluation and implementation assistance for many types of accounting systems from traditional (Deltek, Unanet, et al.) to more non-traditional systems (SAP, Oracle, NetSuite, Pronto, IFS, MS Dynamics), and many other accounting software products.
Bid protest supporting attorneys with proposal cost realism, cost/price evaluation and other areas of contention in the contract award process.
Ongoing evaluation of compliance internal controls, mock audits and assistance with audit resolution and corrective actions.
Assistance with implementation and interpretation of contract terms conditions and regulation including the Federal Acquisition Regulation, Agency Supplemental Regulations (DFARS, DEARS, etc.) and implementation and compliance with the Cost Accounting Standards (CAS).
Subcontractor administration and compliance evaluation on behalf of prime contractors working with subcontractors who may not have approved business systems necessary for the anticipated subcontract type.
HR-related matters of compliance including the Service Contract Act (SCA), Affirmative Action Planning (AAP), Equal Employment (EEOC), VETS reporting, employee compensation reasonableness and planning, and many other areas specific to the Human Resources Function as it relates to government contracts.
The First Truth About Government Contracting—This Isn't Everything!
I mention the above to inform the reader of where my perspective comes from and to segue into the first truth about government contracting. It will take a wide-support team and a willingness for your internal team to be receptive to change, learn, and adapt to the government customer requirements to be a successful government contractor. Believe it or not, that list does not cover everything that should be on a company's radar when seeking their first government contract and likewise it is highly unlikely that any given company will encounter all those issues in the first few years of working for the federal government. It's critical to identify a team of partners for your overall success.
Where Other Experts May Come In
A few of the things missing from the list where we are knowledgeable, but do frequently work with other services providers are:
Financial accounting – We are lucky to have many CPAs with financial statement audit backgrounds on our team but working with the government provides many unique risks and expertise in tax implications (state, foreign and domestic), revenue recognition, unique contract assets/liabilities created by performing flexibly-priced contracts and many other areas may require working with a CPA-firm experienced in this industry.
Legal – Similar to financial accounting, our firm also has several attorneys on our team, but in many areas, it will be necessary to employ outside counsel for specialized matters. An attorney with specialized expertise is necessary when dealing with government investigations, bid protests, foreign export control/ITAR matters, intellectual property, facility-security, foreign ownership control and influence (FOCI) mitigation and for many other areas.
Business Development – The government acquisition cycle involves multi-year contracts, so by the time an RFP is posted on fedbizopps many potential offerors have already been involved in market research and the RFI process giving them a significant competitive advantage when it comes time to submit the proposal. New entrants often don't realize that a lot of the work of securing the contract happens well before the RFP is released. Having someone (often former government acquisition) on your team that is aware of industry days and agency needs before they hit the public domain is critical to success.
Software development and database administration – Substantial configuration and creation of additional functionality will be necessary for companies utilizing a non-traditional accounting software for government contract management. Our team has worked with software consultants who support a wide-variety of commercial ERP systems to design and test requirements for government compliance, but you will need experts on your team to implement these changes.
Technical/Management/Operations – You'll also need expertise to assist with product or service delivery specific requirements from management of the supply chain, quality and ultimately delivery of your product or service.
Banking/Financial – Quite often becoming a government contractor is a significant financial investment and very few banks understand the nuances when it comes to lending to government contractors. Working with a banking partner that truly understands the industry can provide access to the capital needed to grow and perform.
The Redstone Government Contracting Network of Experts
At Redstone GCI, we are lucky have many friends and trusted partners in the above areas and many others you may encounter as a government contractor. Understand that government contracting is a team sport and everyone on the team from the company's staff, our team and other outside advisors play a key role in your company's overall success.