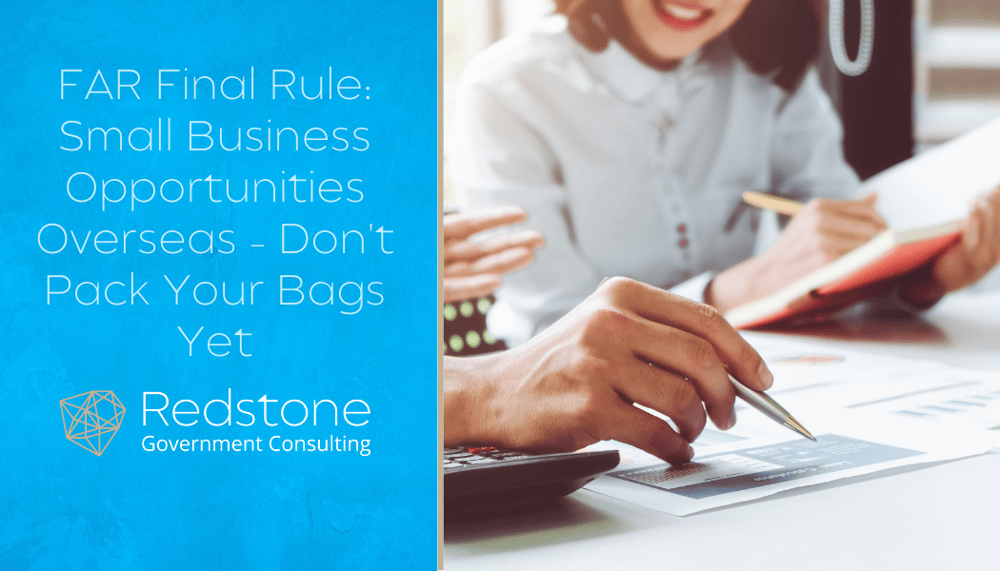 DoD issued a final rule on April 26, 2022, amending the FAR to support the Small Business Administration regulation of including overseas contracts in agency small business contracting goals. The final rule is effective May 26, 2022.
So, What Does This Mean?
Well, the ruling is confusing. What we did find is that the Small Business Administration Policy makes the application of small business contracting procedures to overseas procurements mandatory. While the FAR final rule states it was made to support SBA's "mandatory" policy of including overseas contracts in small business contracting goals, the FAR does not make the application of small business procedures to overseas procurements mandatory. What? One part of the Government is not playing nice with another part – say it isn't so. The FAR final rule leaves it up to a Contracting Officer's discretion to apply the procedures to their overseas contracts. We believe this is driven from the numerous public comments addressing the potential conflicts of this FAR change due to existing treaties, international agreements, local foreign laws, and diplomatic issues related to overseas contracts. The FAR Council considers the discretionary decision in the ruling necessary to allow contracting officers to avoid these conflicts.
So, What Was Updated in the FAR.
FAR 52.219-1(c)(1)(xii) Small Business Program Representations was added to state:
This provision applies to solicitations when the contract is for supplies to be delivered or serves to be performed in the United States or its outlying areas, or when the contracting officer has applied Part 19 in accordance with 19.000(b)(1)(ii).
FAR 19.000(b)(1)(ii) states Contracting officers may apply this part outside the United States and its outlying areas.
What is the Purpose of this Change?
The purpose of the change is to allow the application of FAR Part 19 and expand opportunities for U.S. small business concerns in overseas prime contracts. FAR 19.702(b) does not require small business subcontracting plans for contracts performed entirely overseas, but the change allows the use of set-asides for prime contracts overseas. The FAR council states that the final rule provides Contracting officers discretion in making a set-aside decision for overseas acquisitions so they can choose the appropriate acquisition strategy.
As a Small Business Should I Bid on a Prime or Subcontract Performed Overseas?
Redstone GCI works with commercial companies that jump on the chance to get their first government contract, not understanding all the legal, administrative and accounting requirements especially with a cost reimbursable contract. Before you pack your bags, understand that an overseas contract brings with them even more requirements than a stateside U.S. contract. Contractors should do research to ensure what the country requirements are with respect to international agreements, local laws, local market conditions, as well as clauses such as DFARS 252.225-7002 Qualifying Country Sources as Subcontractors. There can also be other cost such as Value Added Taxes (VAT) on materials or services. While your purchases may be exempt from VAT taxes, in some cases the taxes are required to be paid up front and refunded at a much later date which can impact cash flow.
Will This Impact my Purchasing System?
If you are a small business receiving a prime contract overseas, you will not be subject to the small business subcontracting plan, however, you will need to have purchasing policies on handling subcontract purchases on overseas prime contracts.
If you are not a small business, FAR 19.702 directs the Contracting Officer not to require a small business plan if the contract is performed entirely overseas.
Redstone GCI assists contractors throughout the U.S. and internationally with understanding the Government's expectations in purchasing system reviews. We often review purchasing policies and practices to ensure compliance with DFARS requirements, perform "mock audits" to assess whether purchasing files comply with policies, procedures, and regulation, and provide CPSR related training to contractor purchasing/buying departments.