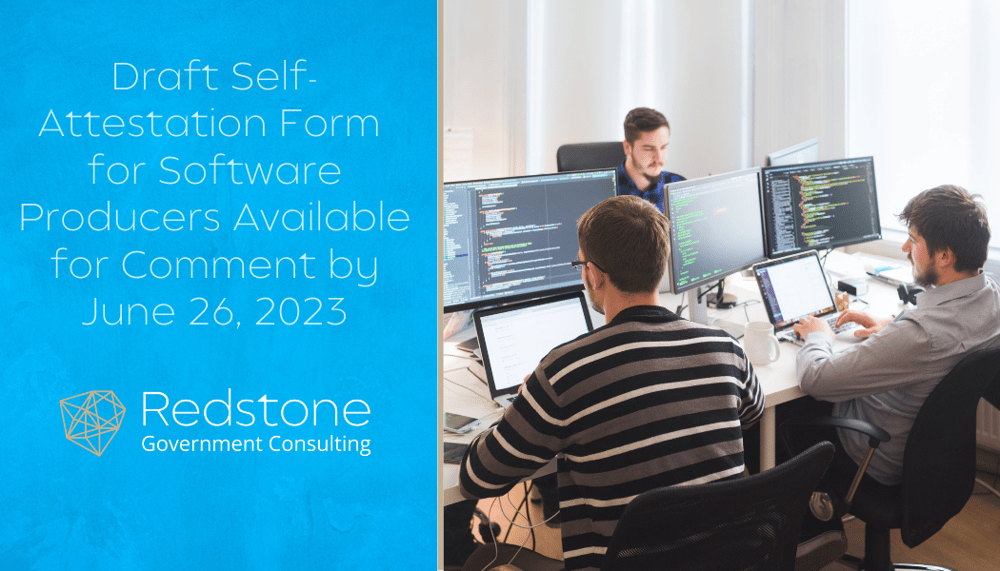 On April 27, 2023, The Cybersecurity and Infrastructure Security Agency (CISA) of The Department of Homeland Security (DHS) published a draft Secure Software Development Attestation Form. Software producers that sell to the government will be required to complete the self-attestation form to attest that the software they produce was developed in conformity with specified secure development practices.
CISA issued a 60 day Request for Comment to solicit public feedback on the draft self-attestation form. Comments will be accepted through June 26, 2023. Redstone recommends software producers review the self-attestation form and provide comments before the deadline.
The self-attestation form was developed as a result of The Office of Management and Budget (OMB) Memorandum M-22-18 issued on September 14, 2022, requiring Federal agencies that purchase software to comply with additional NIST requirements. (see our Blog OMB Issues New Cyber Security Requirements for Federal Agencies that Impacts Companies that Sell Software to the Government).
The following software will require self-attestation:
Software developed after September 14, 2022
Existing software that is modified by major version changes after September 14, 2022 (e.g., software version goes from 2.5 to 3.0)
Software where the producer delivers continuous changes to the software code (e.g., software-as-a-service products or products using continuous delivery/continuous deployment)
Software producers who utilize freely obtained elements (e.g., freeware, open source) in their software are required to attest that they have taken steps to minimize the risk of relying on the software in their products.
The draft self-attestation form requires software producers to attest:
Software is developed and built in secure environments
They have made a good-faith effort to maintain trusted source code supply chains
They maintain provenance data for internal and third-party source code incorporated into the software and
They employ automated tools or comparable processes that check for security vulnerabilities
After completing the self-attestation form, the government may request additional information or documentation such as a Software Bill of Material or documentation from a third-party assessor.
Completion of the form is not required if the software has been verified by a certified FedRAMP third party assessor organization (4PAO) or other 3PAO approved in writing by an agency official. However, the documentation from the 3PAO is required.
CISA has not modified the deadlines in the OMB memorandum requiring attestations by June 12, 2023, for critical software and September 14, 2023, for all other software. We believe the deadlines will have to be extended since CISA is accepting comments on the draft form through June 26, 2023.
Redstone recommends that software producers selling to the government review the specific controls that are included in the self-attestation form to ensure they are complying with them, or whether they need to implement additional controls before being required to complete the self-attestation form.
Once the form is required, it will be a mandatory form for software producers to complete. Failure to provide the completed form or information requested could result in the inability to sell software to the federal government.
Redstone GCI can provide our clients information and guidance in working with established industry leading partners who can assist in fulfilling cybersecurity compliance requirements. Redstone GCI assists contractors throughout the U.S. and internationally with understanding the Government's expectations and supporting contractors from contract award to contract closeout. We would be happy to be part of your team.