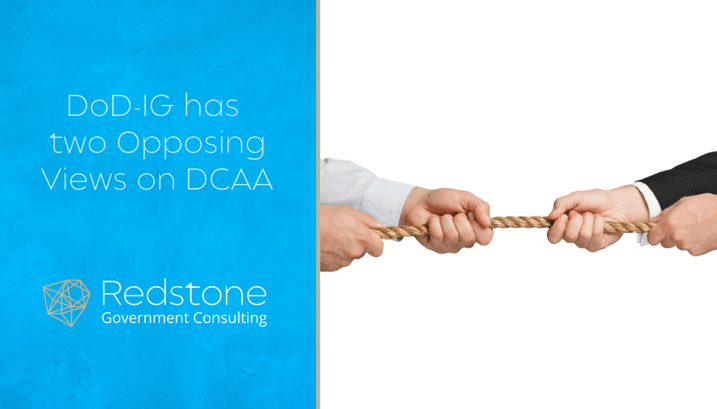 DoD-IG goes after DCMA for not supporting DCAA Findings
On February 26, 2021, the DoD-IG issued an audit report raising significant concern about the actions taken by DCMA Administrative Contracting Officers (ACOs) in relation to DCAA audit findings. The Finding section of the DoD-IG report found that out of 30 DCAA audit reports at two of the largest DoD contractors, 14 were not properly addressed per Federal Acquisition Regulation requirements by the cognizant ACO. Our guess and POGO believes the large DoD contractors are Lockheed Martin and Boeing – but this is only our guess. The DoD-IG report goes on to state that: "As a result, DCMA contracting officer actions on the eight audit reports may have resulted in improperly reimbursing DoD contractors up to $97 million in unallowable costs on Government contracts. In addition, because DCMA contracting officers did not take timely action on six audit reports, they delayed the correction of CAS noncompliances and the recovery of any increased costs due to the Government." The report goes on to state that: "The Defense Contract Management Agency Director agreed with all five recommendations," including reviewing ACO decisions to "Disallow and recoup any unallowable costs not previously disallowed." (Evaluation of Defense Contract Management Agency Actions Taken on Defense Contract Audit Agency Report Findings Involving Two of the Largest Department of Defense Contractors – DoD-IG-2021-056, Dated February 26, 2021)
A Note to our Client Base
The DCMA response would appear to imply that Final Settled Rates and Contracting Officer Final Decisions accepted by the contractor are tentative and contingent on secondary review and concurrence by Oversight Organizations. If DCAA and DCMA take years to get to what we thought were final decisions on contractor cost, this approach will put us back to the days when claimed cost were at risk for years and years. We hope not – but anything is possible.
DoD-IG Raises Concerns with DCAA Audit Quality
On March 5, 2021, DoD-IG yet again issued a Peer Review report on DCAA with an opinion of "pass with deficiencies." The Peer Review Report states in part: "[DoD-IG] identified 33 findings among 25 of the 60 selected audits that involved evidence and reporting deficiencies, which clearly impacted the reliability of the underlying audit reports. For example, 19 of the 33 findings involved DCAA auditors not obtaining sufficient and appropriate evidence to support conclusions used as a basis for the opinion expressed in … [their] report. Therefore, the users' ability to rely on the report was negatively impacted." (External Peer Review of the Defense Contract Audit Agency System Review Report – Report No. DODIG‑2021‑059, Dated March 5, 2021)
So, how do we Reconcile these differing DoD-IG's Opinions on DCAA findings
The DoD-IG takes issue with DCMA ACOs not supporting and acting on DCAA audit findings, but at the same time issuing an opinion that brings into question the ability of the ACOs to rely on those findings. We hope that DoD-IG is not headed down the path that DCAA appears to be on – that path being that an audit report must have findings, or it has no value.
Takeaway
DCMA ACOs are going to need well supported contractor responses, rebutting DCAA audit findings, to help them overcome the rising hurdle of not supporting a DCAA audit finding, as the DoD-IG appears to be emphasizing in its most recent audit report. We believe DCAA will be emboldened by the DoD-IG report on DCMA ACOs not support audit findings and simply live with their own audit process as a "pass with deficiencies" as they have in the past, resulting in no change to the way DCAA audits. DCAA is likely to find even more creative ways to interpret regulations and pressure contracting officer into supporting them. While we find fault in this approach, and worry as to what is to come for contractors, we want to empower contractors by offering a full understanding of the current environment as well as by providing knowledge and strategy for the future challenges.
Redstone GCI is available to assist contractor's in assessing DCAA audit findings and aiding in audit rebuttals. Redstone GCI assists contractors throughout the U.S. and internationally with understanding the Government's expectations in applying FAR Part 31, Cost Principals and Cost Accounting Standards.