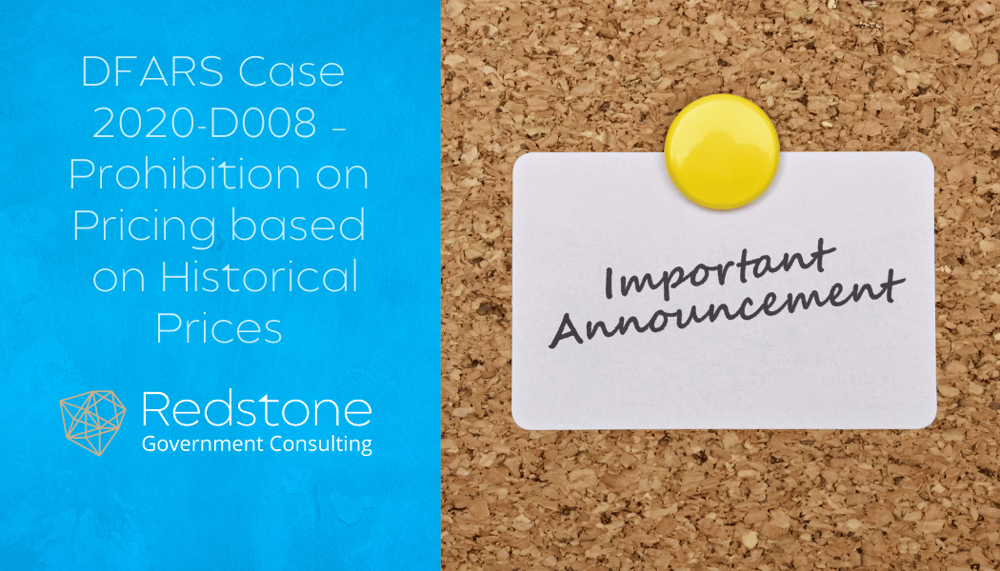 In 2020 Congress directed through the National Defense Authorization Act (NDAA) that contracting officers be prohibited from determining that the price of a contract or subcontract is fair and reasonable based solely on historical prices paid by the Government. Congress goes on to provide that if the contractor fails to provide data supporting the proposed price, the contractor is ineligible for award, unless the head of the contracting activity (HCA) determines that it is in the best interest of the Government to make the award. Let's face it they are saying contracting officer should be asking for "cost data."
Well DoD is finally getting around to issuing a proposed DFARS rule to implement the congressional direction. The Federal Register notice states:
In accordance with 10 U.S.C. 2306a(d)(2)(B)(ii), this proposed rule amends DFARS 242.1502(g), to add the requirement that, unless exempted by the HCA, a notation is required in the Contractor Performance Assessment Reporting System that, despite receiving an award, the contractor has denied multiple requests for submission of data other than certified cost or pricing data over the preceding three-year period.
The proposed rule also amends DFARS 215.404-1(b)(ii) to clarify that price reasonableness cannot be based solely on prices paid by the Government. This section starts by discussing sufficient market research which was a big push from Congress just a few years back – OK more than a few years but it was all the rage when Congress was pushing commercial items.
You have an opportunity to submit public comments on the proposed rule before October 29, 2021, not that any number of comments will likely change what is coming. While there is no stopping this, refining the wording may be very helpful for the inevitable roll down of this requirement to higher level subcontractor pricing.
We can easily see DCAA/DCMA applying the prohibition to prices paid by the higher-tier contractor (i.e., simply replacing the word Government with Contractor) and expecting a high-level contractor official to replace the head of contracting agency. An even more perplexing flow down reading could be that the contractor still needs the head of the agency's determination of best interest to the Government.
So, get out there and comment. Comments can be submitted through the Federal eRulemaking Portal: https://www.regulations.gov. Search for "DFARS Case 2020-D008." Select "Comment" and follow the instructions to submit a comment.
About Redstone GCI
Redstone GCI assists contractors throughout the U.S. and internationally with understanding the Government's expectations and supporting contractor through DCAA audits, as well as, developing purchasing policies and procedures that comply with DFAR.