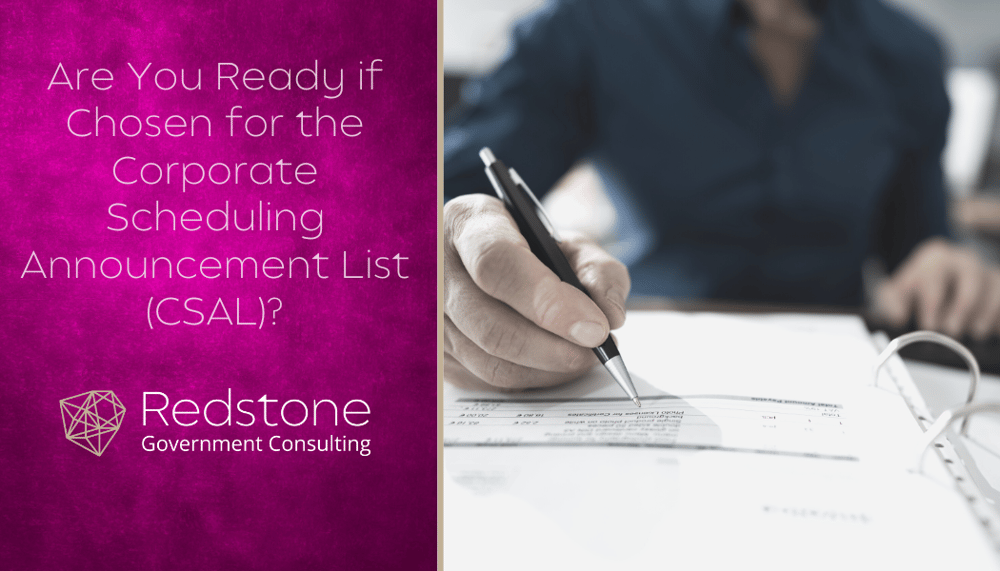 What is the Corporate Scheduling Announcement List (CSAL)?
The Office of Federal Contractor Compliance Programs (OFCCP) issued the FY 2023 Corporate Scheduling Announcement List, commonly referred to as a CSAL on January 20, 2023. This list includes 500 supply & service contractors selected for an Establishment Review, Corporate Management Compliance Evaluation (CMCE), or Functional Affirmative Action Program (FAAP) review. These reviews help determine whether a covered contractor maintains records consistent with their obligations under OFCCP's laws, has correctly certified in the GSA's System for Award Management database and has established Affirmative Action Programs (AAP) at each establishment.
How are Contractors Chosen for the CSAL?
The methodology for developing the Supply and Service Scheduling List can vary from year to year. The OFCCP has no legal obligation to publish its methodology and will revisit the decision to publish its scheduling methodology each time the methodology is revised. The FY 2023 CSAL includes covered federal contractors and subcontractors that are required to maintain an AAP but did not complete their mandatory annual certification in the OFCCP's Contractor Portal as of December 1, 2022. Contractors and subcontractors that certified in the OFCCP Contractor Portal as of December 1, 2022, were removed from the selection pool.
What Happens Next?
OFCCP considers the CSAL to be a courtesy to contractors, providing notice and allowing the contractor to prepare for the issuance of the Scheduling Letter which officially begins the audit process. Prior to Directive 2022-02, issued by President Biden on March 31, 2022, OFCCP could not issue the Scheduling Letter until at least 45 days after the CSAL was issued. This is no longer the case and OFCCP could begin issuing Scheduling Letters immediately. Following receipt of the items requested in the Scheduling Letter, OFCCP will initiate a Desk Audit, which entails a thorough review of the information provided. The audit process and additional information requested will vary depending on the type of audit and information provided.
How to Prepare for CSAL?
OFCCP's expectation, per Affirmative Action Requirements, is that contractors are maintaining appropriate records and performing self-audits; therefore, once received, contractors only have 30 days to submit the items listed in the Scheduling Letter. For contractors who are on the CSAL, now is the time to notify appropriate personnel (i.e., legal counsel, EEO/AAP coordinators, organizational leaders) and begin a thorough self-audit or third-party review. For those not on the CSAL, keep in mind that this does not preclude you from an audit for another reason (i.e., employee complaint, contract award notice). Following are action items to assist in maintaining and evaluating compliance obligations, regardless as to whether a contractor is listed on the most current CSAL:
If required, ensure Affirmative Action Plans and all applicable records have been maintained and are up-to-date. (Make sure you're doing what your AAP says you're doing!)
Confirm annual EEO-1 and VETS reporting have been timely submitted.
Gather and consistently maintain outreach and recruitments efforts, as well as state job listing documentation, to include notes as to the effectiveness of these efforts.
Ensure required tag lines, postings and policies are appropriately displayed.
Confirm that Equal Employment Opportunity and Affirmative Action Clauses are included in subcontracts and purchase orders.
Be diligent in pay equity analyses and documentation and be mindful of OFCCP's current and ever-evolving landscape on pay equity.
Routinely educate your managers and anyone involved in recruiting, hiring, promotion, training and compensation decisions.
If you're unsure as to the various and complex requirements of OFCCP and Affirmative Action, please visit our blog series. While our goal is to be pro-active and assist clients in establishing and implementing compliant processes and procedures, our experienced HR Consulting & Employment Law Team routinely provides third-party assessment and audit support.