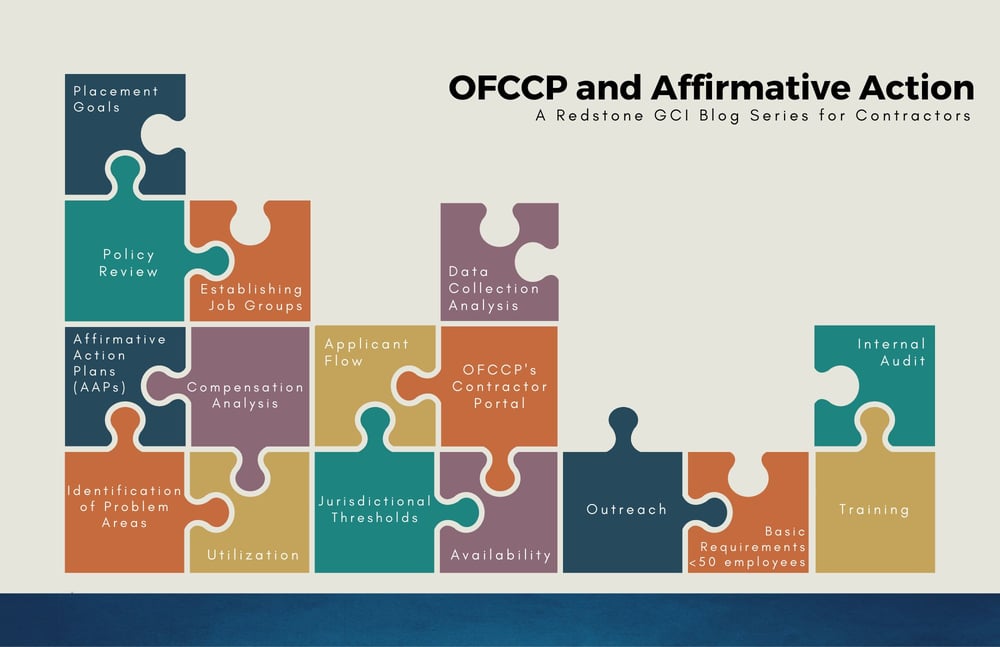 What is it?
The Office of Federal Contract Compliance Programs (OFCCP) Affirmative Action Program Verification Interface (AAP-VI), or "Contractor Portal" is a new platform to be used by covered government contractors (prime and subcontractors) to:
Annually certify that they are complying with the requirement to develop and maintain annual Affirmative Action Plans (AAP).
Upload Affirmative Action Plans and other requested materials during an OFCCP compliance evaluation.
Why in the World?
This has been in the makings since September 2016 when the Government Accountability Office found that "OFCCP has no process for ensuring that the tens of thousands of establishments that have signed a qualifying federal contract have developed an AAP within 120 days of commencement of the contract or updated it annually." With that finding came a recommendation to the Department of Labor to develop a way in which AAPs can be monitored on a regular basis. Almost six years later, we're now seeing that come to life with the Contractor Portal.
Who, Me?
At this point in time, only supply and service contractors who meet the jurisdictional thresholds are required to use the Contractor Portal to register and certify AAP compliance. These jurisdictional thresholds are quite low and are as follows:
Executive Order 11246 requires contractors to have a written AAP if you have a contract of $50,000 or more and have 50 employees.
Section 503 of the Rehabilitation Act of 1973 requires contractors to have a written AAP if you have a contract of $50,000 or more and have 50 employees.
Vietnam Era Veterans' Readjustment Assistance Act of 1974 (VEVRAA) requires contractors to have a written AAP if you have a contract of $150,000 or more and have 50 employees.
When Do I Have to Do This?
If you're a covered contractor, you may begin registering when the portal opens on February 1, 2022. The certification process will begin on March 31, 2022 and the deadline to certify is June 30, 2022. If you have recently become a covered contractor (i.e., only recently met the jurisdictional threshold), you have 120 days from that point in time to develop the required plans. Following that 120-day period, you have 90 days to certify via the Contractor Portal.
Where Do I Find More Information?
You can find additional information on the OFCCP Contractor Portal web page where they have shared some Frequently Asked Questions and plan to include how-to videos soon. And, of course, the HR team here at Redstone GCI is always available to answer questions and assist with all of your OFCCP compliance needs.
What Do I Need to Do Now?
If you are a supply and service contractor (prime or subcontractor) who meets the jurisdictional thresholds described above, you need to ensure that you have the applicable AAPs in place so that you can certify your compliance by June 30, 2022. If you do not have a current plan in place, we've got you covered! Our HR team at Redstone GCI would love to walk you through this process, develop your AAPs and use that opportunity to assist in developing compliant and efficient practices.
If you're a contractor or subcontractor who is below the thresholds and do not yet have 50 employees, keep in mind that there are still recordkeeping and compliance obligations to be aware of. We strongly encourage you to implement best practices now that will assist in a smooth transition once you reach the 50 employee threshold and the added layer of compliance that comes with it.
Coming Soon: OFCCP and Affirmative Action Blog Series
Join us as we kick-off a blog series on "all things" related to OFCCP and Affirmative Action for contractors of all sizes. This series will focus on supply and service contractors; however, construction contractors may also find it to be helpful.