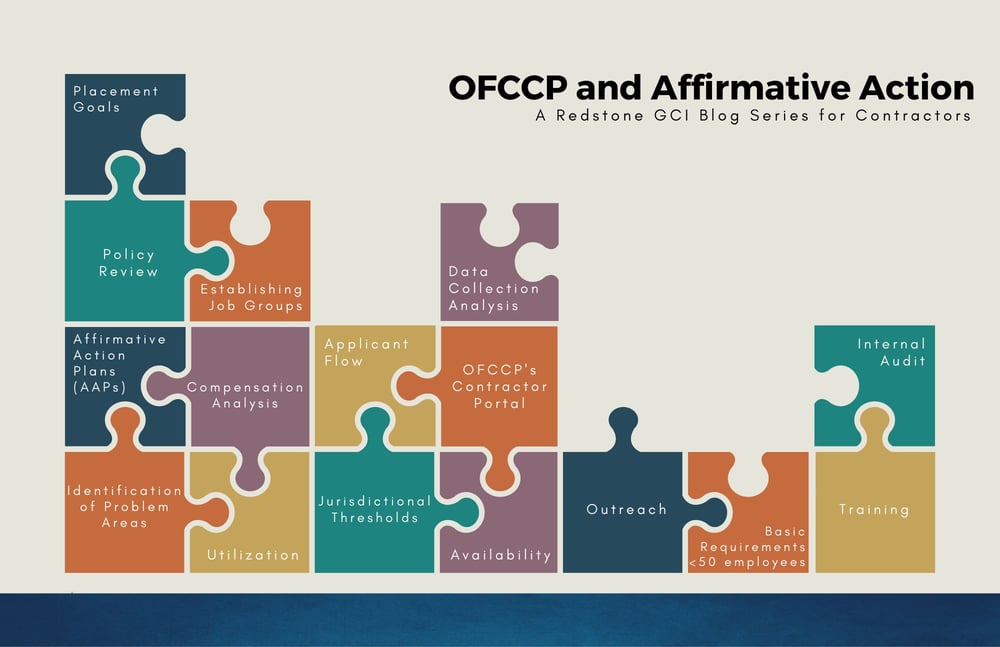 As mentioned throughout this series on Office of Federal Contract Compliance Programs (OFCCP) and Affirmative Action (AA), recordkeeping is essential. A particularly important component when developing your AAP , as shown in a previous blog, is Applicant Flow (i.e., records pertaining to each "applicant"). When working with clients, we find that this tends to be the most complex and often confusing information requested. Following are answers to some of the most common questions we are regularly asked:
Is Everyone Who Applies an Applicant?
Per OFCCP, the definition of an internet applicant is an individual who satisfies all four of the following criteria:
The individual submitted an expression of interest in employment through the internet or related electronic data technologies;
The contractor considered the individual for employment in a particular position;
The individual's expression of interest indicated that the individual possesses the basic qualifications for the position; and
The individual, at no point in the contractor's selection process prior to receiving an offer of employment from the contractor, removed himself or herself from further consideration or otherwise indicated that he/she was no longer interested in the position.
If you have a job seeker who meets the above criteria, they are an internet applicant and are therefore expected to be included in your applicant flow (and don't forget all those other recordkeeping requirements!).
We suggest you avoid "traditional applicants" by requiring that candidates apply via the internet or other electronic means, preferably an Applicant Tracking System (ATS). Smaller contractors may utilize email or web forms for applications. Whatever method you've chosen, the goal is to have one central electronic repository for receiving applications and only accept expressions of interest via this means.
What is an Applicant Flow Log?
Applicant flow logs help to keep information organized for hiring and recordkeeping purposes and serve as an integral part of your Affirmative Action Plan and requirements. They can be created through a simple spreadsheet or elaborate software - this is up to you. No matter which route you choose, ensure that you are maintaining all relevant applicant information in a manner which can be retrieved and easily organized. This will typically include the following information on each applicant:
Job applied for
Unique requisition or identification number
Date of application
Name
Self ID info – race, gender, vet status, disability
EEO-1 category
Disposition (more on this below)
What Does Dispositioning Candidates Mean?
The goal of dispositioning is to identify the stage at which an applicant "fell out" of the process and why. For example, "Resume Screening – Candidate lacks basic qualifications." "Resume screening" is the stage the applicant "fell out," and "candidate lacks basic qualifications" is the reason the candidate is no longer being considered. In this example, the applicant would not need to be included in the Applicant Flow data which is then counted in the AAP as this person does not meet the internet applicant rule due to lacking basic qualifications.
Vague codes like "Better applicant selected" and blanket dispositions for all candidates should be avoided. Each company may have unique disposition codes which are structured to mirror their hiring process and it is important that everyone involved in the process understand and use these codes consistently. Proper dispositioning can provide a quick summary as to the selection process of a particular job posting or requisition. This information can be a helpful resource when reviewing data and determining appropriate next steps upon finding potential adverse impact.
How Do I Know if an Applicant was "Considered"?
If you review the application or resume to assess and determine if the candidate meets the qualifications for the position, then you've "considered" them; however, you do not need to "consider" applicants who did not apply through the means instructed. For example, if your policy is such that applicants must apply online via your website and you receive an application via email, you may ignore that email or better yet, respond and let them know that only applicants who apply via the described method will be considered. That all sounds simple but make sure that the method of applying is clearly stated on your website and/or job postings. And don't forget to provide individuals with a disability with an alternate method of applying.
If you receive more applications than you can (or reasonably want to) consider for one position, you may use data management techniques to randomly reduce the number of applicants considered. These methods need to be neutral, consistently applied and documented. Seek further information prior to utilizing these techniques.
What's Next in this Series?
Throughout this series, we've spent a good bit of time on the fundamentals and components of an AAP. Next, we will share why it is important to dust that plan off and how to put it to good use in "Identifying Problem Areas." We will explore Utilization and Goals, Adverse Impact and Compensation Analysis.