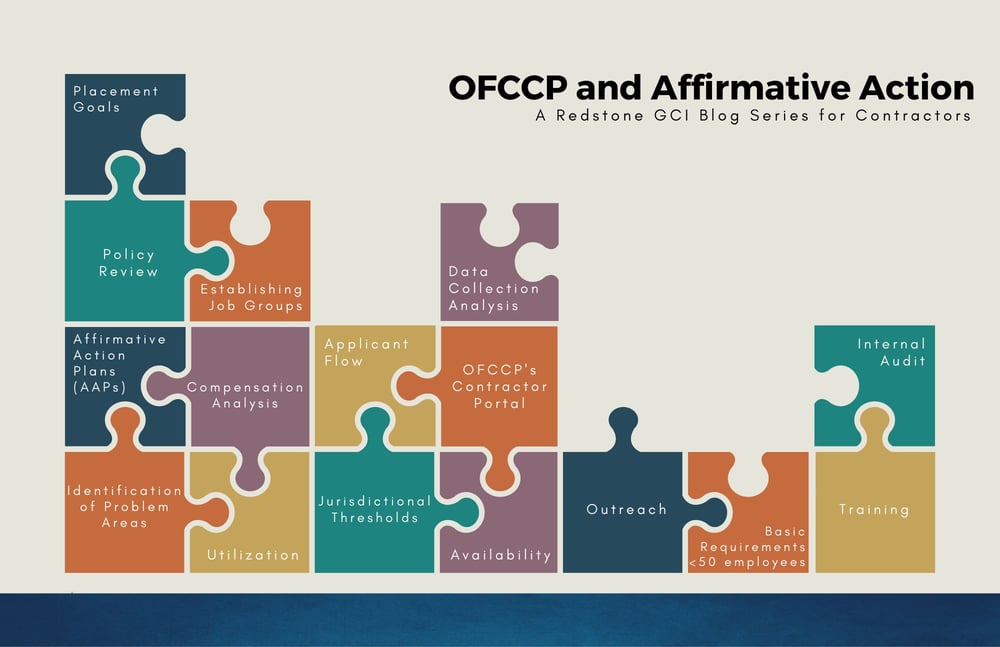 We hope that the previous blogs have provided a solid explanation as to what an Affirmative Program is and who the Office of Federal Contract Compliance Programs (OFCCP) is. The requirement to maintain a written plan/s and ensure all action items noted within the plan are being executed can be a daunting task. As we begin to steer away from the basics of what the various requirements and components of a written plan are, we will begin to dive into helpful tips and best practices. As shown in the diagram from a previous blog in this series, the establishment of Job Groups and Activity records are critical to establishing a valid Affirmative Action Plan and are therefore worth focusing on.
Job Groups
Job Groups are the basis for the Utilization and Adverse Impact Analysis of each Establishment.[1] This analysis is the "meat" of the plan and is essential information to be considered when auditing internal processes and initiating outreach efforts; thus, the Job Groups are an integral component of the plan development. Job Groups are different from EEO-1 categories; however, a contractor may use the established EEO-1 categories as Job Groups if there are fewer than 150 employees in the workforce. As a reminder, the EEO-1 Categories are:
Executive/Senior Level Officials and Managers
First/Mid-Level Officials and Managers
Professionals
Technicians
Sales Workers
Administrative Support Workers
Craft Workers
Operatives
Laborers and Helpers
Service Workers
If a contractor has more than 150 employees, these EEO-1 categories need to be sub-divided. In order to provide a more accurate representation of your workforce and related analysis, we often suggest dividing EEO-1 categories into different Job Groups prior to reaching 150 employees. The following factors must be considered when establishing Job Groups:
Similar duties and responsibilities
Similar rates of pay
Similar opportunities, to include training, transfer, promotion and benefits
It is not necessary to sub-divide all EEO-1 categories. Instead, consider the diversity of roles, pay and opportunities within each. Though OFCCP does not provide a minimum number of incumbents within a Job Group which they specify is acceptable, it is important to maintain Job Groups with enough incumbents to provide meaningful analysis.
As an example, the EEO-1 category of 2-Professionals often encompasses a vast array of positions with greatly varying responsibilities, pay and opportunities; therefore, this is often one of the first groups that should be sub-divided. In this case, Job Groups such as these may be appropriate:
2A Administrative Professionals (i.e., Human Resources, Accounting, and Contracts professionals)
2B Analysts (i.e., Systems and Business Analysts)
2C Engineers (i.e., Software, Electrical, Aerospace Engineers)
The availability of candidates by race and gender in these groups may vary significantly, thus allowing for your data to provide a more accurate representation of current utilization and appropriate goals. This process should be approached carefully and strategically as it may be necessary to explain and justify the creation of these Job Groups to OFCCP if audited.
Activity
All records pertaining to all employment-related activities are vital to creating a valid Affirmative Active Plan and thus implementing a meaningful Affirmative Action Program. These records are the driver behind the requirement of "Identification of Problem Areas," which we will address in greater detail in a later blog in this series. Accurate records of all activity, to include recruitment, applicant flow, hires, transfers, promotions, training, compensation, and even benefit policies may be reviewed if audited. Some of the following activities are used to develop the Plan:
Applicant Flow
Hires
Termination
Promotions
What's Next in This Series?
We find that the most challenging activity to accurately capture is the Applicant Flow. What data must be maintained? Who is an internet applicant? Where was this applicant sourced from? Did you capture self-ID forms for each applicant? If unable to answer all of these questions, you aren't alone! Many contractors struggle to effectively recruit and hire while also complying with the various requirements related to applicant tracking. Next in this series, we will answer these questions as well as address some of the more common flaws and fixes to Applicant Flow.
[1] Reference 41 CFR 60 2.1(d) for information on Establishments and how to determine which affirmative action program each employee should be included in.