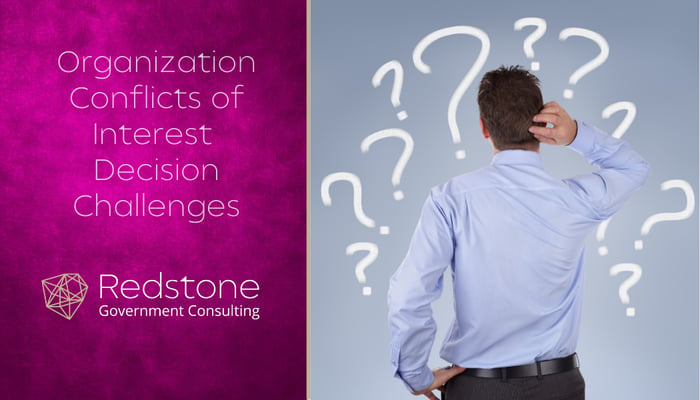 Organizational Conflicts of Interest (OCI) play a key role in a government contractor's ability to compete for work. In accordance with Federal Acquisition Regulation 9.504, contracting officers are responsible for evaluating OCI as early in the acquisition process as possible in an effort to avoid or mitigate conflicts that may otherwise be present in the acquisition.
The Role of the Contracting Officer
A contracting officer's OCI decision is like a responsibility determination. While contracting officers are encouraged to mitigate OCI to the maximum extent possible, they can determine a company is ineligible for an award based on an OCI. The contracting officer's decision whether an OCI exists or can be mitigated greatly affects business opportunities. In most cases, government contractors rarely challenge the OCI decision of the contracting officer. Most commonly, an OCI protest occurs when a company is challenging the OCI potential of a selected awardee. However, a recent GAO case focused on the Contracting Officer's decision.
Archimedes Global Inc. (Archimedes), B-415886.2, June 1, 2018
In this case, Archimedes proposed two incumbent employees as key personnel. The two incumbent employees had access to competitively beneficial information. The employees both signed affidavits stating that despite having the ability to, they did not access any competitively useful information to gain an advantage in the proposal. In addition, both signed non-disclosure agreements.
The Department of Homeland Security found that even though the measures mentioned above were taken to gain confidence that competitive information was not obtained or utilized, the employees could have provided Archimedes with unequal access to non-public, competitively useful information. The contracting officer stated that although there was no actual OCI, the appearance of an OCI was present. Based on the appearance of OCI, Archimedes was determined ineligible for award.
Archimedes protested the contracting office's decision of award ineligibility due to the appearance of an OCI, and the GAO found in favor of Archimedes. GAO determined that the Government needed hard facts of an OCI to find a contractor ineligible for award based on OCI. The appearance of OCI was not adequate basis to find Archimedes ineligible for award.
What to Take Away from Archimedes
While contractors willingly challenge contract awards based on potential OCI, we rarely see contractors challenge the contracting officer's decision on their own OCI position. As a contractor, it is important to understand the contracting officer's decision and the validity of the basis for a contracting officer's decision.
Assistance with OCI Challenges
The team of experts at Redstone can provide training and advisory services to help your organization be prepared for winning a contract award. From our Government Contractor webinars to personalized consulting services, we have specialists to assist all sizes of businesses and every consulting need.
Redstone Government Consultants are a team of the most senior industry veterans and the brightest new talent in the industry. Many have held senior government positions including leadership roles in the DCAA. Our new talents bring significant accounting and software experience along with fresh perspectives, inspiration and energy to our team. Through our leadership and combined experience, we provide a unique perspective, bringing both government and contractor proficiencies to bear and ensuring rock-solid government compliance for our clients.