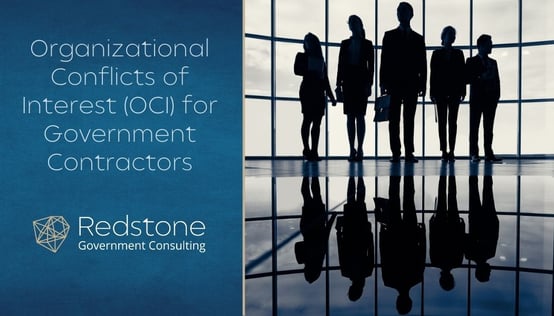 Organizational Conflicts of interest have increasingly gained attention from the Government and Government contractors. Organizational Conflicts of Interest (OCI) are discussed in the Federal Acquisition Regulation (FAR) subpart 9.5. OCI rules are meant to prevent conflicting roles or unfair competitive advantage in government contracting. Assessment of OCI is very fact specific, and mitigations should be sculpted to fit your contracts and situation.
OCI Categories
There are three primary categories for OCI: Unequal Access to Information, Biased Ground Rules, and Impaired Objectivity. Based on the different types of tasks involved in each category, differing mitigation techniques are considered effective for each category.
Unequal Access to Information
Unequal access to information OCIs occur when a contractor gains access to nonpublic information that is competitively useful in obtaining a separate government contract, such as a competitor's proprietary information or the government's confidential information. Tools such as firewalls can be used to mitigate unequal access to information OCIs.
Biased-Ground Rules
A bias-type conflict occurs when a contractor, as part of its performance of a government contract, has, in some sense, set the ground rules for another government contract. For example, if a contractor prepares and furnishes complete specifications for a non-developmental item, the contractor cannot furnish the item. Another example, if the contractor prepares a work statement to be used in a competing services contract, the contractor may not provide the services.
Mitigation techniques such as firewalls are considered ineffective against bias-type OCIs. However, there are exceptions to the bias-type OCI rules. As indicated by the first example above, the restriction does not apply to development work. Another exception applies if the contractor was providing the specifications of their own product in response to the government's request. A number of other exceptions exists for bias-type OCI and should be reviewed for each potential bias-type OCI.
Impaired Objectivity
Impaired objectivity could occur if a company is in the position of evaluating its own performance or products, or the performance or products of a competitor. This could also exist if the contractor is positioned to favor its own interests over the interests of the government. Impaired objectivity OCIs can be hard to mitigate. Typical firewalls are considered ineffective against impaired objectivity OCIs. However, while a typical firewall is considered ineffective, a firewalled subcontractor, meaning a subcontractor that works directly with the government rather than through the prime (contractor), could equate to a potential mitigation. Consequently, this technique is more administratively burdensome for the government.
Responsibilities with Regards to OCI
Contracting officers have the responsibility to identify and evaluate potential OCIs as early in the acquisition process as possible. The contracting officer should avoid, neutralize, or mitigate potential significant OCIs prior to contract award. Contracting officers examine each potential OCI based on the facts at hand and nature of the proposed contract. OCIs are very fact specific and the analysis can vary from case to case, even when working with the same contract.
Contractors need to identify their potential conflicts and prepare adequate mitigation plans. Mitigation plans should propose actions to identify and reduce actual (or apparent) OCIs to an acceptable level. The mitigation plan should be based on accurate facts, be reasonable, and should be actively followed. The plan should address the steps the contractor will take to preclude any perception that a contractor would favor its own products or services.
How Redstone Government Consulting Can Help
The team at Redstone Government Consulting is well versed in Organizational Conflicts of Interest and OCI mitigation plans. Contact us to assess your potential conflict, develop mitigation plans, or develop internal policies to assist with monitoring OCIs. Our team also frequently assists our client base with the development of response strategies in the event of perceived OCIs from competitors during acquisitions.