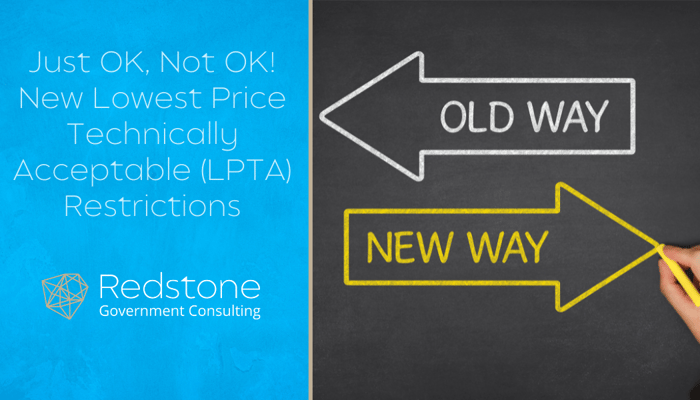 Section 880 of the National Defense Authorization Act (NDAA) included provisions restricting the use of the Lowest Price Technically Acceptable (LPTA) source selection criteria to only procurements where:
the agency can comprehensively and clearly describe the minimum requirements expressed in terms of performance objectives, measures, and standards that will be used to determine acceptability;
the agency would realize little or no value from a contract proposal exceeding the minimum technical or performance requirements set forth in the request for proposals;
the technical approaches will require little or no subjective judgment by the source selection authority as to the desirability of one proposal versus another;
the agency has a high degree of confidence that a review of proposals of other than the lowest bidder would not result in the identification of factors that could provide value or benefit;
the contracting officer has included a justification for the use of an LPTA evaluation methodology in the contract file; and
the agency has determined that the lowest price reflects total costs, including costs for operations and support.
When to Avoid LPTA Source Selection Criteria
Section 880 also requires that use of LPTA source selection criteria be avoided in procurements that are predominantly for the acquisition of information technology services; cybersecurity services; systems engineering and technical assistance services; advanced electronic testing; audit or audit readiness services; health care services and records; telecommunications devices and services; other knowledge-based professional services; personal protective equipment; or knowledge-based training or logistics services in contingency operations or other operations outside the United States, including in Afghanistan or Iraq.
In its final proposed rule to amend DFARS implement these requirements, DoD also included these additional criteria for use of LPTA source selection:
there will be little or no additional innovation or future technological advantage using a different source selection process; and
the goods are predominantly expendable in nature, are nontechnical, or have a short life expectancy or short shelf life.
Additional Changes You Might See
As a result of these changes, contractors can expect to see a significant reduction in LPTA and sealed bid procurements even in situations where the procurement may meet the criteria for an LPTA. When guidance was changed to require Contracting Officers to justify commercial item determinations, we saw a significant reduction in FAR Part 12 usage because it was easier for the Contracting Officer to require proposal submission under FAR 15 than justify acceptance as a commercial item and risk someone questioning their judgment. Contractors can expect to see the same thing with respect to LPTA source selection.
For technically superior contractors, this should be a welcome change. While price is always going to be important, demonstrating higher technical value is may be much more important for many procurements than the price, particularly when competing with less technically capable bidders.
Performance Assessments Even More Important than Ever
The higher emphasis on technical considerations also makes it even more essential for contractors to closely monitor their performance assessments in the Contractor Performance Assessment and Reporting System (CPARS). Unfortunately, the government does not have the greatest reputation with respect to performance assessments, so contractors need to make every effort to ensure they are treated consistency and fairly in these evaluations and ensure the information in CPARS is accurate. Under LPTA source selection, a contractor with a satisfactory or adequate performance rating with the lowest bid would win the award over contractors with higher ratings. The new LPTA restrictions make this much less likely.
Establishing the value of your technical superiority is also critical to give the contracting officer the ammunition needed to support the award selection. If needed, the Redstone team stands ready to assist in that valuation. Our experience is that it is much better for the contractor to compute that value and provide it to the contracting officer than to rely on the government to determine the value. You can bet that bid protests will increase dramatically when the lowest bidders are not awarded the contract. The contracting officer will need to be able to show the award was given to the best value bidder.