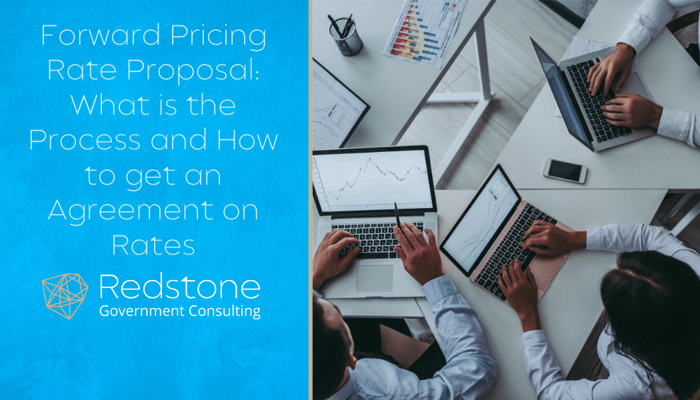 There is much confusion and frustration on behalf of a contractor when it comes to forward pricing rate proposals (FPRP) and forward pricing rate agreements (FPRA). This confusion and frustration comes from the lack of direction provided for this process in the FAR. In this blog, we pull together the regulation and guidance associated with forward pricing so contractors can better understand the process and alleviate some of the frustration and questions which we see often.
Forward Pricing Rate Proposal Highlights
Below, we have highlighted areas of the regulation which lay out expectations and processes for submitting an adequate FPRP and offer clarification associated with these regulations.
FAR 15.407-3: Forward Pricing Rate Agreements
This does not outline the process for getting to agreement on forward pricing rates. In fact, this regulation speaks to the underlying cost or pricing data; it provides that the contractor does not certify to the underlying cost or pricing data being current, accurate, and complete at the time of the agreement, but at the time of price agreement on each individual contracting action. It also requires the procuring contracting officer (PCO) to use the rate agreement or engage the administrative contracting officer (ACO) if the agreement needs to be revised. DFARS 215.407-3 only adds head of contracting activity approval when a DoD PCO elects not to use a rate agreement.
FAR Part 15 Table 2, II. Cost Elements, C. Indirect Costs
This one does not address rate agreements either, but does hit on one of the biggest areas DCAA has locked on to in finding a FPRP adequate—that the proposal must "[s]how trends and budgetary data to provide a basis for evaluating the reasonableness of proposed rates."
FAR Subpart 42.1701, Forward Pricing Rate Agreement–Procedures
Even this one does not provide a great deal of detail regarding agreement on rates. Instead, this regulation requires the ACO determination on whether the benefits from the agreement are commensurate with the effort of establishing and monitoring a FPRA, adding that it is normally when the contractor has a significant volume of Government contract pricing. Interestingly, the definition of "significant volume of Government contract pricing" is not defined (see below discussion of DFARS PGI 242.302(a)(S-75) for the definition of "significant volume of Government contract pricing").
FAR 15.403-5(b)(3)
FAR 15.403-5(b)(3) simply requires format for data supporting FPRAs be submitted in a form acceptable to the contracting officer. To determine what is acceptable to a contracting officer, a contractor must go to DFARS 215.403-5(b)(3) for guidance. DFARS 215.403-5(b)(3) requires the completion of Contractor Forward Pricing Rate Proposal Adequacy Checklist at Table 215.403–1 and submission of the checklist with your proposal. It also provides the contractor should submit its FPRP at least 90 days prior the effective date of the rates. The checklist provides contractors a listing of all the expected areas the Government is looking for and provides the Government a roadmap to find all those areas. The checklist includes 24 areas, including a few of the key areas:
Index identifying and referencing all supporting data;
Point of contact for supporting data not included with the submission;
Cost accounting changes, including their impact and effect on the use of historical data;
Significant changes to your business;
Trends and budgetary data, how you used it and any adjustments;
Basis and use of escalation factors;
Detail on intermediate pools and service center allocations;
Basis for development of base projections and reconciliation to your planning and budgeting documentation;
Comparison of prior rate forecasts to actual rates; and
Summary of changes, if a revision to previous FPRP.
Next Steps in Obtaining an Agreement on FPRPs and FPRAs
So now that we understand what is expected in the FPRP and when it needs to be submitted to the Government, what happens on the Government side in order to actually get to an agreement on forward pricing rate?
DFARS PGI 242.302(a)(S-75)
Monitoring contractor costs provides direction to DCMA ACOs as to when a cost monitoring plan is required, which includes establishment of recommended (Forward Pricing Rate Recommendations – FPRR) or agreed to (Forward Pricing Rate Agreement – FPRA) forward pricing rates. DCMA-Manual 2201-01, dated February 14, 2019, translates the DFARS PGI into specific guidance to ACOs (rates are covered in section 3, Forward Pricing Rates). Section 3.1 provides that FPRR or FPRA is only requires when the contractor's next fiscal year sales are expected to exceed $200M (based on cost incurred or negotiated based on projected cost). If not required, the ACO can establish a FPRR or FPRA based on a significant volume of negotiations, customer demand, or a contractor request. However, to do so the ACO must complete a written determination and get it approved. If your sales are less than $200M and believe a rate agreement would be beneficial, you need to write your request in a format that will allow the ACO to cut and paste to build his/her written determination. Most ACOs have an extensive workload and many are new to their role in the acquisition process. Therefore, it is important to assist the ACO as much as possible.
The Forward Pricing Rate Agreement Process in Detail
For the sake of our discussion, we will assume a FPRP is either required or beneficial based on the ACO's written determination. It is critical to ensure your FPRP is adequate based on the checklist before you submit it. This will significantly improve the process by eliminating the back and forth to get to an adequate FPRP. As a best practice, you should consider walking the ACO and auditor through your FPRP and the checklist prior to submission. Any questions related to the checklist and your explanations can be addressed up front.
The ACO must perform cost analysis to review the FPRP. This means a detailed cost element analysis of rates material to Government contracts. This analysis will include a determination of whether or not audit or technical involvement will be necessary. When an audit is requested, the ACO often feels their hands are tied and they must support any audit findings, as disagreement with the auditor is likely to require a high-level board of review involving both DCMA and DCAA management, not to mention the additional documentation requirements.
Within 30 days of receiving an adequate FPRP, the ACO is required to issue rate recommendations – the FPRR should remain in effect until a FPRA is reached. For ACOs with support from a cost monitor or ICAT group, the ACO should negotiate rates within 60 days of receiving an adequate FPRP. For ACOs without this support, the ACO should negotiate rates within 90 days of receiving an adequate FPRP.
After the Rates are in Place
So, you can see the ACO has a relatively short timeframe to get rates in place. As a result, many ACOs rely heavily on a comparison of prior rate forecasts to actual rates and develop a rate decrement for rates where the forecasted rates have been higher than actuals. It is important to consider this eventuality and do your own analysis of prior rate forecasts to actual rates. Make sure you highlight any under-estimates as these are often overlooked by the Government. Then provide a written explanation as to how you have addressed any prior over-estimates in your current rate forecast. This will force the ACO to address your write-up and not simply apply a decrement.
One thing to remember is that once you submit your FPRP, you should start using those rates in your individual price proposals, as this is more current cost or pricing data. You should also notify all PCOs with in-process contract pricings of the updated rates and need to update your proposal.
Monthly Analysis for Accuracy
Also, you need to remember that when you are certifying that your cost or pricing data is current, accurate, and complete (signing a Truth in Negotiation Certification), it includes all the data supporting your forward pricing rates. So, even if you have a FPRA in place, you are required to consider if there is more current supporting data that would impact your FPRA. As a best practice, we recommend you perform a monthly analysis of your rates that includes the following:
Forecasted rates to actual rates;
Select comparison of budgeted account forecasts to actual expenses;
Significant contract awards and likely program changes impacting base projections; and
A write-up on any significant items that could impact your rate forecasts.
The key here is to provide this analysis to the ACO, or cost monitor, and auditor. This will also help support the ACO's requirement to monitor and track the FPRA and place all parties on equal footing as to whether the FPRA is current, accurate, and complete.
Assitance with Forward Pricing Rate Proposals
Redstone GCI assists contractors throughout the U.S. and internationally with understanding the Government's expectations and requirements for developing adequate forward pricing rate proposals that comply with DFARS Table 215.403–1. For additional support, including training and consulting options, reach out to us.