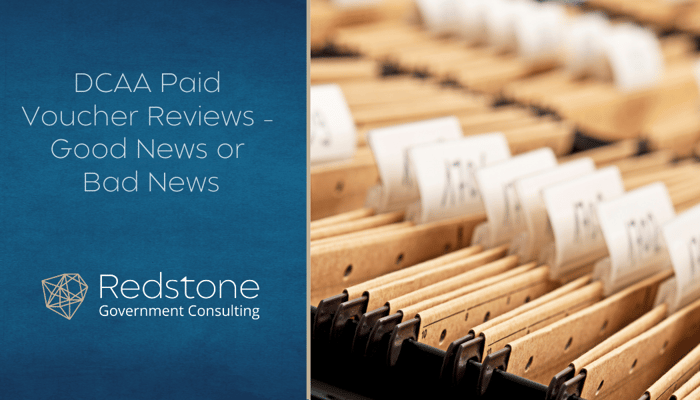 Believe it or not, getting DCAA to show up and complete a "Paid Voucher Review" is "Good News."
To understand where I'm coming from with this statement, let's start with a little history. The way DCAA dug itself out of its incurred cost backlog hole was with low risk sampling, provided for under FAR Class Deviation (2012-O0013) – DCAA Policy and Procedure for Sampling Low-Risk Incurred Cost Proposals, issued July 24, 2012. This was a significant expansion of the risk-based sampling approach that DCAA had employed since 1994. Prior to the 2012 deviation, DCAA had a limited risk-based sampling approach, which included what they called a "desk review" of incurred cost proposals (ICP) for years that were not audited. Desk reviews applied to ICPs with auditable dollar values (ADV) under $15M with a mandatory full-blown audit at least every third year. Desk reviews involved procedures much more extensive than the 2012 deviation calls for now.
The 2012 deviation did away with the "desk review" and limits a mandatory third year audit to low risk ICPs with ADV greater than $100M, and up to $250M. 100% of all ICPs greater than $250M in ADV are audited every year without exception. This new sampling process was very successful. Based on DCAA's 2018 Report to Congress: "DCAA successfully eliminated the incurred cost backlog … resulting in 8,482 incurred cost years closed with a total dollar value of $392.2 billion." For GFY 2018, DCAA only issued 651 audit reports examining $349B. This leaves us with 7,831 (8,482 minus 651) incurred cost proposals covering $43.2B ($392.2B minus $349B), a very large number of low dollar proposals, being closed without audit, based on sampling. It should be noted that DCAA's Report to Congress provides conflicting numbers; Table 5 shows 651 Incurred Cost Audit Reports and Table 6 shows 2,027 Incurred Cost Audit Reports with 4,512 Incurred Cost Years Closed by Memo with a dollar value of $43B (i.e., Sampling). Using either values, a substantial number of proposals are being closed based on sampling. The takeaway for our story is, sampling is good. Contractors want to get into the sampling pool, if the incurred cost proposal ADV in less than $250M, as not that many proposals are sampled and audited.
Back to the "Good News." Paid Voucher Reviews and other real-time testing (e.g., floor checks) are the procedures that DCAA is likely to base their risk assessments on, in order to place an ICP into the low-risk sampling. A Paid Voucher Review is going to have a very limited number of transactions looked at by the auditor (e.g., five or so) and the transactions are going to be current. Thank goodness--no more digging through dusty old files. So, take the opportunity to work with the auditor and demonstrate you are a low-risk contractor, or otherwise, risk having a full-blown ICP audit.
One more thing to note; thanks to the 2018 NDAA requirement for DCAA to start using Independent Private Accountants (IPAs) to conduct select incurred cost audits, it is likely that many of the sampled audits will be given to the IPAs to perform. While IPAs are likely to take more reasonable positions on questioned cost than we have seen from some DCAA auditors, it is also likely that, as a result of the IPAs not having year after year involvement with the same contractors, it will be a bigger drain on contractor resources when an audit does come knocking.
With training and consulting services available, let the team at Redstone Government Consulting help you with preparation, review, and audit defense for your Incurred Cost Proposals.