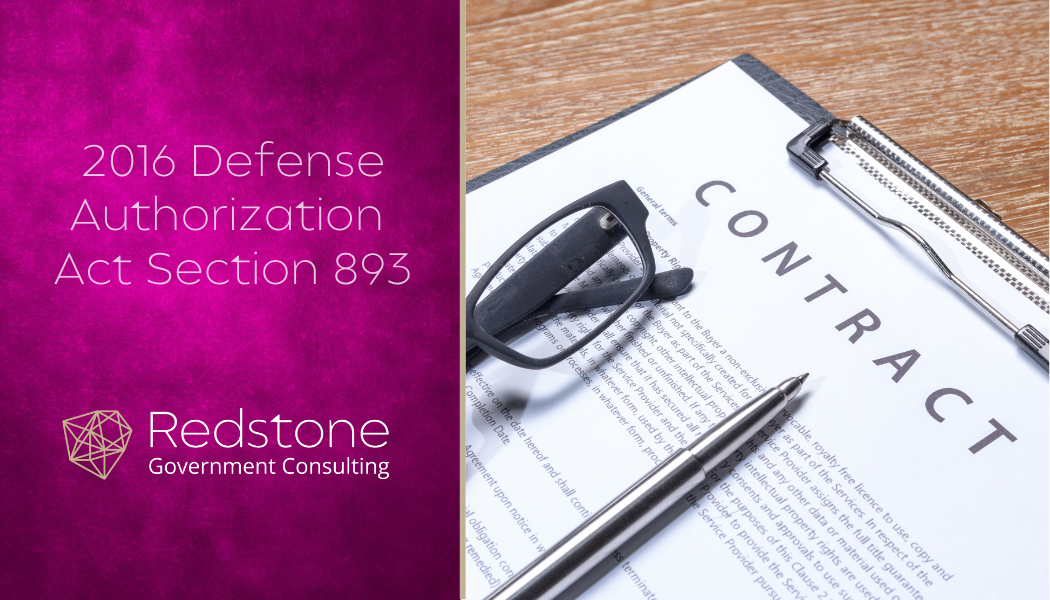 Requirement for Improved Auditing of Contracts
In late November, President Obama signed the 2016 NDAA (National Defense Authorization Act, S.1356)) which includes a number of sections related to Acquisition Policy or Acquisition Management. Of particular note for those subject to DCAA contract audits, a requirement for improved auditing which is focused on the so-called incurred cost audit backlog (contractor indirect cost rate proposals (ICPs), submitted annually as required by FAR 52.216-7(d)). Section 893 prohibits DCAA from performing any audits for non-defense agencies (e.g. NASA) unless DOD certifies that DCAA is current on the ICP backlog. "Current" is defined as 18 months of incurred cost inventory, further defined as "the level of contractor incurred cost proposals in inventory from prior years that are currently being audited by DCAA". As a point of clarification, the inventory should include ICPs currently being audited or those in the queue awaiting audit. Based upon DCAA's 2014 report to Congress, DCAA had approximately 18,185 ICPs valued at $822 billion (on hand as of 9/30/2014). Based upon May 2015 public comments made by DCAA's Deputy Director, the annual inventory is approximately 7,500 ICPs which would implicate an approximate annual value of $339 billion.
DCAA won't publicize its ICP inventory (as of 9/30/2015) until it releases its 2015 Annual Report to Congress (in April-May 2016); however, doing the math (1.5 times the 7,500 annual ICP submissions) suggests that DCAA must have no more than 11,250 ICPs in inventory to avoid the Section 893 restriction on performing non-defense audits. If DCAA has not achieved the 18-month inventory as of the date of the 2016 NDAA, any reimbursements received by DCAA for performing non-defense audits will be a reduction to DCAA's DOD funding. As a point of reference, DCAA's FY2015 funding was approximately $632 million of which approximately $40 million was from non-defense agencies ("reimbursements") which means that $592 million was DOD funding. Assuming a relatively static budget for FY2016, if DCAA fails to achieve the 18 month ICP inventory, its FY2016 total funding would appear to be capped at $592 million (DOD funding remains constant and any non-defense reimbursable audits yield a zero-sum gain as each reimbursable dollar reduces the DOD funding). Some bloggers are suggesting that DOD will keep DCAA whole (i.e. DOD will provide $632 million in funding in which case 100% of DCAA's audits will be for DOD contracts); however, that is speculative at best as well as being inconsistent with historical funding.
In any case, the magic question will be DCAA's ICP inventory as of the date of the 2016 NDAA (late November 2015). An unanswered question is: How will DCAA/DOD measure DCAA's ICP inventory? Based upon public statements by DCAA's Deputy Director in May 2015, it appears that DCAA intends to use simple count (each ICP equals "1") which would not consider the value of ICPs in inventory. If no one requires DCAA to use ICP dollar values, DCAA may have achieved the 18 month ICP inventory by completing low dollar ICPs (either by audits or simply writing them off as low risk), while deferring the much higher dollar, more complex ICP audits. In other words, DCAA may have reduced its ICP count to 11,250 (or less), but the dollar value of the ICP inventory may be significantly more than $509 billion (1.5 times $339 billion which would yield the approximate value of 11,250 ICPs). Based upon DCAA's annual reports to Congress, DCAA has only reported ICP count, which is masking the fact that DCAA's achievements have been the result of "picking the low hanging fruit" (completing or writing-off relatively low-dollar ICPs which is building an "awaiting audit" inventory of higher dollar, more complex ICPs).
Although we don't know if DCAA met the 18 month inventory as required by Section 893, we do know that DCAA has immediately ceased all audit support for non-Defense Agencies. For example, DCAA is not reviewing/approving public vouchers for NASA contracts. Presumably non-Defense Agencies will be in a mad-scramble to replace DCAA, but it remains to be seen if this will be short-term or long-term. It also remains to be seen if/how Section 893 will impact DCAA's FY2016 funding and if/how any of this will change the scope of DCAA's audits of ICPs (other than not touching non-Defense Agency contracts). At least someone (i.e. Congress) is finally looking at DCAA's audit processes as evidenced by additional requirements within Section 893. These include a requirement "to enhance the productivity of oversight and program and contract auditing to avoid duplicative audits and to streamline oversight reviews". This requirement will be included in a report (due within one year) which will also address; i) comparisons to commercial industry accounting practices to cost accounting standards (CAS) to determine if commercial industry accounting practices can satisfy CAS requirements, ii) a description of materiality standards used by the DCAA and DOD-IG (but no requirement to compare those standards to any industry standards), iii) estimate of the average delay in contract awards due to the time for DCAA to complete pre-award audits, and iv) total costs sustained or recovered costs as a percentage of questioned costs.
2016 could be a very interesting year for DCAA as well as for those contractors subject to DCAA audits. Perhaps even more interesting for contractors with both Defense and non-Defense contracts.