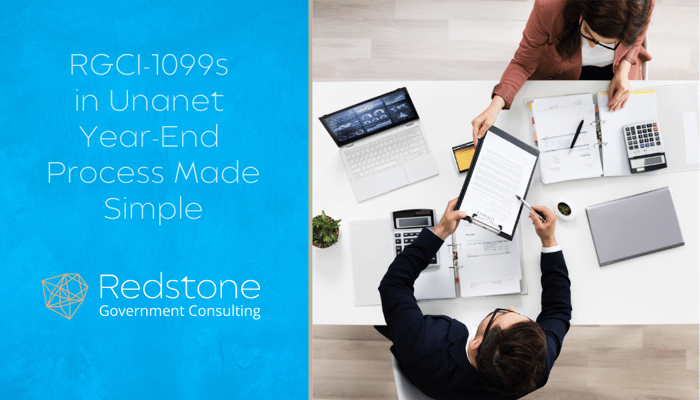 Each year's end brings a set of additional financial close tasks to our desks. The deadline to file 1099's is January 31st, leaving a lot of companies scrambling to file these forms in time. Let me tell you how Unanet has automated the process for our clients using their software:
Flag vendors eligible for 1099

Check a box on the vendor profile to mark the vendor as a 1099 vendor.
Attach the vendor's W9 and any other 1099-related documents to their vendor profile in Unanet.
Pre-populate the Unanet system with the vendor contact information (EIN, SSN, address, etc.) to send their 1099.

Flag the expense accounts and payment methods that need to be included

If you pay a vendor for expenses that don't need to be included in their 1099, those can be excluded automatically by unselecting the cost account or payment method.

Export a template for the company's 1099 information

Unanet provides a standard template for Track1099 software. If you use a different service to process your 1099s, no problem! We can restructure the information in the export for your needs.
Unanet produces two files- one for upload into a 1099 service and another that has transaction level detail included. This makes it easy to verify the totals that will be reported on the 1099s.

Never used a 1099 or W2 service before? It's printing and filing forms made easy.

Track1099 and other similar services will send forms to individuals and the government for a small processing fee.
Processing corrections (if needed) are quick and easy. Information is stored within a company login, so addresses and other information can be saved for next year.

Quality review your 1099 amounts by vendor, and your vendor contact information.

By carefully selecting the vendors and types of expenses and payments that might need to be reported on a 1099, Unanet does a great job filtering this data for us. We still want to check the detail prior to issuance to avoid revision.
If you didn't have the 1099 vendors, accounts, and payment methods selected already, no problem! Those box checks can be done tomorrow and will be applied to payments issued earlier in the year.
Redstone's Unanet Group
For additional information about using Unanet or for guidance in using it most effectively, contact our Unanet Practice Group. Redstone Government Consulting group includes a team available to help you with this software. Please let us know how the Unanet Group at Redstone GCI can help you improve your system and automate your processes!