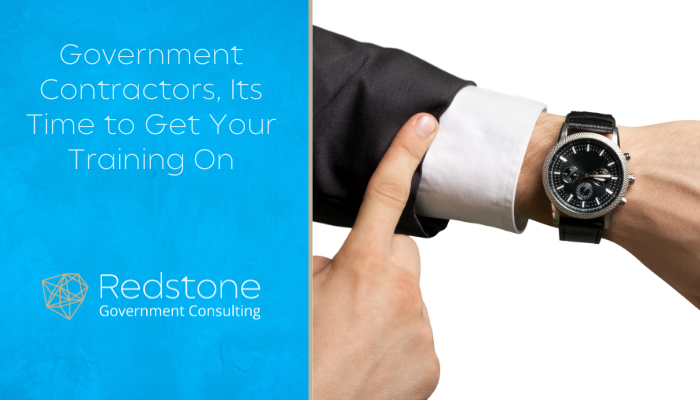 You're probably not feeling quite like THIS about training, but we do want to remind you of a few topics that you, as a federal government contractor, need to address with your workforce on a fairly regular basis. We can't hit them all, but this is a list of those that should be on the radar of your Human Resources staff and are relevant to most contractors.
EEO, Anti-Harassment & Affirmative Action
Is This Training Required
YES, absolutely. Regardless of size and/or threshold requirements, we strongly suggest consistent training and awareness on these topics. Title VII requires equal employment and a work environment free from harassment. These requirements apply to all employers with 15 or more employees. As a government contractor, depending on contract values[1], you likely have additional responsibilities as well:
Who Needs This Training?
All employees need to be made aware of your Equal Employment, Anti-Harassment and Affirmative Action obligations, policies and efforts, as well as how they may report a complaint if they have one. Moreover, managers and all others involved in the hiring process need additional training and a true understanding of the company's responsibilities and their role in the recruit to hire process and internal procedures.
What Type of Training is Required & How Often?
The regulations do not specify a particular method of delivery or frequency.[2] Employees need to be reminded at least annually of their rights and responsibilities. Optimally, we suggest an interactive training session for managers and all employees who are involved in the hiring process.
Business Ethics and Code of Conduct Awareness
Is This Training Required
FAR 52.203-13 Contractor Code of Business Ethics and Conduct says yes…and it's just plain smart! You'll find this is a requirement in contracts expected to exceed $6 million with a performance period of 120 days or more; however, any contractor that has "represented itself as a small business concern pursuant to the award of this contract or if this contract is for the acquisition of a commercial item as defined at FAR 2.101" are not required to have an "awareness" program….so even if it is not a must, should I? It should certainly be on your radar if your business and contract values are growing. Keep in mind that it takes time to develop a code that meets the requirements and suits your business.
Who Needs This Training?
All employees, "and as appropriate, the Contractor's agents and subcontractors," as this is a required flow-down clause. The depth of training may vary based on employee roles and responsibilities, but all should understand the contractor's policy, procedure and internal control system.
What Type of Training is Required & How Often?
Per the regulations, "periodically and in a practical manner." We suggest some type of awareness or training (in addition to distribution of your written policy!) at least annually.
Anti-Human Trafficking
Is This Training Required
Check your contracts for FAR 52.222-50 Combating Trafficking in Persons. You will likely find it's in there, which means you at least need to notify your employees of the government's policy prohibiting trafficking in persons and the actions that will be taken for violations of the policy. If the contract value exceeds $550,000 and is for supplies (other than Commercial-Off-The-Shelf (COTS)) acquired outside the U.S. or for services to be performed outside the U.S., then you also need a full Anti-Human Trafficking Compliance Plan.
Who Needs This Training?
All employees need to be notified and informed of the Compliance Plan, if applicable.
What Type of Training is Required & How Often?
The regulations don't specify but we suggest that in addition to having a written policy, that it be shared at least annually in another format, such as in training. You can always include it with your other annual training opportunities.
Drug-Free Workplace Awareness
Is This Training Required
If the contract meets or exceeds the simple acquisition threshold (currently $250,000) and is performed in the United States, then likely yes, per the Drug Free Workplace Act and FAR 52.223-6 Drug-Free Workplace.
Who Needs This Training?
All employees need to be made aware of the ongoing drug-free awareness program established by the contractor.
What Type of Training is Required & How Often?
The regulations aren't specific, but the key word here is "ongoing." We suggest inclusion in your handbook, annual training and frequent reminders to all employees of their obligations.
Training and awareness programs can take on many shapes and sizes. The format you choose will likely depend on the specifics of your workforce and the type of work you're doing. While we often suggest having a written policy and annual training or awareness, it sure doesn't hurt to throw in reminders at employee lunch events or in company newsletters too…and don't forget new hire orientation! We encourage you to think beyond the "check-the-box" mentality that often goes along with annual compliance training and instead use this as an opportunity to reinforce company values while also laying a solid foundation for future audits and a strong pro-active stance if ever in need of a strong defense (i.e., claims of discrimination, fraud, harassment). It's understandable if you aren't quite up to the level of excitement as the guy up top, but hopefully you'll be feeling more like this when it's complete!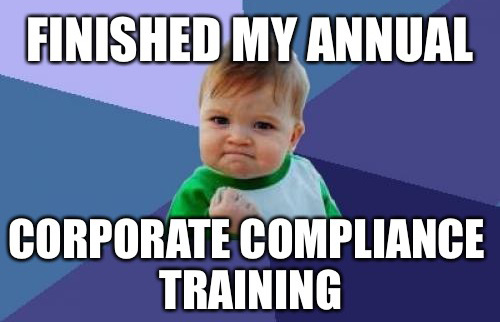 Redstone GCI is available to assist contractors in assessing and determining applicable Human Resource compliance requirements and needs, including policy review, development and implementation as well as full suite of customized compliance training to be presented live or virtually. Redstone GCI assists contractors throughout the U.S. and internationally with understanding the Government's expectations in applying the multitude of regulations that come with being a Government Contractor.
[1] Threshold requirements may be found here: Jurisdictional Thresholds (dol.gov)
[2] Note, however, that some states have very specific Anti-Harassment training requirements to consider.