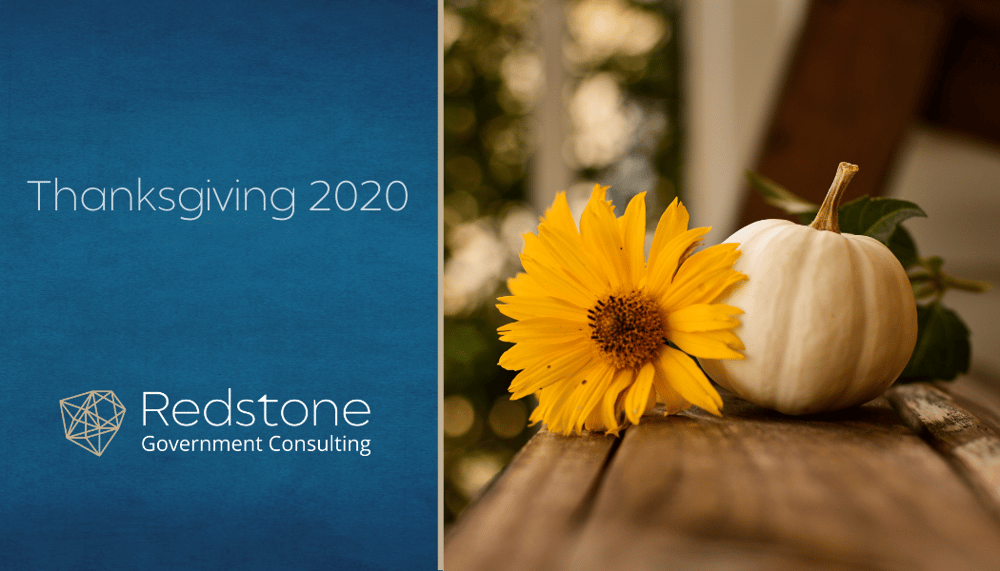 Thanksgiving is one of our favorite holidays because it is not about what we can receive, but what we can give. It is an opportunity to reflect on the positive and not focus on the negative that seems to surround us daily. Thanksgiving should be a state of mind we live in daily, and not confined to one day per year. Redstone GCI has a lot to be thankful for this year, we all do. We must dig deep within ourselves to see the blessing placed upon us each day and give thanks for those blessings each and every day. Above all, we are most thankful for God and His constant presence in our lives as we navigate each day and every occasion.
The year 2020 has looked a lot different than years past, but it has not impacted the love and support of family, friends, colleagues, and clients in which we give thanks. COVID hit us all hard, some more personally than others, and it has been an eye-opening experience for Redstone GCI, as we are sure it has been for everyone. We are thankful for the health of our employees, clients, family and friends. Without the level of care and attention to this pandemic that all those around us have put forth, this year could have been much worse, and for that we are so grateful. Words cannot describe the pride I feel for our team and the transition they quickly employed in order to stay safe during this pandemic, but also continue to work so very hard for our clients and firm. The dedication of our team is unprecedented and our respect for each team member grows daily. Through all the challenges and change brought on by 2020, it has never been clearer, that the employees of our firm care and they care deeply.
August marked the one-year anniversary of the loss of our beloved founder, Scott Butler. Some days it feels like he has been gone a lifetime and some days it feels like he is still with us and it is hard to resist the urge to pick up the phone for a quick call. We all miss Scott incredibly, but we are all better people for having known him. We are thankful for the foundation laid by Scott Butler for which Redstone GCI is built. Our firm is built on a platform that loves God and family and always does what is right, no matter the outcome. We are dedicated to quality, exceptional service and a deep affection for helping others. We are eternally thankful that our employees, their families, and many of our clients keep Scott's memory alive by maintaining and upholding these standards he set for us all.
We are thankful for growth. Growth as a firm, but more importantly, growth for the families in our firm. This year we have had the pleasure of watching the members of our team grow within their families. Our employees have experienced high school and college graduations for their children, employee weddings, marriage engagements and the announcement of two new baby boys that will be arriving soon. We are filled with joy and happiness for our employees as their lives and families grow and prosper.
Last, but definitely not least, we are beyond thankful to our clients, who have also become our friends. The trusted relationships that we develop while working with our clients is so very rewarding and motivating. Our work is not easy, but it is because of our clients, that offer appreciation, understanding, and dedication, that make our hearts full and our drive powerful.