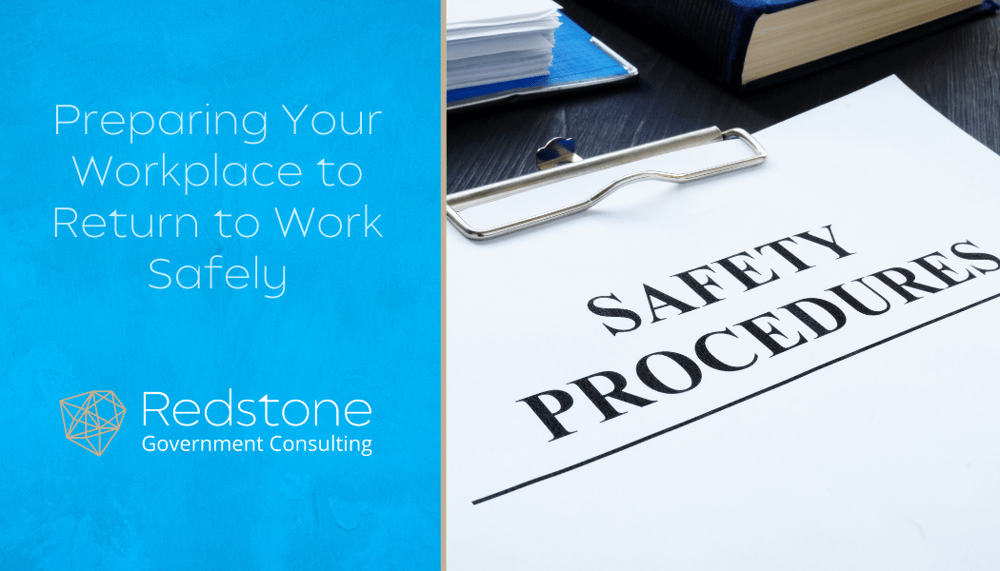 For the past 10+ weeks, we have focused on how to work remotely, compensate employees who are unable to work due to COVID-19 related reasons, and how to interpret and implement the new laws applicable to the pandemic, such as the Families First Coronavirus Response Act, the Paycheck Protection Program, and CARES. As many states begin to loosen the "shelter at home/social distancing" guidelines, it is time to consider – how do we return to work safely?
There are many issues to consider as you move to "re-open" your workplace. First, we encourage you to start with your own state/local guidelines on when your business may reopen, and what restrictions, if any, apply. These requirements and guidelines vary throughout the country (and outside as well), so we will not attempt to address all of these variations here.
Are Companies Ready for a Return?
Several surveys have asked companies what they are doing to prepare to return to work, and it appears that the majority of companies have yet to develop a plan. According to a survey by Blank Rome, more than 73 percent of companies have yet to develop a return-to-work strategy, with 56 percent in the beginning stages of designing a plan.
Another survey, this one from the Institute for Public Relations, found that return to office preparations were only in the early stages for the vast majority of businesses, with only ten percent of those surveyed having engaged in extensive planning to do so.
The Blank Rome survey identified many emerging trends in management planning during a pandemic, including major changes to travel, remote work and social distancing, how to handle positive COVID-19 tests in the workplace, managing time off and safety protocols, as well as how to maintain employee morale. Surveying the issues in consideration by employers provides a good starting point for making plans to return to work, such as:
Improving overall hygiene.
Providing protective gear for employees and customers.
Deciding which employees should return to the office, how many employees can remain remote, and whether to allow third parties to access worksites.
Testing employees for COVID-19 and its symptoms, and creating protocols for when an employee is positive for COVID-19.
Developing social distancing protocols; and
Updating COVID-19 communication plans.
Where to get Guidance
The majority of companies are relying on a combination of guidance from the Centers for Disease Control (CDC), the federal government COVID-19 task force, and state and local/regional authorities to create their return-to-work strategy. Of course, you are advised to consult all local guidance first, and take into consideration any relevant guidance that may be included in applicable Collective Bargaining Agreements. Additionally, take a look at the really cool "workplace decision tool" developed by the CDC to help employers determine whether or not they should consider reopening.
Workplace Considerations Once you Re-open
If your business is developing a plan to re-open, here are a few things to consider to protect your employees and hopefully make them more comfortable with returning to the workplace:
Maintain social distance. This may involve putting up partitions or creating other barriers to separate employees. This may be difficult in common areas, such as break rooms, so some businesses may need to shut those areas off for a while. The need to shut it off entirely versus setting guidelines/ rules to stagger use will be up to each company based on how many employees you have at the site, how large the space is, how compliant employees are, etc.
Avoid face-to-face meetings if possible, and if necessary to do so, ensure you can maintain appropriate distance.
Allow employees to wear face masks and provide them if possible. (NOTE based on your work environment, providing PPE may be mandatory).
Stagger start/stop times to lessen the likelihood of congregating.
Do not allow visitors.
Employers can require temperature checks upon arrival. If you go this route, there are additional do's and don'ts.
Sanitize more frequently, provide a way for people to clean after themselves at copiers and other shared devices, have sanitizer around the office (See CDC guidance) Confirm these guidelines are being followed at customer sites as well.
Limit business travel.
Regularly remind all staff – Do not come to work if you have been exposed to COVID-19, have been diagnosed/tested positive for COVID-19 or have symptoms!
Communicate with your employees a clear policy advising them to let you (management/HR) know right away if they have been exposed, tested positive, or have symptoms of COVID-19. Prepare an action plan to address each scenario (exposure/positive tests/symptoms, etc.) to ensure that positive and/or symptomatic employees will not expose others in the workplace.
Make sure the rules are clearly communicated, reminders provided, and policies are enforced.

Be mindful of OSHA guidance as well.
If you have not done so already, prepare or adapt your leave policies to comply with the Families First Coronavirus Response Act (FFCRA).
Proposed guidance and a draft policy for your consideration may be found here:
Ensure all supervisors are on board with the "new normal" to avoid a "rogue" supervisor telling employees they really do not have to follow all of the new workplace guidelines. Also remind them not to discriminate against employees who have an underlying health condition, are at risk, or need leave under the FFCRA.
In the event of a plant closing or "mass" layoff, be aware of the requirements of the Worker Adjustment and Retraining Act (WARN).
Government Stance on Re-opening & Liability
As businesses consider and prepare to reopen, we also have many clients who have expressed concerns over potential liability if they open too soon and an employee alleges that they were exposed to COVID-19 in the workplace. The Senate Judiciary Committee held a hearing on May 12, 2020, when it heard from numerous business owners/leaders, addressing the question of whether businesses should be granted additional protections against liability for alleged COVID-19 related damages. As you might expect, the Republicans and Democrats have different opinions on this issue; however, all appeared to agree that "bad actors" (i.e., those who do not institute worker protections against infection and its spread) should not receive a break. Senator Lindsey Graham, Chairman of the Senate Judiciary Committee, explained it this way:
"The federal role in creating liability protections needs to be limited. We're not going to preempt all state laws here about everything. We need to make sure that bad actors are not given a break, but that the people who are trying to do it right can reopen their businesses in their communities, schools, and colleges with the assurance that if you practice the right procedures that you don't have to worry about getting sued on top of everything else… We're trying to reopen the country," Graham observed. "The economy has definitely been stressed, but always be mindful of public health and that's the balance we'll be trying to achieve here. To provide liability protections in a reasoned fashion, not giving a pass to the bad actor, and hopefully we can rise to the occasion."
The results of the hearing remain to be seen, but here is a link to the full hearing if you are interested.
We at Redstone GCI continue to remind clients and anyone else who will listen to stay abreast of the guidance that is regularly updated on the Department of Labor website regarding FFCRA and other new laws.