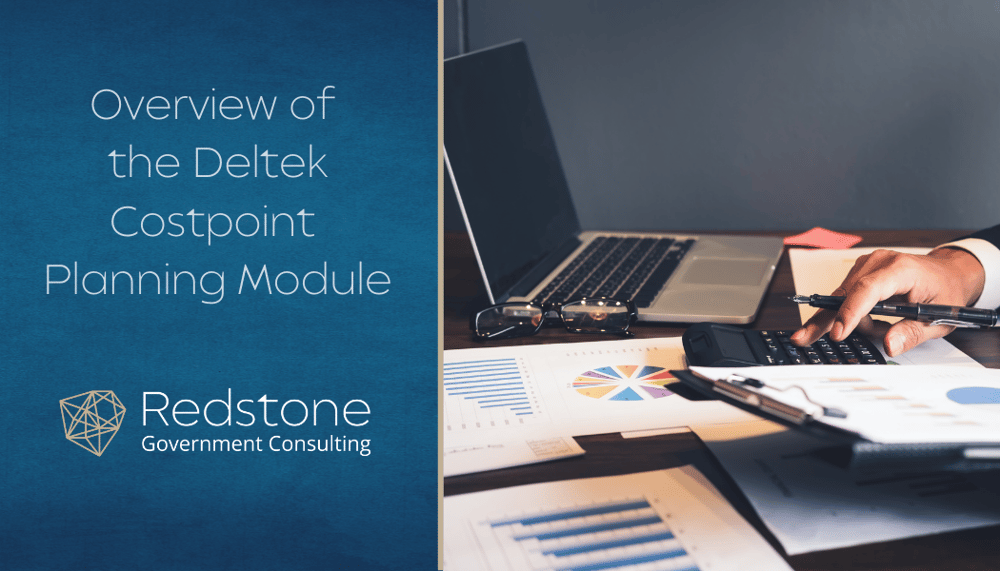 Deltek Costpoint Planning provides access to up-to-date, accurate information for developing, adjusting, auditing, approving, and re-forecasting project budgets and annual operating plans. We usually see three types of users in the Planning module: Business Development, Project Managers, and Project Control/Financial Analysts. Business Development users have access to develop new business budgets. Project Managers can create project budgets and run meaningful reports allowing them to make real time decisions and properly manage their programs. Project control/financial analysts can develop organization budgets and reconcile corporate and project budgets more accurately to better forecast their indirect rates.
Getting Started in Deltek Planning
Deltek Costpoint Planning has been designed to support both Organization and Project budgeting at the same time. There are two different methods used to create budgets in the Planning module. One of the first decisions you need to make is how you want to capture revenue for budgeting purposes. The two methods you will need to consider are the Traditional Method or Integrated Method.
Traditional Method (Org Budget): allows for reconciliation of the data from the Org Budget and Project Budget.

Plug project calculation
Evaluate org budget/outlook risk profile
Make org budget/outlook adjustments

Integrated Method (Project Budget): Project Budget can be integrated into the Org Budget.

Upload project labor, non-labor, and revenue
Make project budget/equivalent annual cost (EAC) adjustments
Org Budgeting (Traditional Method)
Org Budgeting has three major functions: create budgets, calculate forward looking indirect rates (rate processing), and calculation of risk (plug processing). You can create budget groups with the option to 'lock group' as a snapshot for future review in reports. Org Budgets are created one fiscal year (FY) at a time, created at any level of the org BUT cannot be created for more than one node in the same branch of the org tree. Org Budget outlook is like a project budget EAC.
Considerations for Org Budgeting:
Budget on levels at or above where your actual costs/revenue are hitting.
If actual costs/revenue hit a higher level than the budget level, you will need to create 'top level outlooks'.
If Forward Rates are computed above your budgeting level, pseudo budget with allocation will be created when you post allocations.
Org Budget data is used in the following ways:
Profit and loss statement
Labor analysis
Non-labor analysis
Time collection
Project Budgeting (Integrated Method)
Project budgeting is used for creation of budgets and EACs and the analysis of revenue and cost elements within the budgets and forecasts. With project budgeting you can standardize budgets, check resource schedules for availability, modify and see revenue impacts within a budget, and easily navigate between projects and tasks. Once you have an approved budget you can then create the EAC. The EAC prior periods up to your current period will be 'actual' hours and amounts, these are not editable. The EAC is then used to reforecast the Budget through the life of the project.
Considerations for Project Budgeting:
Budget on levels at or above where your actual costs/revenue are hitting. It is recommended that you budget how you are funded and at the level you must report.
Costpoint can create a budget at any level of the project but only once in any branch of the project tree.
Revenue setup comes over from the Project module but is editable in the Planning module. You can modify revenue burdens and fees, enter revenue adjustments, and setup fixed revenue.
Project Budget data is used in the following ways:
Raw Cost Analysis
Burdened Cost Analysis
Time and Expense Analysis
Time Collection
Revenue Forecast Analysis
Other Planning Tools to Consider
1. New Business Budgeting
New business budgeting allows you to plan potential work on option years or proposals. These new business budgets can be shared with other users or kept private. These can be used as a method to create various scenarios before elevating them to be included in the overall Annual Operating Plan or other budget reports. A probability of win can be assigned. Like project budgets, a hierarchy can be created with separate nodes which roll-up to an over Proposal or Plan. These can be created from scratch or cloned from another new business budget or project budget.
2. Resource Planning
Resource planning allows resource managers to plan their team across multiple projects in project budgeting, proposals, and non-backlog budgets. These screens include employees, vendor employees, generic staff, and key entry resources. Resource planning also allows the resource manager to create a team or workforce for future resource planning. You can use these screens to search by skill, certification, supervisor, credentials, etc. The resource planning functionality exists to plan projects. Any changes made in Resource Planning or Project Planning will affect the other side.
Final Thoughts on Deltek Planning
Planning Refresh Process
Keep in mind the data in the Planning module comes over from the Projects module. It is very important to remember that before new data can be viewed in Planning, the refresh process must be run, manually or automatically via Job Server. This will go away with the CP 8.1.1 release. Click here to read our blog on the Costpoint 8.1.1 updates to the Planning module. To run a manual refresh, complete the following steps:
Click Planning > Administration > Administration Utilities > Refresh Process.
On the Process menu, click Action Menu > B&P Refresh Process to run the manual refresh process.

Planning Module Reporting
Reporting options are the Planning module's current limitation. Deltek has a Planning focus group where this has been addressed but options from the front-end user interface are still limited. Users have found that using Business Intelligence and creating customized reports has helped bridge the reporting gap. Redstone Government Consulting's Deltek Costpoint team does have expert Business Intelligence report writers available to assist our clients with Planning module reporting needs.
Deltek Costpoint Planning is the long-awaited answer to offline budgeting, pricing, and EAC tracking. Our Planning expert would be happy to assist in the initialization of your Planning module. Download the Deltek Planning Initialization Worksheet here and contact us today. Before we can complete the procedures described in the Initialization Worksheet, Costpoint Planning must be installed on Costpoint version 7.1.1 or later.