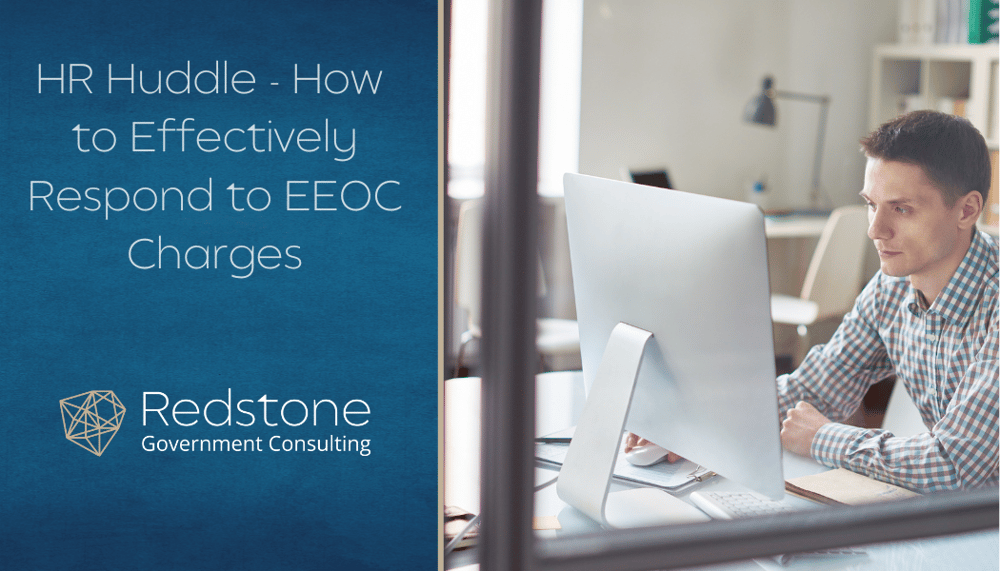 Did You Know that Over 60,000 Charges of Workplace Discrimination Were Filed in the Fiscal Year 2021?
When an employer receives an EEOC Charge of Discrimination, they need to take it very seriously and thoughtfully consider how to prepare a response, which is referred to as a Position Statement. Businesses of all sizes need to understand the ramifications of an EEOC Charge, and to establish policies and procedures to respond to charges and to reduce the likelihood of being charged with discrimination, harassment or retaliation. There are a variety of laws enforced by the EEOC, including:
The Equal Employment Opportunity Commission (EEOC) is an independent federal agency that promotes equal opportunity in employment through administrative and judicial enforcement of the federal civil rights. A "Charge of Discrimination" is a complaint by a current or former employee (or applicant who did not receive an offer of employment) that the Company violated EEO law(s), such as those prohibiting discrimination, harassment, and retaliation.
The EEOC Process
The process of filing an EEOC charge is lengthy, and employees (or applicants) must explore and utilize administrative remedies with both state agencies and EEOC before a lawsuit may be filed. When an employer is issued a notice, mediation is usually offered, and the employer is given an opportunity to accept or deny this offer.
Please be aware that many states and local jurisdictions have their own anti-discrimination laws, so there may be dual-filed charges with EEOC and the Fair Employment Practices Agencies (FEPAs). The charge will be accessible through EEOC's Digital Charge System, where you can access the full document, which should be promptly shared with your HR, compliance, or in-house legal counsel. If you do not have a dedicated team to handle EEOC Charges, you should consider engaging a legal expert to guide you.
The EEOC Response
When you receive a notice of an EEOC charge, file your response—providing details and including supporting documents—through the EEOC portal within 30 days, unless you obtain an extension. Be patient as you wait for a response asking for additional information, an offer of mediation or an EEOC decision. If you do not file a response, EEOC will investigate without your position, and most likely assume that the violations occurred and issue findings in favor of the "Charging Party"
EEOC Mediation
Mediation is usually the first choice offered in an EEOC charge, although it is voluntary for both parties. Should you choose to pursue mediation, EEOC will schedule a trained mediator to handle the process. If successful, the parties will execute an enforceable agreement, and if unsuccessful, the charge investigation will continue and all discussions related to the mediation will remain confidential.
EEOC Resolution
If the charge is not settled through mediation, there are several other methods to resolve the dispute. Once the EEOC investigation is complete, there will be a determination issued of either "Cause" or "No Cause," which means that the EEOC did or did not find "cause" to believe the alleged violations occurred. If the EEOC finds "cause" to believe the applicable statutes were violated, they may offer to settle the charge through voluntary conciliation, in which the EEOC investigator works with the parties to develop a suitable remedy for the alleged discrimination, harassment and/or retaliation. If conciliation fails, the EEOC has the option of filing a lawsuit against you in federal court for statutory violation or, in the alternative, the charging party will be issued a Notice of Right to Sue, allowing them to file a federal lawsuit against the employer within 90 days. It should be noted that even when the EEOC issues a "no cause" determination, the Charging party is still issued a Notice of Right to Sue letter.
Best Practices in EEOC Responses
Although an EEOC charge can be intimidating, it is neither unmanageable nor something to ignore. Best practices include:
Share information only with necessary members of your team, and if you have an HR/Compliance team, designate just a few members to act as representatives for the employer.
Investigate the claims. Make sure to gather all the facts before preparing the response.
Be prepared to provide copies of all related documents, including the Charging Party's personnel or application file, training, and your company's policies and procedures.
Continue to document the process, both to ensure you are following EEOC protocol, meeting deadlines and to improve your response process for future cases.
Don't forget that even if EEOC finds "cause," you can still settle or fight the charges by defending a lawsuit.
Will You Need an Expert?
Our experts have decades of experience working in-house and consulting, assisting government contractors and other employers to respond successfully to EEOC Charges. During this process, we will:
Review all applicable documentation.
Investigate any claims which you have not already investigated in-house.
Identify and interview all relevant witnesses and assist in taking measures to ensure no retaliation.
Work with you to ensure you fully understand the claims, as well as the EEOC process.
Assist you in evaluating whether to engage in mediation.
Prepare a succinct but thorough Position Statement covering all claims.