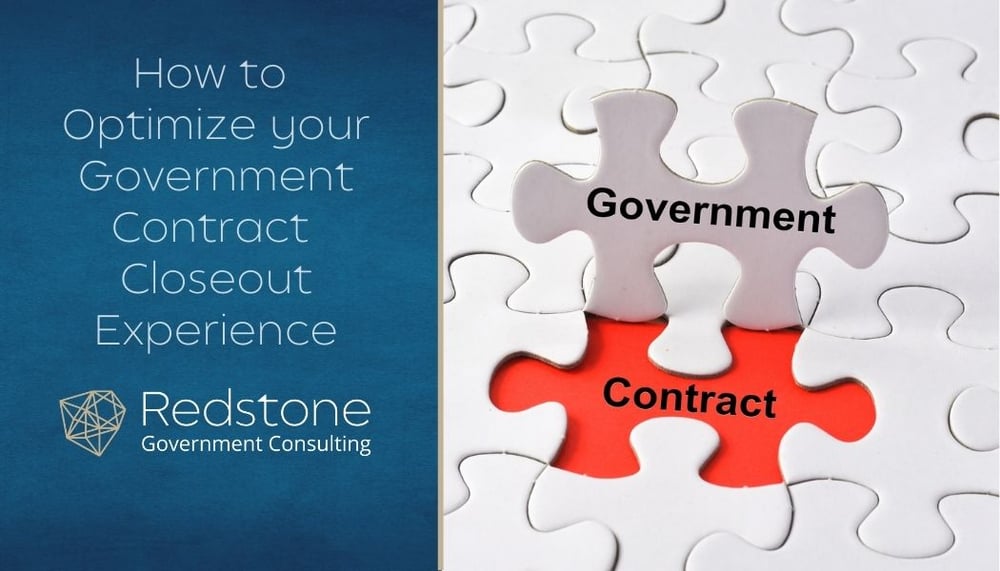 It has been years since the contract period of performance has ended, DCAA has finally concluded their audit or review of your incurred cost proposal, and you have received the final indirect rate letter from DCAA. Now what? By design, the contract closeout process begins in earnest. Typically, the Administrative Contracting Officer (ACO) is responsible for initiating administrative closeout of the contract after receiving evidence of its physical completion.
What is Physical Completion?
Physically complete is defined in FAR 4.804-4 when:
Contractor has completed the required deliveries and the Government inspected and accepted the supplies; and
Contractor has performed all services and the Government has accepted these services; and
All option provisions, if any, have expired.
OR
The Government has given the contractor a notice of complete contract termination.
The contract closeout is not considered complete merely because delivery has been made, or even after acceptance and final payment. The contract closeout is complete when all administrative actions of both the Contractor and the Government are complete.
Close Out Process
To optimize the contract closeout process, planning and organization are keys to success. Before the ACO notification that contracts are ready for administrative close out, it is in the contractor's best interest to begin the closeout process. Documentation of contract from all mods to all invoices paid are vital information required for contract closeout. Effective June 30, 2011, FAR 52.216-7, Allowable Cost and Payment clause added the requirement for contractors to update the Schedule I, Cumulative Direct and Indirect Costs claimed and billed, to reflect settled rates and cumulative costs within 60 days of rate settlement (FAR 52.216-7(d)(2)(v)). The objective was to streamline the contract closeout process.
Team Effort
It is in the ACO and Contractor's best interest for a timely contract closeout. This will minimize contract administration costs, identify the need for additional funds, and/or allow for final de-obligation of excess funds. The ACO and Contractor must collaborate to determine all work has been completed to the satisfaction of the customer. In addition, both parties must agree on disbursements that have been made and recorded. For cost type contracts, the true up of costs is essential to the contract closeout process to ensure that contractors have received all monies due, including the contract withholds (typically a portion of the fee). The audit of final incurred cost proposal (or low risk memo) determines the actual allowable direct and indirect costs for cost type contracts incurred for the contractor's fiscal year. Contracts marked as physically complete on Schedule I and again on Schedule O of the incurred cost proposal indicate to the ACO which contracts are ready for the closeout process. Disbursements that have been made and recorded are then compared to actual costs incurred to determine final payment, if any. Contractors should be aware of the timeline for cost type contracts (i.e. Cost type, Time and Material, and Labor Hour contracts). After settlement of final indirect rates, the contractor has 60 days to update the Cumulative Cost Schedule "I" and 120 days to submit the final voucher. A separate final voucher will be submitted for each individual project or task/delivery order and all completion/final vouchers are approved by the ACO.
Completion Procedures
When a contract is complete, FAR 4.804-5(a) states the administrative closeout procedures must ensure:
Disposition of classified material in completed
Final patent and final royalty report is cleared
There is no outstanding value engineering change proposal
Plant clearance report and property clearance is received
All interim or disallowed costs are settled
Price revisions are completed
Subcontracts are settled by the prime contractor
Prior year indirect cost rates are settled and final invoice has been submitted
Termination docket is completed
Contract audit and Contractor's closing statement is completed
Contract funds review is completed and excess funds de-obligated.
The contract is administratively complete when the above administrative actions are accomplished, all releases executed, and final payment has been made. Contractors will be required to provide to the ACO an updated "Contractor's Release of Claims" and "Contractor's Assignment of Refunds, Rebates, and Credits" certifying that there is no further obligation for either party. Contractor's need to recognize that release of claims, means just that, if a contractor understated amounts due to it on the final voucher, those monies are gone forever. And remember, the job isn't finished until the paperwork is done.