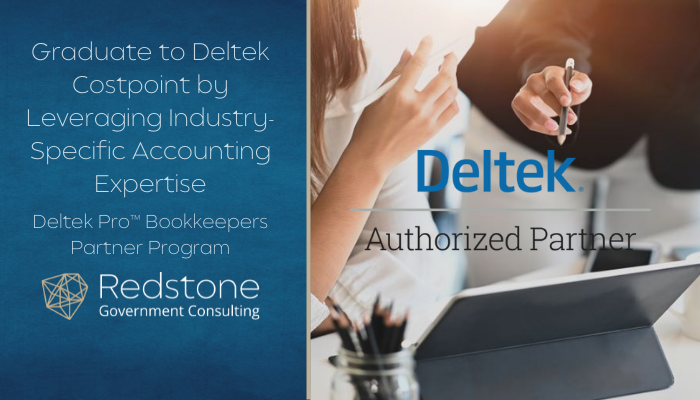 As a small business you know all too well the challenges of managing your back-office accounting activities with limited resources. The headache that comes with reconciling data from an entry-level third-party accounting tool and trying to maintain governmental compliance standards, while being prepared for a contract audit at any time, can be overwhelming for a small finance team.
If your firm has any plans for growth, it's crucial that you implement an integrated solution like Deltek Costpoint, the industry-leading solution designed for government contractors. With Costpoint, you can seamlessly integrate your firm's operational data, allowing your team to focus on project delivery, with peace of mind knowing that financials are timely, accurate, actionable and within compliance.
But like many small firms, you may be struggling to justify the leap to a full-fledged ERP. If you're going to invest in a powerful solution like Costpoint, you want to make sure that your back-office processes are transitioned quickly and affordably so that you can start seeing a return as soon as possible.
Look no further than Deltek Pros™️ Bookkeepers. Deltek Pro Bookkeepers is a unique program that connects our customers with trusted partners in the Deltek network that are experienced in your industry's project-based needs and have expert knowledge of Costpoint.
"[While] working diligently with our [Deltek Pro Bookkeeper] to convert our accounting system from the QuickBooks® platform to Deltek Costpoint in the middle of our fiscal year…the personal touch the Redstone team provided was beyond expectations and really sealed our relationship as a TEAM!" – Lynn Ryan, Chief Operating Officer, Broadway Ventures, LLC
With Deltek Pro Bookkeepers you can:
Unite industry-specific accounting and ERP expertise to leverage the full power of Costpoint, for less than the cost of a full-time employee
Reduce the burden on your finance team by eliminating data reentry and improving the accuracy of your financial data
Maintain compliance with federal rules and regulations in preparation for governmental audits
Start seeing a return on your ERP investment sooner
Say goodbye to horizontal accounting tools by leveraging vetted bookkeepers from Deltek's ecosystem of trusted partners that are experts in Deltek Costpoint and government contracting accounting practices. With the help of Deltek Pro Bookkeepers, you can graduate to Costpoint and start seeing the benefits of a powerful ERP faster and more affordably than hiring a full-time employee.
Reach Out to One of Our Deltek Pro Bookkeepers Partner Firms for a Quote:
Redstone Government Consulting: Focused on fulfilling the needs of government contractors, Redstone GCI offers a variety of services including education, training, monitoring and DCAA audits.
Corporate Results, Inc.: From startup companies to mid-sized and well-established firms, CRI provides the flexibility that growing companies need to compete and succeed in today's markets.
Premier Consulting & Integration, LLC: The leading provider of financial management consulting services, PCI delivers implementation and audit support for government contractors.
Deltek is consistently looking for ways to help our customers be successful. Our mission is to deliver solutions that help you streamline the project lifecycle that fuels your business. The DeltekPros™ partner ecosystem furthers that mission by identifying experts in both Deltek solutions and services for project-based businesses.
The services that these Deltek Pros™ provide allow you to maximize the value of your Deltek solution, unlock potential, accelerate operations and improve profitability.
Services Offered by Deltek Pro Bookkeepers*
Journal Entry
Monthly Invoice Generation
Time & Expense Processing
Voucher Processing
Payroll Processing
Leave Accrual
Accounts Payable
Accounts Receivable
Bank Reconciliation
Credit Card Reconciliation
Cash Management
Month End Processing, Review & Reporting
*Services offered by partner may vary.
Maximize the value of your Deltek solution by managing back-office operations faster, more accurately and within compliance with Deltek Pro Bookkeepers. Stay tuned as we add additional Deltek partners to the program and launch new Deltek Pros™ services in the coming months.