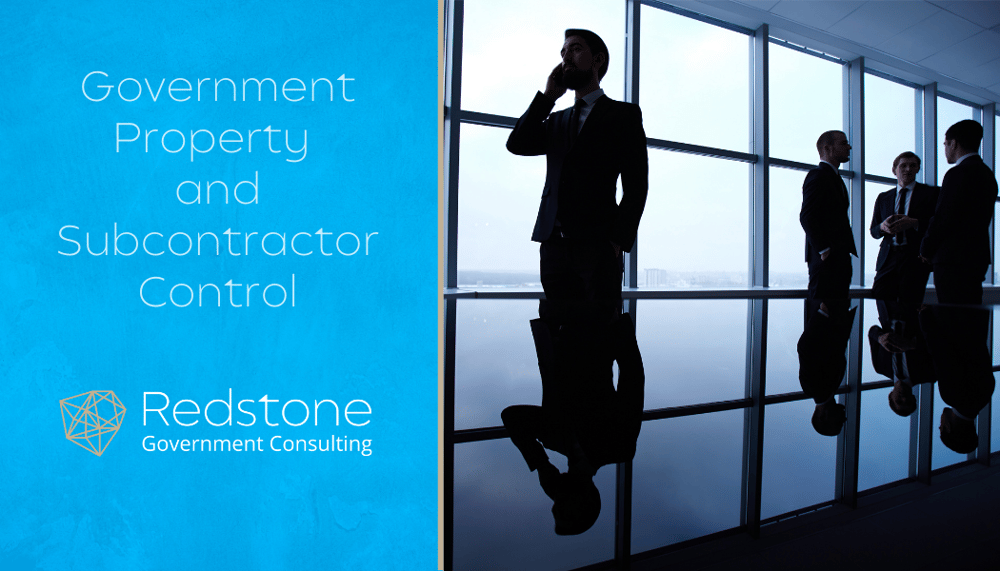 We get lots of questions about Government property and how it should be handled with subcontractors. Remember, and it has been said over and over, the prime contractor is responsible for just about anything subcontractors do in support of a contract. And yes, that includes Government property requirements.
Government Property Requirements
FAR 52.245-1(b)
The contractor shall have a system to manage (control, use, preserve, protect, repair and maintain) Government property in its possession…
The Contractor's responsibility extends from the initial acquisition and receipt of property, through stewardship, custody, and use until formally relieved of responsibility by authorized means, including delivery, consumption, expending, sale (as surplus property), or other disposition, or via a completed investigation, evaluation, and final determination for lost property. This requirement applies to all Government property under the Contractor's accountability, stewardship, possession or control, including its vendors or subcontractors (see paragraph (f)(1)(v) of this clause).
The Contractor shall include the requirements of this clause in all subcontracts under which Government property is acquired or furnished for subcontract performance.
It is important to remember, contractors are NOT required to flow down the entire clause, but the "requirements" of the clause as mentioned above. Many contractors will use subcontract boilerplates, so be aware of your terms and conditions if so.
To spare our readers from a continued bombardment of thrilling FAR clauses, we need to understand that subcontractor control is a requirement and it is up to the prime contractor to ensure the outcomes are met.
More Rules and Regulations for Government Property
Now, let's look at a couple more:
(v) Subcontractor control
The Contractor shall award subcontracts that clearly identify items to be provided and the extent of any restrictions or limitations on their use. The Contractor shall ensure appropriate flow down of contract terms and conditions (e.g., extent of liability for loss of Government property).
The Contractor shall assure its subcontracts are properly administered and reviews are periodically performed to determine the adequacy of the subcontractor's property management system.
Important Items to Cover in a Subcontract or PO
ALWAYS identify the Government property items to be provided to a subcontractor. There are times when the Government doesn't do a great job of properly identifying (providing contractors an accurate listing) of all Government furnished equipment or materials. That issue is between the prime and the Government and should be worked out before issuing property to a subcontractor. Clearly identify any items to be furnished as GFP and any items allowed to be acquired as CAP.
Reporting requirements – Subs need to understand all reporting requirements. Remember that certain agencies have specific reporting requirements.
Make sure your subcontractor understands the physical inventory requirements. Annually? Semi-annual? What time of year do they occur?
Disposition requirements – Contractors are required, 52.245-1(j)(9), to require subcontractors to submit inventory disposal schedules.
Liability – This is critical for both the prime contractor and the subcontractor. The prime contractor will have one of two liability clauses in their contract:

FAR 52.245-1 – Limited Risk of Loss
FAR 52.245-1 (Alt. I) – Full Risk of Loss
Remember – "Loss" of GP is lost, theft, damage or destruction. For the prime, ALWAYS be very aware of the liability clause/provision, flowed down to the subcontractor. Yes – it is determined by contract type and pricing arrangement and sometimes clear as mud. To make it simple, if the prime has the FULL risk of loss provision in the prime contract, then it should be flowed down to the subcontractor. Most prime contracts that are cost-reimbursable or negotiated fixed-price (requiring certificate of current cost or pricing data) will have the LIMITED risk of loss provision, which would also be flowed down to the sub.
Prime contractors are responsible for reviewing a subcontractor's Government property management system to ensure it is adequate for maintaining Government property. The prime is also responsible for "periodically" reviewing the system to determine adequacy. With the current uptick of DCMA Property Management System Audits, it is critical that contractors maintain their own GP systems but also ensure their subcontractor systems are not deficient.
Subcontract Management Consulting
If you are looking for more in-depth guidance for your subcontractor experiences, Redstone Government Consulting can assist you in establishing or maintaining your Government property system. In our consulting service, we review and write property system manuals for contractors. We also perform mock audits and assist in DCMA system audits. Contact us for consulting options.