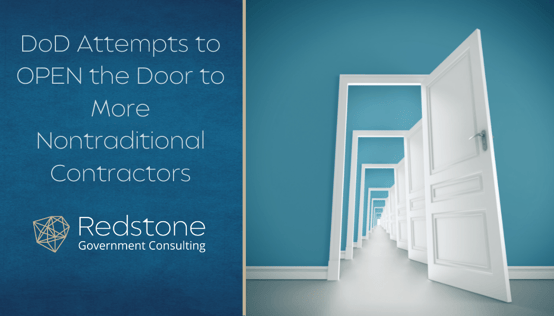 Here are the Details
DoD issued a DFARs Final Rule D2019-D029 – Services Provided by Nontraditional Defense Contractors, effective October 1, 2020, to implement several sections of the National Defense Authorization Act for Fiscal Year 2017 that addresses treatment of commingled items purchased by contractors and services provided by nontraditional defense contractors as commercial items. This blog only addresses the DFARS change related to services provided by nontraditional defense contractors as commercial items.
DoD has amended the regulations to enhance defense innovation and investment and create incentives for nontraditional defense contractors to do business with the government. DoD is trying to open the door to increase the supplier base, introduce new companies to get the cutting-edge technology as technology changes so rapidly.
A nontraditional defense contractor is defined as an entity that is not currently performing and has not performed any contract or subcontract for DoD that is subject to full coverage under the cost accounting standards for at least one-year period preceding the solicitation of sources by DoD. While the definition was not changed, we struggle with it. So, set up a new division with no CAS covered contracts and a contractor can become a nontraditional defense contractor. We believe the Congressional intent was for DoD to go out and get companies that normally do not do business with DoD but can bring value to the industrial base to want to do business with DoD. Reads more like DoD is looking for a way to allow traditional defense contractors (dare we say the Lockheed and Boeing type) through a new door.
What Changed
DFARS 212.102(a)(iii)(A) was revised to state that Contracting Officers may treat supplies and services provided by non-traditional defense contractors as commercial items. The decision to apply commercial item procedures does not require a commercial item determination and does not mean the item is commercial.
DFARS 212.102(iii)(B) was added and states Contracting Officers shall treat services provided by a business unit that is a nontraditional defense contractor as commercial items:
To the extent such services use the same pool of employees as used by commercial customers and
Priced using methodology similar to methodology used for commercial pricing and
The Contracting Officer shall document the treatment in the Government's contract file.
The change makes it clear that a Contracting Officer cannot recategorize current noncommercial items as commercial. We find this very troubling. A "rules are rules" organization like DCAA could take this to mean that anything ever purchased under a FAR Part 15 contract can never become a commercial item. Bad business we say – just think how much more cost-effective GPS technology is today thanks to it moving to the commercial marketplace, which has been a significant cost savings to DoD.
The language further states that the larger traditional defense contractors can benefit from the Contracting Officers applying commercial item procedures to business segments that meet the nontraditional defense contractor definition, even though these business units have been established under traditional defense contractors. Just what we thought; and this is what is happening. The definition of a nontraditional defense contractor is premised on a contractor that has not had a full CAS covered contract within a year prior to a government solicitation.
This does open the door to all small businesses…if they can just get past the major defense contractors trying to use the door.
What should a Contractor do?
If a contractor offers commercial services, it would be more beneficial for the contractor and the government to use a FAR 12 contract. The Contracting Officer has to make a commercial item determination that can be relied on for future awards. The FAR 2.101 Commercial Item definition (6) allows for services of a type offered and sold competitively in substantial quantities in the commercial marketplace based on catalog or market prices and it can be for specific tasks performed or specific outcomes achieved. It may take a little more effort and require some pressure on the Contracting Officer, but once you have a FAR part 12 contract it is not likely the Government will go back to FAR part 15.
So, what does this change really do for the contractor?
Not much. A contracting officer can award a nontraditional defense contractor a contract using commercial item procedures, a commercial item determination is not required, it doesn't recognize the item as commercial and a price analysis is still required. For commercial services, it adds a requirement for nontraditional contractors to submit additional information above that required for commercial items (i.e., the extent they use the same pool of employees and pricing methodology is similar to methodology used for commercial pricing).
We struggle to see that many commercial companies (e.g. nontraditional defense contractor) are going to be willing to share their pool of employees or pricing methodology that can and often does differ between commercial customers, depending on the services and needs of the customer – not to mention longer relationship that the Government cannot commit to. Most commercial companies (and even government contractors) do release redacted non-government/commercial sales data but will not generally release specific customer information, rate or price information on employees on commercial contracts. The information is proprietary, and they have Non-Disclosure Agreements (NDA)'s with the customers.
The Road Ends with the Government
In addition, while this change would reap the benefits of innovation and new technology if prime contractors could apply the same procedures to attract nontraditional subcontractors, DoD indicated that the statute only applies to the Government (prime contract ) level and does not allow DoD to flow down the authority.
Long Story Short – Ok a little late for that now...
As far as trying to entice new companies that do not do business with the government, we do not see much benefit to this change to the DFARS for nontraditional defense contractors.
Redstone GCI is available to assist contractor's in assessing the best path in the complex forest (jungle – a little darker and scarier) that is commerciality with the Government. Redstone GCI assists contractors throughout the U.S. and internationally with understanding the Government's expectations in applying FAR part 12.