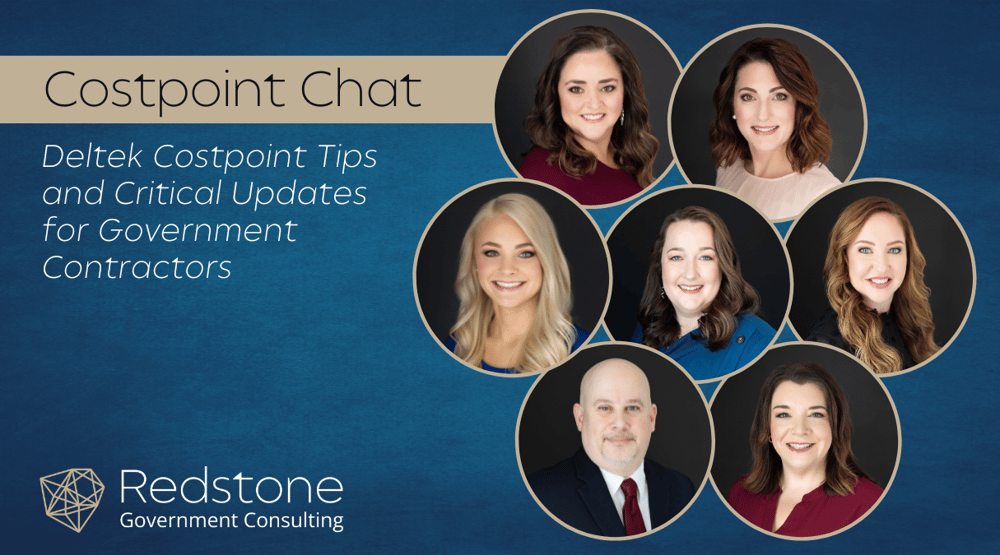 It has been a busy and exciting third quarter here at Redstone GCI! We have become both a certified Costpoint GCCM implementation partner with Deltek and an approved Deltek Pro Bookkeeper partner! Somehow, we are already in the final quarter of the fiscal year, and it looks to be a quarter full of new opportunities and year end preparations.
Deltek Pro Bookkeepers Partner Program
We are excited to announce that we are a partner in the Deltek Pro Bookkeepers Partner program! This program is designed to help small businesses find accounting professionals with extensive industry and Costpoint knowledge. We often find that our small business clients struggle to afford or maintain the accounting personnel required to effectively run their Costpoint database. Redstone Government Consulting has provided these services for over 5 years and are so proud to share an official platform for these services with Deltek! Click here to read more!
Costpoint GovCon Cloud Moderate (GCCM)
Redstone Government Consulting is proud to be a certified implementation partner of the Costpoint GovCon Cloud Moderate (GCCM). This solution Deltek provides customers of all sizes to competitively secure their accounting environment to comply with the latest standards and controls resolving around International Traffic and Arms Regulations (ITAR), FedRAMP and Cybersecurity Maturity Model Certification (CMMC). To become a certified implementor Redstone GCI had to go through training and extensive internal IT security review to ensure we are complying with the high standards Deltek places on its products as well. As the DoD begins implementing CMMC 2.0 into contracts from May 2023 it will be vital for government contractors to ensure they are able to support the government's mission to better secure Controlled Unclassified Information (CUI) data. For more information visit Costpoint GovCon Cloud Moderate (GCCM).
Deltek ProjectCon 2022
Our team is thrilled to announce that we will be attending Deltek ProjectCon November 15th – 18th. This is Deltek's annual conference that offers classes, certifications, tips and tricks, industry trends, networking, and more. We may be a little biased, but we believe Costpoint is the most powerful government accounting system available today. Register here so you do not miss the fun! We hope to see you there!
Deltek Costpoint Early Adopter Testing for the 8.2 Release
We were asked to participate in the Deltek Early Adopter program for the 8.2 release. There are some cool new features and enhancements in Accounting, CRM & Contracts, Planning, Projects, Materials, People, T&E, Reports & Analytics, and more! Click here to read the official release from Deltek. We will release a full feature blog once our team has completed the testing.
GL (General Ledger) & Projects Fiscal Year End Preparation
With the end of fiscal year fast approaching, we need to start planning to prepare your Costpoint database for the new fiscal year. There are a few steps you can take now that will save you time during the year end crunch.
Set up the new fiscal year information including the accounting periods & subperiods.
If applicable, set up any new allocation groups.
Clone your cost pools so that you can calculate indirect rates in the new fiscal year.

Update your target and provisional rates
Double check that you have correctly cloned your pools and all applicable cost pool screens and subtasks are populated for the new fiscal year.

If applicable, update your billing formats
It is important to note that if you want to make any structural changes to your Costpoint database you must plan ahead. Any changes made at the wrong time or not in the correct order could affect the reliability and accuracy of your data.
When do you roll over the GL and project beginning balances to the new fiscal year? Great question! This will be done several times depending on your accounting processes. We prefer to roll balances at least two times. First, when all costs are posted for period 12 so that we have data in our following fiscal year period 1. Second, once the previous fiscal year is finalized and all audit entries are made. It is likely you will perform this several times depending on what audit entries are made and the dollar value of those entries.
Closing the fiscal year and closing the payroll year are different processes. Interested in payroll year end preparations? Click here or contact us for more info!
Some CostPoint Updates
Track Employee Vaccinations (in 8.1.12)
Costpoint now provides the ability to track employee vaccinations. You may use this new functionality for the following purposes:
To monitor the vaccination of your employees for certain diseases
To ensure required vaccines are up to date for employees who are travelling overseas
This feature allows employees to update their vaccination details as well as upload file attachments for the verification of their vaccination status or vaccination exemption.
Post Leave Memo Timesheet Lines to the General Ledger (in 8.1.9)
You can now opt to post or not post L (Leave Memo) type timesheet lines to the General Ledger (GL). To support this new functionality, this release updates multiple applications.
W-2c Electronic Filing Support (in 8.1.7)
The Taxpayer First Act, which became Public Law 116-25 on July 2019, requires more employers to file W-2s or W-2Cs electronically. Although the IRS has not yet issued formal regulations on the implementation, here is the tentative schedule:
By midnight on January 31, 2022, employers who file 100 or more W-2s or W-2Cs will have to send W-2s or W-2Cs to SSA electronically.
By midnight on January 31, 2023, employers who file 10 or more W-2s or W-2Cs will have to send W-2s or W-2Cs to SSA electronically.