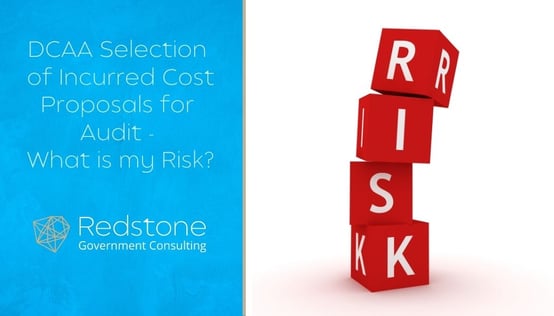 Since most incurred cost proposals (ICPs) are due June 30, it is a good time for contractors to review the DCAA criteria for audit selection in order to minimize (where possible) the potential that their ICP will be selected for audit. All ICPs with an auditable dollar volume (ADV) greater than $250 million are automatically selected for audit. ICPs with an ADV between $100 million and $250 million of ADV that have not been audited in the last 3 years are also automatically selected for audit. ADV is determined by the amount of cost reimbursable, i.e. cost type and T&M, contract revenue for the fiscal year.
For ICPs with ADV less than $250 million, DCAA reviews each ICP for adequacy and then classifies each adequate ICP as either high or low risk. All ICPs classified as high risk are selected for audit. ICPs classified as low risk are placed in a "low-risk universe" and sampled to determine audit selection using the following criteria:
| | |
| --- | --- |
| Low-Risk Adequate Proposals by Auditable Dollar Value (ADV) | Low-Risk Sampling Percentages |
| Less Than $1Million | 0% |
| $1Million to $50 Million | 5% |
| $50 Million to $100 Million | 10% |
| $100 Million to $250 Million | 20%, every 3 years |
| Greater than $250 Million | 100% |
As you can see from the chart, the odds of a low-risk ICP with under $50 million in ADV being selected for audit is extremely low. Obviously, the key to minimizing the chance of audit is to take the necessary steps to ensure your ICP is classified as low risk. DCAA bases the risk assessment on the amount of questioned costs in the last ICP audit, as well as other identified significant risk factors that are relevant to the ICP.
DCAA uses the following criteria to determine if the questioned costs in the last ICP audit are significant enough to move the ICP to the high-risk category:
| | |
| --- | --- |
| Auditable Dollar Value (ADV) | High Risk Questioned Costs |
| Less Than $1Million | ≥ 10% of ADV |
| $1Million to $5 Million | ≥ 5% of ADV or $100K |
| $5 Million to $250 Million | >$250K |
Other significant risk factors considered by DCAA in its risk classification include:
Fraud referrals;
Unacceptable pre-award/post-award accounting system review opinions or business systems;
No experience with the contractor; such as voucher processing, forward pricing effort, pre-award accounting system reviews, etc.; and
Specific relevant risk with the contractor that has material impact to the incurred cost proposal being assessed (i.e., significant CO/Auditor identified risk). Note that the last category is highly judgmental and can include items such as a history of inadequate or late incurred cost proposals.
A common misconception is that DCAA auditors would prefer to classify ICPs as high risk. In fact, DCAA auditors have been encouraged to classify ICPs as low risk in order to reduce the significant backlog of incurred cost audits. In May 2016, DCAA updated its policies and procedures for low-risk ICPs less than $250 Million in ADV (MRD 16-PPD-006 (R)) to require Regional Audit Manager approval for performance of an audit of an ICP with less than $5 million of ADV if it was based on risk factors other than questioned costs in the previous year's ICP audit.
Nevertheless, contractors need to do everything they can to make sure their ICP will meet the criteria for inclusion in the low-risk universe in order to minimize the risk of an often time-consuming and resource-intensive DCAA audit. In that regard, contractors should ensure:
Adequate accounting systems are maintained;
ICPs are properly prepared in accordance with the adequacy criteria in FAR 52.216-7(d);
ICPs are timely submitted; and
The potential for significant questioned costs is minimized, particularly with respect to the first ICP submitted.
Redstone Government Consulting will assist you as needed by preparing your ICP, reviewing your ICP for adequacy and compliance, reviewing your accounting system and assisting with any corrective actions needed, and identifying other risk areas that could potentially increase your potential for audit. We can help you get into the low-risk universe and stay there!