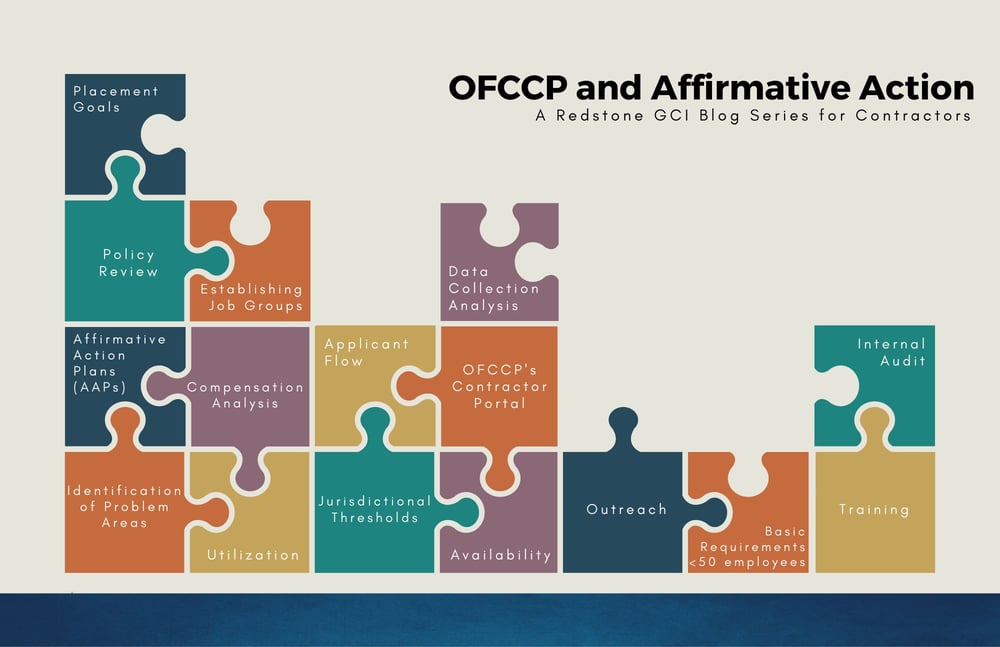 The last blog in this series focused on who (what) OFCCP is, what they require of contractors of various sizes and why compliance is important. Now we want to provide a bit more clarity as to what these requirements are and later in the series, how those requirements impact your processes and policies.
As a reminder, the "OFCCP's Equal Employment Legal Authorities & Jurisdictional Thresholds" chart provides an overview of the laws that the OFCCP administers and enforces, and the thresholds at which they become applicable to federal contractors. While the expectations and requirements do change and become more involved when hitting the 50-employee threshold, it is often forgotten that federal government contractors have some "basic" affirmative action requirements before reaching that milestone, as shown here.
Basic Requirements

EO 11246

Section 503

VEVRAA

Refrain from discrimination and take affirmative steps

X

X

X

In addition to equal employment opportunity, federal government contractors have the added responsibility of affirmative action or encouraging and taking proactive steps toward equal employment and nondiscrimination. This is true for every phase of employment, to include recruiting, hiring, training, transfer, promoting, compensation, social activities, lay off and termination.

Incorporate the EEO clause into contracts and subcontracts & provide notice to vendors and unions

X

X

X

Subcontractors and vendors must be made aware of the nondiscrimination and affirmative action requirements by incorporating the FAR clauses into subcontracts and purchase orders. There are specific guidelines as to how these clauses must be incorporated (i.e. full text, reference, bold text) and we have found that proof of such is often requested during an audit.

Maintain recordkeeping and retention requirements

X

X

X

All personnel and employment records related to all phases of employment must be maintained for one to two years from the time the record was made or action was taken, whichever is later. The length of retention is dependent upon the size of the contractor. Note that the regulations related to EO 11246 state that for each of these records, the contractor should be able to identify the race, gender and ethnicity of each employee and applicant. This information will be key to a future Affirmative Action Program and written plan.

Job postings must contain appropriate EEO language

X

X

X

The appropriate tagline stating that the contractor is an equal opportunity employer must be included in all job postings. Per the OFCCP, the following is acceptable for contractors meeting the minimum threshold requirements of EO 11246, Section 503 and VEVRAA: All qualified applicants will receive consideration for employment without regard to race, color, religion, sex, sexual orientation, gender identity, national origin, disability, or status as a protected veteran.

Post required posters

X

X

X

EEO is the Law, EEO is the Law Supplement, Pay Transparency Nondiscrimination and Employee Rights under the National Labor Relations Act posters are required. These posters should be posted in physical establishments and made available to applicants and remote workers.

Provide OFCCP access to records and worksite/s

X

X

X

If audited, OFCCP has the authority to access related records and visit worksites. Details regarding the types of audits and how to prepare will be provided later in the series.

Adhere to uniform guidelines on selection criteria

X

These guidelines provide the standards to be used when performing any type of testing to make decisions which impact any phase of employment. These standards are in place to protect all individuals from adverse impact of employment opportunities.

Annual reporting

X

VETS-4212 is due by September 30 of each year. This report provides OFCCP with information related to the hiring activity of protected veterans during the reporting period.

Provide reasonable accommodation, to include religious

X

X

X

Reasonable accommodation processes should be maintained, related policies and procedures should be made available to employees and managers should be made aware of their role and responsibility in this process. Maintain a log of requests for accommodation, the outcome and reason for denial, if applicable.

List employment openings with state Employment Service Delivery System (ESDS)

X

Job postings must be posted with the appropriate employment service delivery system, or state workforce agency. Few exceptions apply: executive/senior management positions, positions filled internally or from a "recall" list, and positions which will last three days or fewer.
We hope that this article provides you with a helpful overview of the basic requirements of most federal government contractors. While this list may seem daunting, compliance at this stage will assist in a smooth transition to the additional requirements which will come with greater than 50 employees. Should you have questions or need assistance with these requirements, our experienced HR Consulting Team is available to help.
What's next in this series?
In the weeks to follow, we will dig into the Enhanced Requirements and components of Affirmative Action Programs for those federal government contractors who have contracts that meet the dollar thresholds and have greater than 50 employees. Along the way, we will share common challenges, compliant solutions, and best practices.