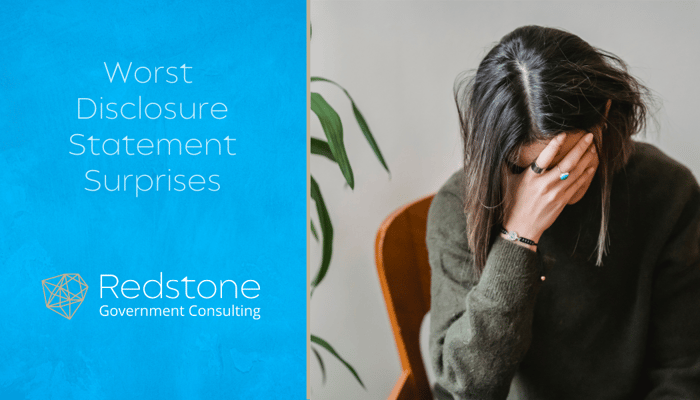 There are many presents one may enjoy receiving this holiday season. However, one present you do not want during the holiday season is a CAS Disclosure Statement (DS) surprise. There are several surprises related to DS's you can receive:
You have to submit a Disclosure Statement almost immediately
You don't know if you need to submit a Disclosure Statement almost immediately
You are now subject to all of the CAS standards
You don't have documented the answers to the Disclosure Statement questions
You don't know the answers to the Disclosure Statement questions
You are in noncompliance with one or more CAS standard
You must submit Disclosure Statements for your home office or intermediate home offices
BAD DISCLOSURE STATEMENT NEWS CAN COME WITH LARGE CONTRACTS
One of the worst surprises a government contractor can receive is to find out a Disclosure Statement is required in a very short time frame. This can happen two ways:
Bid on a CAS covered contract in excess of $50M
Have CAS-covered sales in excess of $50M in the previous fiscal year
Many contractors are surprised when they look at an RFP to find out that they must submit a Disclosure Statement WITH their proposal if it exceeds $50M. It must be submitted prior to award of the contract. I once had a company tell me that it wasn't a big deal – they were going to lock themselves in a building on a Friday night, with plenty of beer and pizza, and not come out until it was written! I never got a chance to see how that worked for them, but I doubt they really understood the magnitude of the problem.
DETAILED RECORDS REDUCE THE SURPRISES
Another surprise is not having the information available to determine if your company had over $50M of CAS-covered sales in the previous year. Many companies do not have an adequate universe of CAS-covered contracts. If you already know you are subject to modified CAS coverage, it is important that you keep an accurate record of which contracts are CAS-covered to ensure you don't late find out that you reached the $50M threshold and must submit a D/S.
DISCLOSURE STATEMENT PREPARATION
An additional complication is that the requirement to file a Disclosure Statement is often accompanied by becoming fully CAS-covered. Therefore, the proposal should be prepared in a manner that is in accordance with the CAS standards or run the risk of being subject to a price adjustment due to a cost accounting practice change.
Once you have begun preparing the actual DS, you may find that you don't have documentation that answers all the DS questions; it is even worse if you don't know the answers to the questions. There may be questions related to situations you have not yet encountered, but you know they are forthcoming. You then must design the answer, answer the question and (hopefully) document the answer in your policies and procedures to ensure you follow it.
Often CAS non-compliances are discovered during preparation of the initial Disclosure Statement and changes to the accounting system must be made.
Finally, you should also be aware that any home office or intermediate home office that allocates cost to the covered business entity will have to submit a Disclosure Statement.
DISCLOSURE STATEMENT SUCCESS
Planning is key to successful Disclosure Statement preparation. If your company is thinking about bidding on a contract over $50M or are approaching cumulative $50M if CAS covered contracts in a fiscal year, and don't have a Disclosure Statement in place, you should begin planning now. First, look at the questions asked in the Disclosure Statement. If it is Greek to you, it is time to call Redstone to help get you on track before one of these surprises costs you an award.