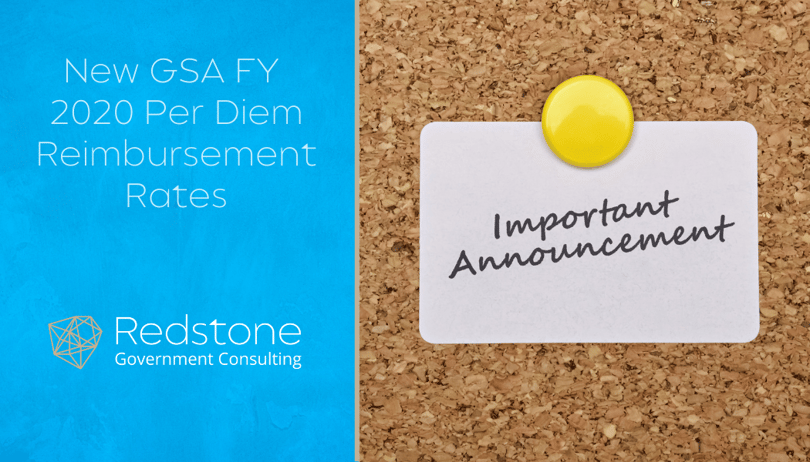 GSA establishes the per diem rates for the lower 48 Continental United States (CONUS), which are the maximum allowances that federal employees are reimbursed for expenses incurred while on official travel.
The General Services Administration has issued bulletin FTR 20-01, Fiscal Year 2020 CONUS per diem reimbursement rates. The notice announces lodging and meal allowance changes for certain locations within the continental United States for reimbursement of federal employee subsistence expenses while on official travel. Rates are set by fiscal year, effective October 1 each year.
The standard CONUS lodging rate will increase from $94 to $96. The meal and incidental expense reimbursement rate tiers are unchanged. The standard CONUS M&IE rate remains at $55, and the M&IE non-standard area tiers remain at $56 to $76. Most of the CONUS (approximately 2600 counties) are covered by the standard CONUS per diem rate of $151 ($96 lodging, $55 meals and incidental expenses). In fiscal year (FY) 2020, there are 322 Non-Standard Areas (NSAs) that have per diem rates higher than the standard CONUS rate.
Updates to Non-Standard Areas (NSAs)
Boise, ID (Ada County) is a new NSA location this year.
Park County, MT has been added to the Big Sky, MT NSA area.
Missoula and Flathead Counties in Montana were separated into their own NSAs instead of a combined NSA.
Previous NSAs Moving to CONUS Rate Category
Dover, DE (Kent County)
South Bend, IN (St. Joseph County)
Benton Harbor/St. Joseph/Stevensville, MI (Berrien County)
Lake County, MT
Medina County, OH
Aiken County, SC
Sheboygan County, WI
These new rates will apply to official travel from October 1, 2019 to September 30, 2020. New reimbursement rates may be found at www.gsa.gov/perdiem. For the text of the notice, see 84 FR 40413.
Have questions? Contact us for further information and services.