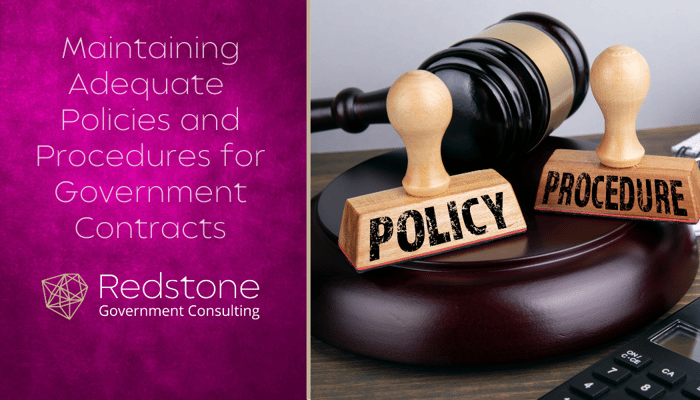 On December 18, 2018 the Administrative Judge, in ASBCA No. 61583, denied the contractor's appeal and granted the Government's request for summary judgement related to the contractor's claim that it was entitled to a penalty waiver because the contractor did not demonstrate that it "had adequate policies, training, controls, and review systems, and that it inadvertently incorporated the [unallowable cost]" in its incurred cost proposals. This decision serves as a reminder of the importance of maintaining adequate policies and procedures.
Policies and Procedures You Really Need to Focus On
For larger contractors covered by Cost Accounting Standards or subject to the Business System rules in DFARS 252.242-7006, written policies and procedures are specifically required in the regulatory guidance. For other contractors, although there is no specific regulatory requirement requiring formal written policies and procedures, the policies and procedures or lack thereof will certainly be considered by the Government when assessing accounting system adequacy. Generally, the Government, at a minimum, will expect policies and procedures, if applicable/costs are significant for:
Estimating
Overall accounting system/GAAP compliance
Timekeeping & labor distribution
Cost segregation of direct and indirect costs
Incentive compensation (bonuses)
Purchasing
Ethics
Travel & relocation
Accounting for unallowable costs
Capitalization & depreciation of tangible assets
Subcontract award and management
Why Polices and Procedures?
The purpose of policies and procedures are to promote achievement of organization objectives, help ensure consistency and compliance with regulatory requirements, prevent errors, and provide for appropriate business decisions. Policies and procedures are unique to each organization based on its needs and objectives and there is no one size fits all. Regulations do not specify the level of detail required for policies and procedures or provide specific criteria for defining adequacy. In general, the larger and more complex the organization, the more detailed policies and procedures the Government will expect the contractor to have. However, contractors also need to recognize that they will be held accountable for any requirement included in their policies and procedures.
More Does Not Always Mean Better
More complex policies and procedures may have a greater likelihood of noncompliance. In developing policies and procedures, contractors should avoid either adding additional requirements over and above the regulatory requirements or including any policies and procedures they do not intend to follow. With respect to the level of detail, no policy and procedure can consider every possible circumstance the contractor may face, so contractors should make sure the policies and procedures are flexible enough to ensure decision makers can make the right business decisions. Unfortunately, it is very difficult to defend the failure to follow your own policies and procedures in negotiations with the Government.
Reviewing Policies and Procedures
We recommend contractors review their policies and procedures at least annually to ensure they are adequate for compliance with government contract requirements, reflect actual behaviors and practices expected by management, and provide for appropriate business decisions.
Redstone is happy to assist with adequacy and compliance reviews of existing policies and procedures, policy and procedure revisions, and developing new policies and procedures where necessary.