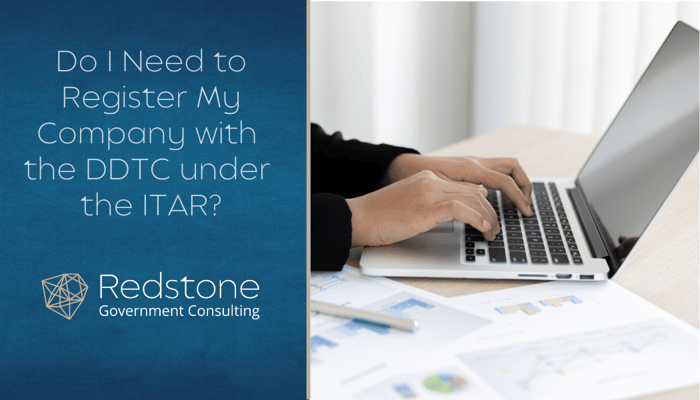 Did you know that The International Traffic in Arms Regulations affects more than just exporters? You may need to register with the Directorate of Defense Trade Controls even if you do not export.
Registration and the ITAR
The Department of State is responsible for the export and temporary import of defense articles and services governed by the Arms Export Control Act (AECA). The International Traffic in Arms Regulations ("ITAR," 22 CFR 120-130) implements the AECA, and section 122 of the ITAR regulates the Registration of both Exporters AND Manufacturers. You must register with the Department of State if you manufacture or export United States Munitions List (USML)-controlled items also known as "defense articles" and "defense services".
Even if you never export – you must register
Just technical data – you must register
Defense services to foreign persons – you must register
Only one occasion of manufacturing or exporting or temporarily importing a defense article or furnishing a defense service – you must register
The State Department wants to gather this information so they are aware of this activity for National Security reasons.
Defining "Defense Articles"
What is considered a defense article on the USML? The ITAR says "defense article" means anything controlled on the USML, The United State Munitions List. If it is listed on the USML, it is controlled by the ITAR, even if it is also on the Commerce Control List under the EAR.
The ITAR controls "defense articles" (ITAR 120.6), which are:
Items enumerated (specifically mentioned) on the USML, such as missiles, including some non-military items like satellites, materials and instrumentation.
Includes technology and software, electronics, protective equipment, some firearms.
Items "specially designed" or specifically designed for enumerated items or applications (catch-all)
Parts, components, accessories, etc.
The ITAR also controls Technical Data (ITAR 120.10):
Information required for the design, development, production, manufacture, assembly, operation, repair, testing, maintenance or modification of defense articles.
This includes information in the form of blueprints, drawings, photographs, plans, instructions and documentation
Software directly related to defense articles
The ITAR controls Defense Services (ITAR 120.9), providing services related to items on the USML
Exemptions from Registration
There are four exemptions from this registration requirement, listed in ITAR 122.1(b)
Officers of U.S. Government
Only produce unclassified tech data
All activities covered by Atomic Energy Act
Fabricate articles for scientific (R&D) purposes
Registration Guidelines
If you decide that you should register, you can follow the guidelines found in: www.pmddtc.state.gov/registration.Submit the following documents electronically:
Form DS-2032 – downloaded from website
Copy of certificate of incorporation or authorization to do business
Electronic payment of fee (minimum $2,250) for the first year; subsequent years (minimum $2,500) include 10 free license applications; can increase based on number of license applications you apply for
Only register for one year at a time; annual registration required
Registration just gets your organization set up to be involved in ITAR activities. Your organization needs to also designate individuals who have the lead responsibility for ITAR compliance, known as Empowered Officials. The Empowered Official must:
U.S. citizen
Directly employed by the company
Employee having authority for policy or management
Designated written authorization from the organization to sign applications (Others can submit, only empowered official can sign)
Know the rules – ITAR, EAR, OFAC, etc. – must have some training
Have authority to enquire, verify and refuse without retribution within your company
Redstone Government Consulting—DDTC/ITAR Support
For further information, contact Redstone Government Consulting. Our experts can assist you with the ITAR registration process, including determining eligibility, processing documentation, and designating Empowered Officials. We offer consulting packages which can include ITAR registration, training for your leadership team, and monitoring of your required registrations and renewals.