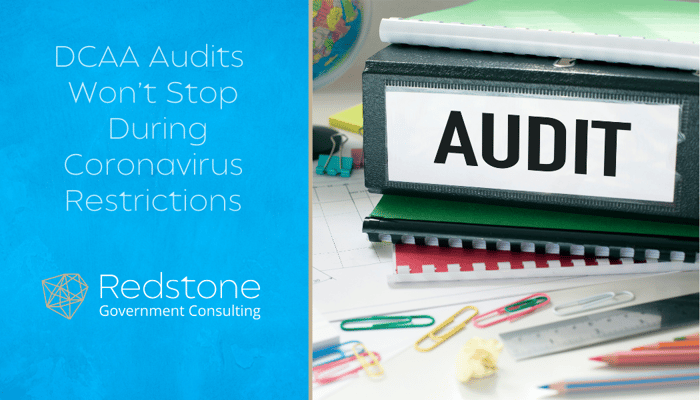 For those of you who may have thought there could be a silver lining to coronavirus restrictions from reduced audit effort, think again! Actual postponement of audits will be rare.
On April 10, 2020 DCAA issued an Audit Alert on Limited Contractor Access Due to Coronavirus Disease (COVID-19) (20-PAS-001(R) Memorandum for Regional Directors, DCAA). The alert provides guidance to auditors in response to contractor closures and limited access to contractor records and personnel due to the Coronavirus Disease (COVID-19) national emergency.
The guidance basically tells the auditor to continue the audit even if "audit teams are unable to obtain sufficient appropriate evidence (e.g., audit teams receive electronic documents from the contractor via e-mail and are unable to validate to original records)" and to issue a report with a qualified audit opinion due to the scope limitation. The guidance also states the auditor should "validate the electronic documents to original records when the Agency and/or contractor resumes normal operations."
The guidance requires the auditor to issue what DCAA terms "priority audits" by the original agreed to date, regardless of whether the audit can be properly performed. Examples of "priority audits" listed by DCAA include forward pricing assignments and incurred cost assignments subject to the National Defense Authorization Act (NDAA) one-year requirement. Note: DCAA's interpretation of the NDAA requirement is that they have to issue the report, regardless of whether they have performed adequate audit procedures, provided contractors adequate time to respond to any audit findings, or adequately considered the contractor's response. Although clearly not the intent of the NDAA, DCAA believes it is better to issue a bad (qualified) audit opinion to meet the NDAA due date requirement than to adequately plan its work to ensure its audit opinions are valid in accordance with DCAA's interpretations of Generally Accepted Government Auditing Standards.
The guidance further states that "When an audit report is issued with a COVID-19 scope limitation, the audit team should perform those procedures they were previously unable to perform (e.g., selective testing of the electronic documents to original records) within approximately 90 days of resuming normal operations. The FAO should issue a supplemental audit report if it will serve a useful purpose." The fact is that if issuing a supplemental report will serve a "useful purpose," the auditor shouldn't be performing the additional steps at all; however, you can expect there will be many instances of the auditor wasting the contractor's time and resources performing these steps prior to ever determining whether they will serve a useful purpose. If a final contract has been negotiated or final rate agreement has been signed, we would recommend pushing back against the auditor's desire to perform these steps simply to check an internal box.
As a result of this guidance, contractors can expect:
Increased questioned and unsupported costs, because it is more important for the auditor to get the report out than to wait for the contractor to provide appropriate evidential matter; and
Increased contractor costs to support the audit as a result of inefficiencies due to the coronavirus restrictions, DCAA auditor inexperience using electronic tools such as Webex and videoconferencing, duplication of effort because the auditor will want to repeat steps performed remotely during the subsequent "validation" steps, and the performance of unnecessary validation steps subsequent to the original audit.
In closing, one last note is that there will likely be audit reports issued with no findings other than the "limited scope qualification," for which DCAA will be reopening the audit for the sole purpose of validating the source of the electronic records. We expect that some contractors will "push back" and not support this non-value added process, in which case, we can hardly wait for DCAA to issue their "denial of access letter" threatening the infamous (and rarely used) DCAA subpoena and imploring a contracting officer to assist on this matter. We suspect contracting officers might not be overly supportive of a DCAA process which provides no real value to anyone other than an auditing purist.