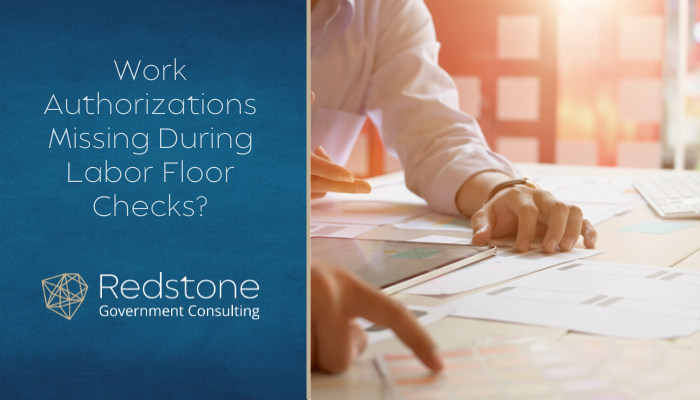 DCAA's Inevitable Link with an Inadequate Accounting System
There is no specific regulatory authority that can be cited which requires work authorizations as a part of a contractor's Labor/Timekeeping System. This argument, although accurate, is not the rationale which will be used by a DCAA auditor when "disclosing" deficiencies in a contractor's labor system during a routine labor floor check. The auditor will ultimately render an opinion of inadequacy with respect to the accounting system citing DFARS 252.242-7006(c)(1), which states "The contractor's system will provide for a sound internal control environment, accounting framework, and organizational structure". You may and, probably will, ask where is there a mention of work authorizations anywhere in DFARS 252.242-7006 Accounting System Administration? The short answer; there isn't. The DCAA answer, and the only one it thinks matters, is that the regulation it cites does not have to specifically address work authorizations but a link can be inferred within the highly general requirement for a "sound internal control environment".
DCAA's Contract Audit Manual (CAM) is not regulatory authority and binds no one but a DCAA auditor to any of its requirements. However, it is not only guidance to a DCAA auditor but prescriptive as to actions the auditor must take. CAM section 5-908, Labor System Authorization/Approvals, states: "The contractor should have procedures in place to facilitate the accumulation and recording of labor costs to cost objectives for the purpose of determining proper cost reimbursement on Government contracts. These procedures should address the control and issuance of work authorizations, as well as the detailed descriptions required for labor documentation. When evaluating the contractor's policies for labor authorizations/approvals, the auditor should consider whether the policies and organizational structure provide for adequate control over work authorizations "to assure the integrity of labor recording." CAM section 5-902(b)(3) states "To assess control risk on the labor system as low...the contractor's system should have effective procedures for labor authorizations/approvals to facilitate the proper accumulation and recording of labor costs to cost objectives." Furthermore, throughout CAM section 6, which governs the audits of incurred costs, there are references to work authorization and job authorization procedures to assist an auditor in determining the reliability of labor-related supporting documentation.
DCAA's labor-related audit programs, also prescriptive to the auditor, include steps to determine the existence of work authorizations and their appropriateness with respect to proper labor charging. In fact, the audit program for labor floor checks or interviews uses a required questionnaire setting forth many questions asking that work authorizations be provided. An optimist might believe that the lack of a work authorization in some form may not, in and of itself, be the basis for an inadequacy assertion. However, a realist knows that it most likely will be the basis for a "SOCR" (DCAA Statement of Condition and Recommendation).
Carried to its ultimate conclusion, the DCAA auditor, by asserting that the internal controls over the labor system are inadequate because of a lack of work authorizations, must assert that since the labor system is a fundamental part of the accounting system, the internal controls over the accounting system are inadequate (citing non-compliance with DFARS 252.242-7006(c)(1)).
Further, DCAA will ignore certain other facts such as a company may not have any contracts, including the DFARS Business System Rule clause or CAS coverage may be required for negative Government actions against a contractor. Still, DCAA will most likely render an opinion that it is inadequate, although Contracting Officer concurrence is not required but expected.
This can then become an utter nightmare for any company that finds itself in a predicament where the Contracting Officer, for whatever reason, agrees with DCAA (perhaps due to DCMA instructions refer to the auditor as the expert on accounting matters). Under certain circumstances, the Government can withhold payments on applicable contracts. At the very least, a company could lose future work because its accounting system has been deemed unreliable for Government contracting purposes. Yes, a company can push back and possibly even litigate against this requirement. But in this writer's opinion the cost of "pushing back" or litigating would far exceed the cost of merely instituting a work authorization system that can be as simple as email messages to employees directing them to work on a specific project or cost objective. The auditor should not be looking for a detailed authorization directing effort to a specific number of hours. Rather, they should use the work authorization to determine if the employee interviewed is working on their prescribed project.