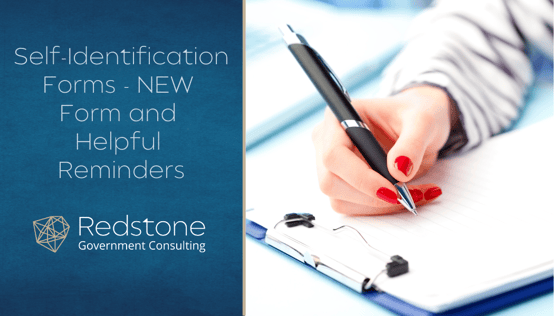 If your company is subject to EEO-1 reporting or if you're a contractor, Self ID forms are old news but as OMB has approved a new Voluntary Self-ID of Disability form, now is a good time for a refresher.
Section 503
If you are a contractor subject to Section 503, don't let August 4th slip up on you without having updated your voluntary self-identification of disability form. Section 503 requires contractors to invite applicants (pre-hire) and new hires (post-hire) to self-identify as having a disability. Contractors are also required to invite employees to self-identify at least every five years.
The OMB approved the earlier this year and the Office of Federal Contract Compliance Programs (OFCCP) has mandated that it be implemented by August 4th. The new form, which is shorter than the previous form and alphabetizes and expands the list of disabilities, is valid until May 31, 2023.
The OFCCP is very particular about this form and does not allow for it to be altered; however, they do allow for it to be incorporated into electronic systems which are used for collecting this data. If doing so, here are a few reminders from OFCCP's Frequently Asked Questions:
The form must:
Display the OMB number and expiration date;
Contain the text of the form without alteration;
Use a sans-serif font, such as Calibri or Arial; and
Use at least 11-pitch for font size (except for the footnote and burden statement, which must be at least 10-pitch in size).
And contractors may not:
Alter the content (i.e., text or wording) of the form;
Alter the order of the content on the form; and may not
Alter the form or make changes that diminish the general accessibility of the form.
VEVRAA
If you are a contractor subject to VEVRAA, you're likely accustomed to collecting voluntary Self-ID of protected veteran status. OFCCP does not require a specific form to be used for collection of this information; however, they do provide a and specify in the Federal Contract Compliance Manual that the following needs to be included:
A statement that the company is a federal contractor required to take affirmative action to employ and advance in employment protected veterans pursuant to VEVRAA;
A summary of the relevant portions of VEVRAA and the contractor's AAP;
A statement that the information is being requested on a voluntary basis;
A statement that the information will be kept confidential;
A statement that refusal to provide the information will not subject the applicant to adverse treatment; and
A statement that the information will not be used in a manner inconsistent with VEVRAA.
To assist in completing the form, include the definitions of what constitutes a "protected" veteran. These definitions may be found on the sample form as well as in an infographic provided by OFCCP. We have found that providing this with the Self-ID form is quite helpful to those completing the form.
EO 11246/EEO-1 Reporting
OFCCP has provided that "for any personnel or employment record a contractor maintains, it must be able to identify the gender, race, and ethnicity of each employee and, where possible, the gender, race and ethnicity of each applicant." Though a specific method for acquiring this information hasn't been provided, OFCCP agrees that self-identification is the best approach for doing so and does require that these invitations be clearly voluntary.
So, what do you do when the applicant or employee prefers not to identify? Unlike with disability and veteran status, an employer may make a visual determination as to the race or ethnicity and gender status of an applicant or employee; however, OFCCP warns that employers should not guess or make assumptions. OFCCP has clarified that it will "not hold a contractor responsible for applicant data when the applicant declines to self-identify and there are no other acceptable methods of obtaining this information."
And what do you do when an applicant or employee prefers to identify as Gender X, neither male nor female? From an OFCCP perspective, the contractor is not to overrule the employee by making a visual determination; instead, the contractor is to include the individual in the AAP but exclude them from gender-based analyses. In 2019, the EEOC provided guidance on this subject as it related to EEO-1 reporting, allowing for contractors to report data for non-binary gender employees in the comment box of the on-line filing process. With the recent SCOTUS ruling, holding that Title VII's prohibition against discrimination based on sex includes discrimination based on sexual orientation and gender identity, and the trend of more US jurisdictions allowing for nonbinary gender markers on identification documents, we anticipate further guidance from EEOC and OFCCP on this and similar topics. We will stay abreast of this and other guidance and will continue to provide updates accordingly.