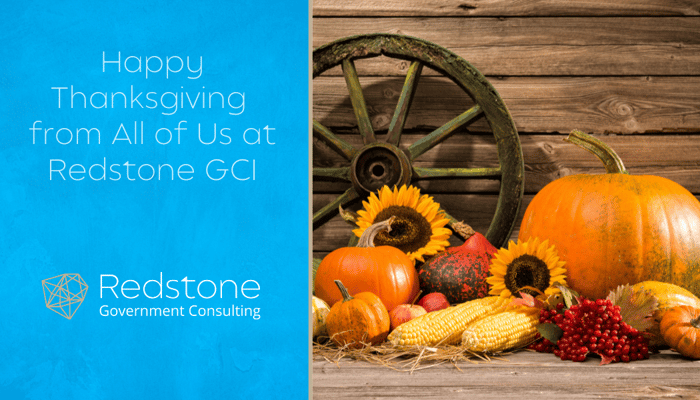 Thanksgiving is a beautiful holiday. Thanksgiving is not a time for gifts or decoration, but rather a time to reflect on the blessings received and be thankful for those blessings, even if those blessings come in the form of challenges presented to us over the past year. We say we are thankful for the challenges, as our challenges make us stronger and ultimately better. And for that, we are thankful. As most everyone knows, Redstone GCI has faced significant losses and challenges this year with the passing of our beloved leader, mentor, friend and family member, Scott Butler. Scott was special to so many people and touched the lives of us all. He knew that the future of our firm was bigger than him and made it a priority to ensure future success even without his leadership. We often say that one of Scott's many talents was being able to see the potential in all of us and having a true gift of making everyone around him better versions of themselves. This gift from Scott still stands true, even as we continue to mourn his passing. Leaders within our firm have emerged, teamwork has never been stronger, and a true sense of family radiates with every interaction we have with each other. Scott has and will continue to make us stronger, better versions of ourselves as the true sign of a leader is not in the present, but in what they leave for those that follow. We are thankful for Scott Butler.
We are also truly thankful for our friends, family, colleagues and clients. We have never seen such an outpouring of compassion and love, as we have experienced over the past year. As we reflect on this year, what stands out the most is how each of you, whether through cards, texts, emails, calls, thoughts or prayers, stood by us and expressed your condolences and support. We are incredibly grateful to each, and every one of you and your kindness has not gone unnoticed.
We are continually thankful to our loyal clients, old and new, and the opportunity to provide you with our expertise and services, which ultimately supports our families and our community. Without our clients, we would not be the firm we are today. This industry and the bonds that it creates is special. We are blessed to have the opportunity to support our clients in their missions to provide the best technology, services and products to the warfighter and the citizens of our country. Your mission is critical because you not only help to protect our freedom, but because you offer so much to our society that is often overlooked. Our clients support advances in medical technology, space exploration, critical infrastructure and the latest generation technologies that are changing the world we all live in. We have incredible admiration and respect for you who have the calling and choose to serve and work in the government contracting industry.
Finally, we are thankful to our team. Without our wonderful team members, Redstone GCI would not be here and certainly would not be the Company that it is today. From the beginning, we've had a collective vision to create a company that provides a place for the best and brightest in our industry to support our clients and support each other through all the challenges that life throws at us. Our team members truly care about one another and the clients we support. We are blessed to have the ability to collaborate daily with some of the most talented, knowledgeable, creative, and hard-working individuals in our industry in order to solve truly complex problems for our clients.
Scott's legacy is strong with the firm and will be highlighted at our annual Redstone Edge Conference coming up on December 4th, where all proceeds will be donated to Kids to Love (K2L). K2L was important in Scott's life from the beginning of the organization and during his tenure on their Board. So many of us have fond memories of buying and wrapping gifts this time of year to provide for families who are not as fortunate as us. His passion for supporting foster children in North Alabama has touched countless lives in our community and we are thankful for the opportunity to continue that support along with many other charities in 2019.
We hope you all have a blessed and wonderful Thanksgiving and we ask you to take the opportunity to reflect on your blessings, whether they be successes or challenges, and be thankful for everything God has put in your life.