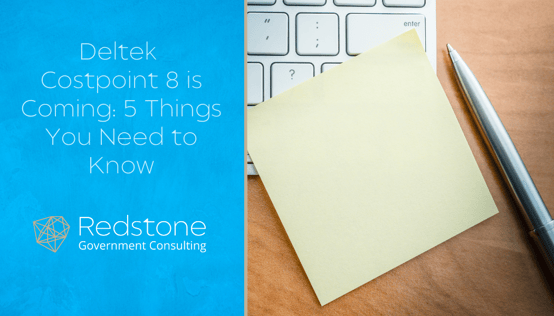 5 Things You Need to Know Before Your Update
For long-time users of Costpoint you may have experienced prior upgrade processes, most recently Costpoint 6 to Costpoint 7. The upgrade to Costpoint 8 will be a lot different from the last upgrade, as the upgrade will not be changing the "front-end" of the system. User interfaces will largely remain unchanged and this upgrade will look and feel the same as Costpoint 7. Most enhancements are those that the user or administrator can elect to "turn on" and begin using. The best place to see what's new with CP8 is the Costpoint 8 Portal.
Several of the updates our team is most excited about are:

New My Menu – Fly Out Banners: This new enhancement allows companies to design custom processing steps that users can follow to complete tasks. For example, each step and screen used to process accounts payable invoices can be setup in a Fly-Out Banner and users just work through the steps / screens.
New Supplier Portal: This new feature allows streamlined communication between purchasing departments and suppliers, vendors, and subcontractors.
New Mobile Expense: The new mobile app has receipt capturing capabilities and an intelligent character recognition processing engine that will allow for more efficient expense report entry and processing.
According to Deltek, existing Costpoint Cloud customers will receive their upgrade dates approximately 2 months before they upgrade. The date will also appear in your Cloud Portal page 1 month before the upgrade is scheduled. The Deltek Costpoint 8 Upgrade Team is providing a Customer Assistance Program (CAP) Webinar Series that allows customers to attend a 1 hour webinar, once a week, 5 weeks before their upgrade. During the webinar they will learn about what's new with Costpoint 8 from a Deltek Product Manager and be able to submit questions. Customers can contact the Upgrade Team (

GovConUpgradeTeam@deltek.com

) for questions about the CAP/Upgrade or reach out to their CSM. The Redstone GCI team is also happy to be available to our clients as a resource during the process and will keep you updated on any news we receive from the Deltek team.
Costpoint Foundations and Essentials Clients will see an upgrade path similar to point releases, where the upgrade will be applied across the Deltek hosted enterprise. In short, all of the customer's systems will be upgraded at the same time.
Costpoint Enterprise US-Only clients will see their test environment upgraded approximately two months prior to the planned upgrade to their production system. Enterprise customers may have some flexibility in timing, so if you have concerns with the timeline it is important to get in touch with your CSM.