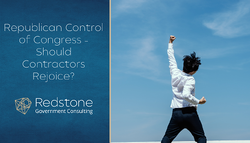 Although the details are yet to be determined, there is no question that Republican control of both the Senate and the House could significantly impact government contracting.
For the record, the purpose of this blog is to share my personal thoughts on how the latest election results are likely to impact government contractors. For purposes of full disclosure, I consider myself to be a moderate republican; however, my goal is not to make value judgments regarding the likely impact of election results to be as apolitical as possible. In 2012, under a legislative liaison program with DCAA (Defense Contract Audit Agency), I had the privilege to be assigned to U.S. Senate Committee for Homeland Security and Governmental Affairs, serving as a subject matter expert on federal contract and grant matters for Senator Susan Collins. Although, I believe the experience provided me with some valuable insight, I am clearly neither an expert on the legislative process nor on the political process. Below are my personal opinions on the likely impact on various government contracting issues.
It appears that Senator John McCain will become the chairman of the Senate Armed Services Committee and Senator Ron Johnson will be the Senate Homeland Security and Governmental Affairs Committee Chair. These new appointments should provide positive results for our government contracting customers.
Budget/Sequester
I would expect Republicans to push for an increase in defense spending and potentially bipartisan support because of threats or developments involving ISIS, Iraq, Afghanistan, Russia, and North Korea. The larger question may be what will happen with the sequester? Although, total elimination may be too much to ask for, I think there is real interest in modifying some of the strictest requirements included in the sequester legislation to at least provide more flexibility. In my opinion, that will go a long way toward reducing some of the current uncertainty holding up many defense contract awards to the benefit of defense contractors. That said, given the continuing deficit, I would not expect it to start raining federal contract money, defense or otherwise, although this could be impacted by the outcome of the 2016 elections.
Contract Types
Senator McCain has been a long-time critic of cost-type government contracting. As a result, I would anticipate there will be renewed acquisition reform efforts to reduce the number of cost-type procurements in favor of fixed price. Senator McCain also has a history of concern regarding what he considers to be inappropriate commercial item determinations. Accordingly, I would expect Republicans to potentially exert continued pressure on contracting officers regarding commercial item determinations which will result in a continued increase in requirements for FAR 15 compliant proposals.
Oversight
Although Republicans historically have tended to be more supportive of market based procurement practices, Senator McCain has been an outspoken critic of many of the Pentagons major weapons programs and what he considers to be fraud, waste, and abuse related to many of them, including commercial item classifications.
Based on McCain's track record and his leadership with the Republican base,I would not anticipate, at least in the short term, any significant reduction in DCAA/DCMA oversight activities. I also believe there may even be a push for increased congressional oversight activity, particularly with respect to major weapons programs.
As discussed below, Senator McCain has expressed significant interest in acquisition reform, simplifying the process, and eliminating duplicative regulation. At least one can hope that those efforts could lead to elimination of some of the more abusive DCAA/DCMA oversight practices we have seen related to withholding threats, overly burdensome documentation requests, internal audit reports, refusal to communicate with the contractor or respond to contractor concerns regarding findings, and the lack of timely audits.
Regulatory Reform
Both Senator McCain and Senator Johnson have expressed interest in reforming the acquisition process and reducing regulatory requirements. Accordingly, I would anticipate that there will be an increase in initiatives related to those areas. Unfortunately, historically these types of initiatives have met with limited success. For whatever reason, it seems to be a lot easier for congress to add a new requirement than to eliminate a requirement. While it would be wonderful to see a reduction in overly burdensome regulations, particularly small businesses, I am not confident there will be any significant changes particularly in the short term. That said, I think we may at least see a reduction in efforts to increase legislative/regulatory requirements to further reduce executive compensation, rules related to "inherently governmental" functions, and buy American provisions which have traditionally received less Republican support.
Veterans Day
Finally, regardless of your political affiliation, please remember the men and women in our armed forces and the veterans who have sacrificed so much to protect our freedom.