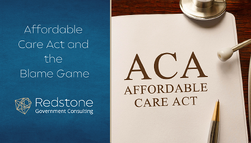 The Affordable Care Act (ACA, also known as Obamacare) continues to be an embarrassment to the current administration and those in the Legislative Branch who voted to pass the Act (but apparently failed to read it before voting). In addition to the dysfunctional website, we now know that other means to "sign-up" were not exactly good alternatives because the other means (i.e. telephone or written application) ultimately depended upon HealthCare.gov, but if you talked to someone and they took your information, at least it felt like you were signing-up. Perhaps that's what is meant by the over used term transparency.
An article today highlighted the fact that state sponsored exchanges have been successful in large part due to better planning and more extensive testing by the agencies and contractors involved in system design and implementation (sounds like "basic stuff" before flipping the switch). As with any other embarrassing failure by the federal government, the predictable fallout associated with HealthCare.gov includes "the blame game"; in this case, that the Secretary of Health and Human Services (HHS) initially took responsibility (attempting to deflect criticism from the President). However, the HHS Secretary was not quite so noble in terms of accepting blame as she in turn blamed the various contractors; not exactly a new strategy within the current administration which blames past and present contractors for virtually anything which has failed to meet expectations.
Coincidentally, "failing to meet expectations" is the exact terminology used by the HHS Secretary in faulting government contractors for the failures of HealthCare.gov and even more coincidental that the HHS Secretary did not state that contractor(s) failed to meet requirements. There is a significant distinction between government expectations and government contract requirements and if the "requirements" did not meet "expectations", the government agency is ultimately responsible for mismanaging the contract. Although the HHS Secretary has asserted that HHS is blameless and contractors are wholly to blame, the
HealthCare.gov issue does involve the same government agency which was criticized in a 2007 GAO report for failing to adequately perform contract and contractor oversight "resulting in millions of dollars of questionable contract payments" (GAO-08-54; November 2007). Further suggesting culpability on the part of HHS, apparently at least one of the government contractors advised HHS of potential issues in early September 2013 (after completing work in August 2013). However, an HHS spokesperson stated that the list of potential issues "was not a dire warning, but more of a list of things we needed to do". One more sign that HHS has significant culpability to the extent HHS apparently did not comprehend that a contractor statement that there was not enough time for adequate performance testing is much closer to a "dire warning" than it is to a "list of things we need to do".
The public blame game--just one more risk for government contractors.